Following decades of struggle, failed discussions, and even scores of deaths due to self immolation, the Tibetans in exile are taking a fresh approach to their demand for autonomy.
Dubbed as the 'Middle Way Approach Campaign' (Umaylam in Tibetan), this is not only the Tibetan government-in-exile's most concentrated effort, but is also the most culturally aligned to the Buddhist ideologies that most Tibetans identify with.
The campaign was launched earlier this week by the Central Tibetan Administration with idea to educate the masses on what really is the call for Tibetan freedom about. "With the Middle Way Approach Campaign, we are trying to engage the international community–young people, diplomats, media, people from all walks of life across different nations—to counter the Chinese Government's misinformation campaign about the policy," informed Lobsang Sangay, leader of the Central Tibetan Administration.
CTA's press officer Tsering Wangchuk explains, "The middle way has been there for many years. We are forging it into an intensive campaign address the spread misinformation by our adversaries."
And by adversaries, he is, of course, referring to the Chinese government, and rightly so.
Interestingly, just a day after the launch of this campaign, the Chinese government in response issued statements expressing their willingness to "talk", however, just not about Tibet's autonomy. In an official statement, they even went so far as to call the Dalai Lama a "separatist leader".
"This is exactly the kind of misinformation, we are trying to counter," emphasises Wangchuk. "They have frequently branded our leaders as separatists and even terrorists."
What is the Middle Way?
The blue print of this campaign was formulated by The Dalai Lama himself, as far back in 1974.
Sangay adds, "His Holiness the Dalai Lama and the then-Tibetan administration formulated the "Middle Away Approach" policy in 1974 as a realistic option to solve the issue of Tibet."
This approach was then affirmed in 1979 when Chinese paramount leader, Deng Xiaoping, agreed to discuss 'all issues apart from independence' resulting into early talks between the government-in-exile and the Chinese leadership. "Since then, there have been 9 rounds of talks, four fact-finding delegations to Tibet and regular visits by Tibetans to the Tibetan regions," Sangay informs.
Noting the success of this approach, then it was decided to implement it into an intensive campaign across media in order to reach out to the global community to educate them on the situation in Tibet. "The campaign hopes to bring clarity and transparency into the movement, taking a more peaceful route to get the Chinese government to the negotiation table to discuss Tibetan autonomy."
Starting a heartbreaking documentary film, the Tibet government chalks out its proposal of genuine autonomy within China:
It is further supported by an interactive website, social media initiatives and frequently asked questions, answered in 7 languages.
A time line of the Tibetan struggle also narrates the history of the movement. The campaign has received support from all quarters, including US President Barack Obama, and Nobel laureates such as Liu Xiaobo.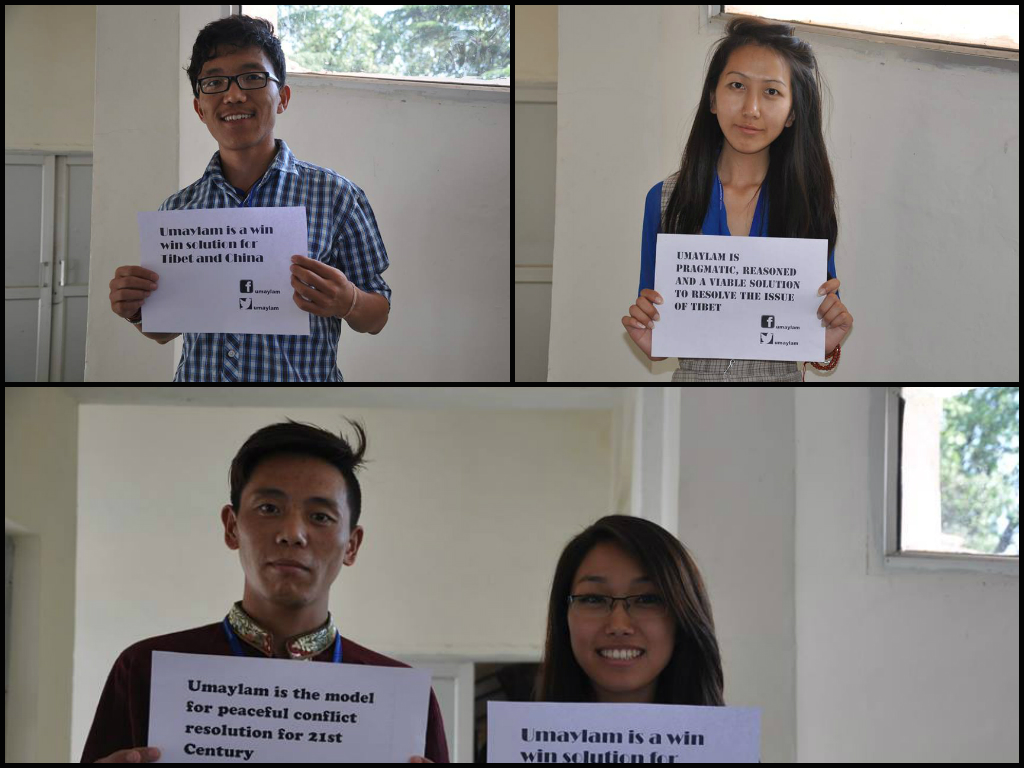 However, so far the campaign has failed to move the hard lined Chinese government. Commenting on the campaign, "The Middle Way proposed by Dalai in nature is seeking for independence under disguise. Our position on this issue is clear, we will not allow any independence or semi-independence under disguise and our policies in having contact with Dalai are consistent and clear," Chinese Foreign Ministry spokesman Hong Lei said. Read more here
What is the call for Free Tibet?
Over the last six decades, since 1951 to be precise, Tibetans have called for independence from the existing Chinese rule, with demand ranging from complete independence to some factions even agreeing to settle for basic autonomy. It has however been nearly impossible to get any compromise on part of the ruling government of People's Republic of China, with numerous failed talks, and weak attempts diplomatic settlements.
A large exodus was witnessed in 1959, after failed attempt at military resistance by the Tibetans to reclaim their nation from China. Thousands fled Tibet, along with their religious and political leader—The Dalai Lama, to India where they set up a Government-in-exile, which operates from the hills in Dharamshala even today.
READ: I'm a socialist and Marxist, says the Dalai Lama during his Mumbai visit
They have since then campaigned relentlessly towards the call for the freedom of the 6 million Tibetans in Tibet, as well as the 150,000 living as refugees around the world.
The Free Tibet movement has, however, gained tremendous momentum with a varied international support pouring in from all quarters. Prominent international leaders, to entertainment celebrities to even political heads of many nations have pledged their support to the cause, whilst also condemning the alleged human rights abuse in the Chinese controlled Tibet.
And yet despite it's popularity and pop culture association, there has been little progress on the demands itself. In just last four years, for instance, over 130 Tibetans have died in public self-immolations, as a sign of protest against the ruling government. But there was little or response to this act of 'self-sacrifice'. "Tibetans face social and arbitrary detentions since many years. In turn, the protest and self-immolations have also risen to a staggering number. This is not just a regional and political problem that is restricted to the Tibetan people, but an issue that should move the the very conscience of the world," says Wangchuk.
One would assume that the Tibetans would have reached a dead end, especially after their most strongest and most painful cry fell on to deaf ears and failed to create a commotion in the international community.
But surprisingly, this has only furthered their determination and now with renewed efforts, the Tibetan government will once again attempt at garnering international support for Tibet's call for genuine autonomy.
"Not only does the world need to know, but international pressure needs to be mounted on the Chinese government to take action. We are committed to initiating a constructive dialogue with China to address these woes," he added.
The Middle Way campaign is a step towards just that.