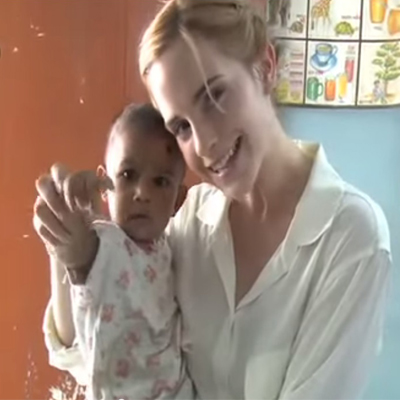 You have seen her as the 'insufferable-know-it-all' in Harry Potter, watched her shine as 'an underage club girl and actress wannabe' in the Bling Ring , and marveled as she spearheaded humanity to safety as the strong-headed survivor Ila in Noah; now, Emma Watson is all set to take up her new role as the United Nations Goodwill Ambassador.
The UN Women is the shortened title for the longer, United Nations Entity for Gender Equality and the Empowerment of Women. They took to Twitter to make the announcement:
NEWS: We're thrilled to announce the appointment of @EmWatson as our new Goodwill Ambassador! http://t.co/67erxNtLp7 pic.twitter.com/28kQkRFM1s

— UN Women (@UN_Women) July 8, 2014
The announcement caused the the UN Women's website crashed early on Tuesday morning.
The exciting announcement of @EmWatson's appointment as our Goodwill Ambassador crashed our website! We apologize &hope to be back up soon.

— UN Women (@UN_Women) July 8, 2014
On her part, Emma Watson was honoured. She promised she would dedicate herself fully to the new role. Emma will work towards the empowerment of young women and will serve as an advocate for UN Women's HeForShe campaign in promoting gender equality.
"Being asked to serve as UN Women's Goodwill Ambassador is truly humbling. The chance to make a real difference is not an opportunity that everyone is given and is one I have no intention of taking lightly. Women's rights are something so inextricably linked with who I am, so deeply personal and rooted in my life that I can't imagine an opportunity more exciting. I still have so much to learn, but as I progress I hope to bring more of my individual knowledge, experience and awareness to this role," said Watson.
Going to be working for the United Nations Entity for Gender Equality and The Empowerment of Women (!!!) http://t.co/9ABpKSrNCb

— Emma Watson (@EmWatson) July 7, 2014
Phumzile Mlambo, Under-Secretary-General and Executive Director, UN Women and Mark Lyall Grant, the UK ambassador to the UN also congratulated the 24 year old Diva.
Congratulations to @EmWatson, newly appointed UN Women Goodwill Ambassador! She will be a great champion for UN Women. @phumzileunwomen

— Mark Lyall Grant (@LyallGrant) July 8, 2014
Happy to announce @EmWatson as a @UN_Women GoodwillAmbassador. Looking forward to working together for women & girls! http://t.co/25uZWmfiv4

— Phumzile Mlambo (@phumzileunwomen) July 8, 2014
"We are thrilled and honoured to work with Emma, whom we believe embodies the values of UN Women," stated Phumzile Mlambo-Ngcuka. "The engagement of young people is critical for the advancement of gender equality in the 21st century, and I am convinced that Emma's intellect and passion will enable UN Women's messages to reach the hearts and minds of young people globally," added Mlambo-Ngcuka.
This isn't the first time Emma Watson has shown her humanitarian zest. The English literature graduate from Brown University, Emma has played an integral part in promoting girl's education over many years and has gone to Bangladesh and Zambia as part of her efforts. She supports the causes of children, disaster relief, health, physical challenges and poverty and renders her whole-hearted dedication to various charities like:
- Great Ormond Street Hospital: Great Ormond Street Hospital has over 240,000 patient visits each year for the rarest and most complex conditions and offers the widest range of pediatric services under one roof in Britain. They raise over £50 million every year to support the services.
- Millennium Promise: With the vision of eradicating extreme poverty, hunger, and preventable disease within our lifetime, the mission provides the operational platform and resource mobilization for the Millennium Villages Project, which empowers communities to lift themselves out of extreme poverty.
- Sense: A national charity in the United Kingdom, that supports and campaigns for children and adults who are deafblind
- ShelterBox: It provides emergency shelter and vital supplies to support communities around the world overwhelmed by disaster and humanitarian crisis.
The main campaign that Emma would be working for as the Goodwill Ambassador is aptly dubbed as HeForShe. The campaign takes cue from the increasingly popular trend of feminism. This recent campaign for gender equality has drawn support from all quarters, and most importantly it has become a strong symbol of solidarity from members of the opposite sex to end gender based violence. Read more about HeForShe here.
Here is a video of Emma Watson working in Bangladesh: