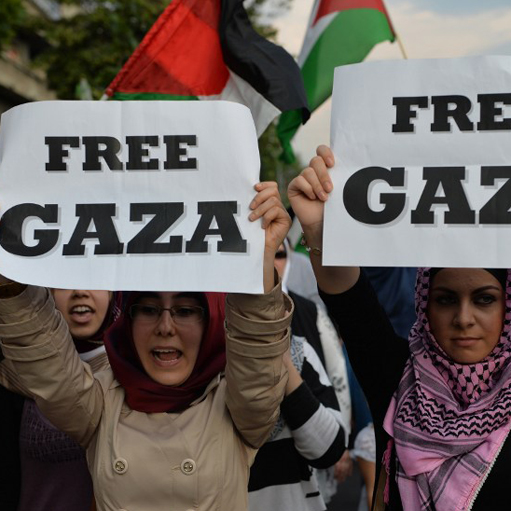 The Israel-Palestine conflict has been ongoing for over half a century since the end of World War II, in protest against Israel's occupation of the West Bank and Gaza Strip. The most recent outbreak of hostilities began in June 2014 after the alleged kidnapping and murder of three Israeli teenagers in the West Bank. Since then, the violence has escalated and the two sides are in the midst of an all out war, punctuated by brief and fragile ceasefires. The Israeli military and Hamas have both launched rocket strikes on each other, killing more than 1,800 Palestinians and around 67 Israelis, mostly soldiers from the Israeli Defence Forces (IDF) so far.
What does Hamas stand for?
Hamas, an acronym for Harakat al-Muqawama al-Islamiya (Islamic Resistance Movement), is a Palestinian militant movement that was founded in 1987, but formally established itself in Palestine after winning the elections in 2006. In June 2007, after clashes with the rival group Fatah in Gaza, Hamas set up a rival government, leaving Fatah and the Palestinian Authority (PA) running parts of the West Bank not under Israeli control.​ In April 2014, Hamas agreed to a reconciliation deal with Fatah that led to the formation a national unity government.​
While supporters see them as a legitimate resistance movement,​ countries like the United States and those of the European Union (EU) apart from Israel, have labelled Hamas a foreign terrorist organisation (FTO)​.
The Beginnings
Founded by Palestinian cleric Sheikh Ahmed Yassin in December 1987, the charter of Hamas in 1988 called for the destruction of Israel and the establishment of an Islamic society in Palestine. It was formed following the first 'intifada' or the first Palestinian uprising against Israel.
The condemnation for Hamas can be traced back to April 1993, when they first employed suicide bombing as a tactic, a few months before the Oslo Accords were signed. This historic pact where the Palestine Liberation Organization (PLO) gave Israel its formal recognition was criticised by Hamas and its leaders.
During the second 'intifada', which happened in the early 2000s, Hamas began to be identified by its signature tactic: suicide bombings. There was less civil disobedience and more body bags. The Palestinian fatalities in the end were far more than that of the Israelis.
The Structure
Hamas' political, military and social arms are handled by different leadership bodies. According to some reports, the general policy is put down by a consultative body, referred to as the politburo that operates in exile. Khaled Meshaal has been serving as a political chief of Hamas since 1996, and Ismail Haniyeh is Gaza's de facto prime minister. Marwan Issa and Mohammed Deif are responsible for the military wing, which is called the Izz ad-Din al-Qassam brigades. Salah al-Arouri, an irreplaceable hand of Hamas, manages operations from overseas and is currently based out of Turkey.
Funding
Referred to as an FTO, Hamas is cut off from funding by the European Union (EU) and United States. It is supported by private donors and Palestinian expatriates. Taxation on traffic is another way of collecting revenue. But the financial channels for Hamas have been drying for a while. It was then that Hamas tied their hands with Fatah yet again in April 2014.
Armed Resistance
Though Hamas gave up the suicide bombing tactics, it remained committed to armed resistance. They took to launching rockets and mortars into Israeli territory. Over the years, their arsenals have only become more sophisticated and modernised. They have been driven underground in the West Bank with all their military bases dismantled, but their de facto operations still run in Gaza.
2014 and the way ahead
In June this year, Hamas was accused of killing three Israeli teenagers in West bank. In response, the Israel military re-arrested some of the convicts who were released under the Shalit deal. Israel prime minister Benjamin Netanyahu has said they want to destroy all the military capabilities of Hamas. Both sides are still engaged in a relentless war with each other, with no sustainable solution brokered yet despite the number of casualties steadily increasing on both sides of the conflict.