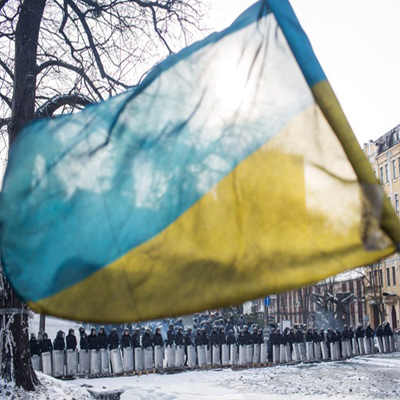 Western and Russian leaders headed into a day of diplomatic wrangling over the Ukraine crisis today, a day after US President Barack Obama warned Moscow was not "fooling anybody" over its role in Crimea.
US Secretary of State John Kerry was to meet Russian counterpart Sergei Lavrov for the first time since Ukraine's Moscow-backed president Viktor Yanukovych was ousted after three months of pro-European Union protests which left nearly 100 dead.
Their talks, on the sidelines of a Paris meeting on Lebanon, come a day after Obama squarely accused Russia of orchestrating a power grab in the ex-Soviet state's Crimea peninsula.
Pro-Russian forces have taken de facto control of Crimea, blocking Ukrainian troops in their barracks in the most serious stand-off between the West and Russia since the Cold War.
Obama's stern words came after Putin denied its forces were operating in Crimea, insisting the gunmen were "local self-defence forces" not Russian soldiers, adding: "You can go into a shop and buy any kind of uniform." But while stepping up the pressure, the United States was also seen seeking to offer Putin a way out of the crisis.
Obama spoke to German Chancellor Angela Merkel yesterday and the two agreed on the importance of a "deescalation" with the deployment of international observers and the start of talks between Moscow and Kiev, a US official said.
Crimea, an autonomous peninsula within Ukraine with a Russian ethnic majority, has been home to Russia's Black Sea fleet since the 18th century.
The "deescalation" on the Russian side would include its troops going back inside their bases in Crimea, the official added, while Russian doubts on the legitimacy of Kiev's interim government would be resolved by elections planned for May.
Western diplomats have launched an urgent round of consultations to try and calm tensions in Ukraine, the largest country located entirely within Europe.
Lavrov is holding talks with Spanish Foreign Minister Jose Manuel Garcia-Margallo and a press conference before flying to Paris, where he will meet Kerry as well as foreign ministers from Britain, France and Germany.
Separately, Kerry is also holding three-way talks with British Foreign Secretary William Hague and acting Ukrainian Foreign Minister Andrii Deshchytsia.
The EU is due to hold an emergency summit on the crisis in Brussels tomorrow.