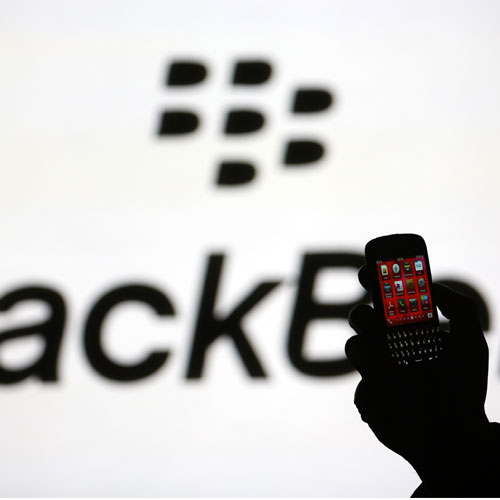 Finally, BlackBerry has got a break. Just when the Canadian smartphone business looked like it was on the edge of extinction, it closed a deal with the US Defence Department. America's military could not find any other phone more secure, so on Tuesday it renewed its contract.
Shares in the Goliath-turned-underdog went sharply upwards when the news was made public, buoyed by the lucrative deal, but also by the badge of honour that goes with it. The US Defence Department may have chosen BlackBerry from a narrow field of competitors, as if it were settling for the least unattractive girl in the room, but that will still be enough to turn the heads of other companies battening down the hatches against cyber criminals. Rarely has the issue of security been so pressing.
Last year, as BlackBerry ricocheted between plans to sell or refinance, American citizens learned that the country's National Security Agency was routinely collecting information about their telephone and email habits. Some of this was blanket surveillance, conducted with the help of corporate giants like Verizon. In other instances, the US government allegedly resorted to hacking the mobiles of targeted individuals. There could not have been a better advert for BlackBerry than the international incident between America and Germany, for example, when it was claimed that the White House had been bugging the phone of Angela Merkel, the German Chancellor, for years.
The alleged surveillance only seemed to stop when she traded in her Nokia for a BlackBerry Z10 last summer. But whilst BlackBerry might be winning the security game, it still has a long way to go to convince people they are cool again. Sure, they might have once been dubbed "crackberries", in the dim and distant past before everybody had smartphones. And their BBM messaging service might have made them the phone of choice a few years ago, for youths arranging riots in North London.
But to mainstream corporations and ordinary punters, they have well and truly lost their street cred. In New York, the BlackBerry has become the mildly embarrassing symbol of a job as a lawyer or a banker, usually worn with an apology and protestations by the owner that they "also have an iPhone. Look!". In Silicon Valley, it is worse: BlackBerries are regarded as museum pieces. People would be no less dismissive if you turned up to lunch with a 1980s-style brick than if you pulled one of the Canadian handsets out of your jacket pocket. What's the point in them, when there are so few BlackBerry apps available? In 2012, when Marissa Mayer wanted to revamp Yahoo!'s staid image, she jestissoned BlackBerries in favour of Apple's sleek and fashionable alternatives. But the shift has been catching.
Goldman Sachs lets staff choose, whilst the pharmaceutical giant Pfizer has started phasing out BlackBerries, fuelled by the simple fear that the company would not be around much longer. This week's deal with the US Defence Department will give the company a new lease of life, or at least a reprieve in its cycle of decline. But BlackBerry must act fast to make the most of this fair wind. It needs to pour everything into revamping its image, so that BlackBerry gains traction among the cool kids before its rivals work out how to make their handsets properly secure. It is easier said than done: The Canadian business can hardly follow Yahoo!'s example by dishing out free iPhones, after all.
Neither can it rely on a cosmetic upgrade. Fancy casings and touchscreens are all very well, but BlackBerry needs to produce some slick and speedy software if it wants to persuade the technology industry to produce apps for its handsets. Once it has won over Silicon Valley, it can start on the rest of the world, and try and persuade them that instead of apologising for their BlackBerry, they should actually feel proud. That feels like a struggle right now, maybe an impossible one, but if Canada's corporate giant has any chance of a comeback, this is most certainly it.