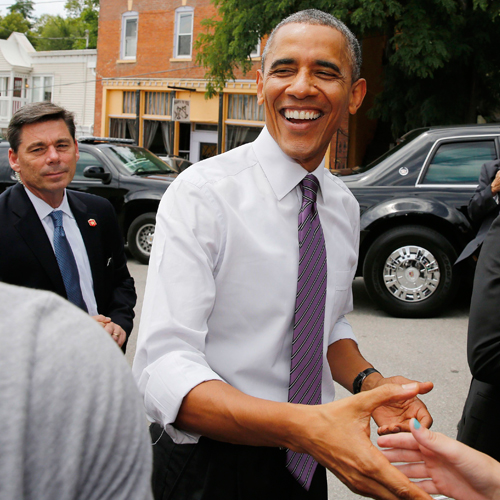 Tthe United States House of Representatives on Wednesday voted to sue President Barack Obama.
The House of Representatives is one of the two houses of the US Parliament, something like India's Lok Sabha, and at present it is controlled in majority by the opposition Republican Party. Following this decision, the President will be sued for over the delay of Obamacare's employer mandate. The resolution was passed with a vote of 225 to 201. Apart from five Republicans and all Democrats, everyone voted for the resolution.
This is the first time in US history that an entire House will be collectively suing the President. Although, individual members of congress have in past filed lawsuits against the head of the state, such as those against Richard Nixon over the Watergate scandal.
Reacting to this, the White House put out a blog by Senior Advisor Dan Pfeiffer. "The House of Representatives just took a vote – and it wasn't to raise the minimum wage, put in place equal pay, create jobs, or reform our broken immigration system. Instead, the Republican-controlled House of Representatives just voted to sue the President for using his executive authority. This lawsuit will waste valuable time and potentially millions of taxpayer dollars," it read. "This is the least productive Congress in decades. And instead of doing their job, they are suing the President for doing his," Pfeiffer criticised.
On his part, Obama has found the entire episode a bit amusing. "They're going to sue me for taking executive actions to help people. So they're mad I'm doing my job," Obama said in an economics speech in Missouri, the Washington Post reported. "And by the way, I've told them I'd be happy to do it with you. The only reason I'm doing it on my own is because you're not doing anything," he said.
Watch the complete video:
ALSO READ: Barack Obama to Republicans: 'Stop just hatin' all the time'
#DoYouJobHouseGOP
The White House also started a petition to get the people's support. "President Obama is ready and willing to work with Republicans in Congress if they decide to get serious and do something for the American people. But he is also committed to acting however he can to help more working families – even as Congress won't," it read.
It follows a social media campaign on Facebook and Twitter with the hashtag #DoYouJobHouseGOP where people have expressed their solidarity
Instead of acting to help millions of Americans, House Republicans are suing the President today. #DoYourJobHouseGOP pic.twitter.com/vvxzFj43yo

— The White House (@WhiteHouse) July 30, 2014
Also watch, Obama's infamous 'So Sue Me' speech from earlier this month, where he had spoken against Republican obstructionism in Congress, criticising them of doing nothing but taking legal action against him: