Nancy Powell also announces end of her diplomatic career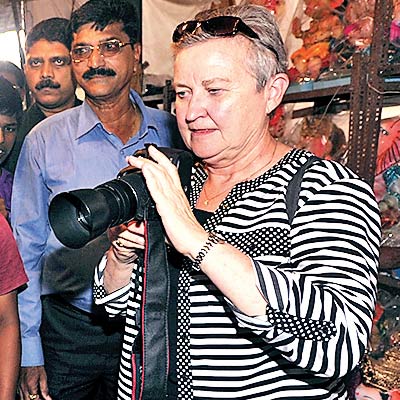 In an unexpected development, US ambassador to India Nancy J Powell on Monday announced her resignation ahead of the 2014 Lok Sabha polls in India. Apparently peeved at the downslide in India-US relations during her tenure, she even announced ending of her 37-year-old diplomatic career.
Powell, who was US's first female ambassador to India, had come to Delhi in 2012, and in the last two years she saw India-US relations plummeting from a very high point to the verge of breaking up.
Before taking up her India assignment in April 2012, Powell In February 2012 had said before the Senate Foreign Relations Committee that India will be "a leading security partner of the United States in the 21st century".
India and the US had seen a high point in their strategic relationship in 2008 when the two countries signed the nuclear deal during President George W Bush's second term which was subsequently endorsed by the President Barack Obama during his India visit.
She had also stated that US-India "relations are firmly grounded in a set of shared democratic values and an increasingly shared strategic vision of both the opportunities that can promote those values as well as the threats that can undermine them."
But the US ambassador oversaw a very difficult time in the bilateral relations which included tiff over Devyani Khobragade that appeared as the tripping point in the relationship. The Indo-US bilateral relationship was already strained over US not being able to clinch nuclear business for India, failure of the US firms to get the multi-billion dollar fighter jet deal and on the issue of sanctions against Iran where the US could not convince India to back it.
After Khobragade incident, India had launched a counter offensive cancelling special privileges of US diplomats and asking them to reveal details of Indian staff working in US embassy and schools.
The resignation also raised eyebrows as it came ahead of new government in New Delhi. However, the only consolation could be that Powell ended US's boycott of Gujarat Chief Minister Narendra Modi over 2002 riots as BJP had projected him as its prime ministerial candidate in the Lok Sabha polls.
The resignation's announcement in India was made through a statement that said, "As per in aUS Mission Town Hall meeting March 31 that she has submitted her resignation to President Obama and, as planned for some time, will retire to her home in Delaware before the end of May."
"Ambassador Powell expressed her appreciation for the professionalism and dedicationof the US Mission to India team who have worked to expand the parameters of the US-India bilateral relationship. She also thanked those throughout India who have extended traditional warm Indian hospitality to her and who have supported stronger bilateral ties," the statement added.
Prior to her India assignment, Powell served as US Ambassador to Uganda, Ghana, Pakistan, Nepal. She also served in Canada, Togo and Bangladesh.