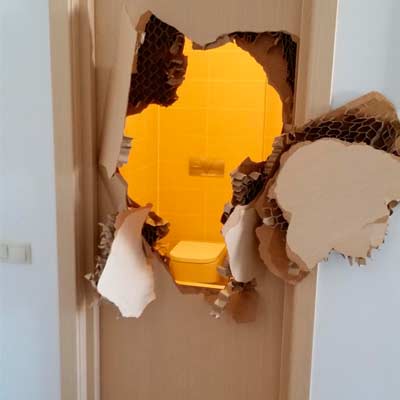 An US athlete had reportedly used his muscle power to escape from the bathroom at the ongoing Winter Olympics in Sochi after he was locked in.
There has been criticism of the standard of some of the accommodation in Sochi, although the focus has been on rooms for the media, many of which were not finished on time.
According to News.com.au, US bobsleigh team member Johnny Quinn used his immense physical strength to push his bobsleigh to top speed in the running starts to break down the bathroom door and left a gaping hole in his wake.
Writing his experiences on his Twitter account, Quinn said that the door got locked or jammed while he was taking a shower, following which he used his bobsled push training to break out as he had no phone to call for help.
The report mentioned that Quinn also posted a photo of the remains of the rather flimsy looking door, which appears to have emerged the worse off from the encounter.
Quinn, who is expected to appear in both the two and four man bobsleigh competitions in Sochi, previously was a wide-receiver in American and Canadian Football, the report added.