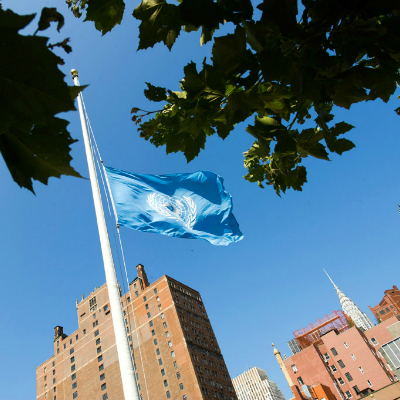 To honour their compatriots fallen in the line of duty amidst the ongoing conflict in Gaza, the United Nations (UN) lowered their flag at its headquaters in New York to half mast on Thursday.
Similar signs of solidarity was observed across various arms of the international body in many of its regional branches, including flags at the UN Relief and Works Agency for Palestine Refugees in the Near East (UNRWA) in Gaza.
The UN has lost many of its staff members since the conflict first started on July 8. While the death toll stands over 1800, UNRWA has personally lost 11 colleagues to the shelling in Gaza, as well as in Syria and other field operations. "We are honoured and touched by the many expressions of sympathy and actions of support we have witnessed," said UNRWA Commissioner General, Pierre Krähenbühl, during an informal briefing to the General Assembly in New York.
ALSO READ: Hamas vs Israel: Who is the aggressor and who is the victim?
And while the UN has been relentlessly trying to broker a peace agreement between the warring faction, its efforts has brought it into the line of fire. About three UN schools that were serving as refugee shelters to over 27, 000 displaced Palestinians were targets of the Israeli offensive in Gaza.
Secretary-General Ban Ki-moon, who also participated in the meeting, stressed that attacks against UN premises, along with other suspected breaches of international law, must be swiftly investigated.
Earlier last week, UNRWA spokesperson Chris Gunness could not restrain his tears, and broke down mid-briefing on camera. In the video of his breakdown, that has since gone viral, Gunness tells Al Jazeera, "The rights of Palestinians, and even their children, are wholesale denied, and its appalling."
ALSO READ: #NotInMyName: Israel's voices of reason in the Gaza conflict
UN staff in New York also took part in a minute of silence to express solidarity with the families and friends colleagues killed in Gaza and in other conflicts around the world.
To honour the memory of @UN colleagues killed in #Gaza, UN flags fly at half mast today pic.twitter.com/aF5vLssvsu

— United Nations (@UN) August 7, 2014
The United Nations is mourning its fallen personnel in #Gaza @UNRWA. #UN flag flies at half-mast @UN HQ in New York pic.twitter.com/BkCzqJB3G4

— Luxembourg ONU (@LuxembourgUN) August 7, 2014
Also read: Why Israel's #SderotCinema – people gathering to watch live bombing of Gaza – should make us all uncomfortable