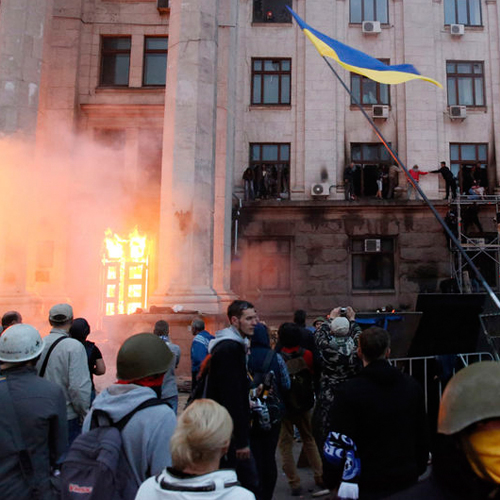 More than 30 people were killed in a "criminal" blaze and others were shot dead when fighting broke out between pro- and anti-Russian groups on the streets of the port city of Odessa on Ukraine's southern Black Sea coast on Friday, as violence spread across the country during the bloodiest day since Kiev's Western-backed government took power.
Ukraine's interior ministry said at least 31 people had died in the fire, with local media reporting that pro-Russian militants were believed to have been in the burning building at the time. Most of those who were killed died from smoke inhalation, while others perished trying to escape by jumping out of windows.
Police said three people were shot dead and dozens of others wounded in running battles between pro-Kiev and pro-Moscow activists in Odessa. Another man died later and a further 31 people were killed when a trade union building was set on fire as fighting continued into the evening, police said. The total death toll in Odessa later reached 43, Interfax-Ukraine reported.
More than 130 people have been detained by the police.
Rebels down two Ukrainian military helicopters in Slavyansk
In the east, pro-Russian separatists brought down two Ukrainian military helicopters involved in a pre-dawn operation to try to dislodge the militants from their strongholds in the town of Slavyansk. The Ukrainian Defence Ministry said two Mi-24 attack helicopters had been shot down by shoulder-launched missiles while on patrol overnight.
The separatists said three of their number had been killed, and two civilians, while the defence ministry said two crew from the downed helicopters died and two other servicemen were killed when separatists attacked them on Friday evening.
"Heavy fighting is continuing," the Ukrainian Defence Ministry said.
Fighting had also broken out overnight near the town of Kramatorsk, just south of Slavyansk, Russian media said, but this news could not be confirmed.
Also Read: Ukraine's restive east slipping from Kiev's grasp as pro-Russian separatists seize more towns
Moscow blames Western-backed Kiev
Russia said it was "outraged" as the scenic port city became a new front in an escalating months-long crisis that has sparked fears of a Russian invasion. The foreign ministry in Moscow called on Ukraine and its "Western backers to end the anarchy and take responsibility before the Ukrainian people", blaming Kiev's "criminal irresponsibility" for the sinister turn of events.
It capped a day of violent clashes between pro-Russian and pro-Ukrainian militants, with reports of renewed fighting in Slavyansk leading to the deaths of two more Ukrainian soldiers, meaning at least nine people had been killed in violence in the flashpoint eastern town throughout the day.
Russian-speaking eastern Ukraine has been the focus of concern in Western capitals since pro-Russian gunmen overran the region after Moscow annexed Crimea from Ukraine in March. Clashes had also occurred in largely Russian-speaking Odessa, not far from the Crimean peninsula, but no one had died there before.
President Vladimir Putin's spokesman said Ukrainian forces had fired on civilians from the air in Slavyansk in a "punitive operation" that destroyed an international peace plan. Moscow has tens of thousands of troops massed on the border and claims the right to invade if needed to protect Russian speakers.
The Western-backed government in Kiev said the use of missiles to bring down its helicopters showed Russian forces were already in the town and also that Russian "armed saboteurs" had tried to enter the country overnight, but were pushed back by Ukrainian border troops. Moscow denies involvement with the rebels and its Security Service said the incursion report was untrue.
Kiev said it was forced to act in eastern Ukraine because Moscow was backing groups there who were "putting civilians in danger, seizing hostages and creating an atmosphere of terror and violence".
Reuters journalists in Slavyansk, the most heavily fortified bastion of pro-Russian separatists in eastern Ukraine, heard shooting and saw one helicopter opening fire before dawn. Later in the day, the city was largely quiet, with shops shut and armed separatists in control of the streets. Advancing Ukrainian forces in armoured vehicles took up positions in the suburbs, but rebels still controlled most of the town of 130,000.
Acting President Oleksander Turchinov said the operation had been complicated by the rebels' use of human shields and had not progressed as quickly as had been hoped.
US sanctions on Russia
Already the most serious rupture in West-Moscow relations since the Cold War, the diplomatic war of words intensified as the United States threatened to hit Russia with new sanctions within three weeks over what Washington called its continued "destabilisation" of Ukraine.
President Barack Obama threatened to expand punitive sanctions to broad sections of the Russian economy if Moscow continued to foment chaos in the former Soviet republic ahead of planned May 25 presidential elections. "If in fact we see the disruptions and the destabilisation continuing so severely that it impedes elections on May 25, we will not have a choice but to move forward with additional... severe sanctions," Obama said at a joint news conference with German Chancellor Angela Merkel. "If Russia continues on its current course, we have a range of tools at our disposal, including sanctions that would target certain sectors of the Russian economy."
Previously, the administration had said such measures would only come into force if Russia sent its estimated 40,000 troops over the border.
Read: Barack Obama, Angela Merkel call on pro-Russia forces to stand down in Ukraine
"Today, the international community must stand together in support of the Ukrainian people as they cope with this tragedy," State Department deputy spokeswoman Marie Harf said in a statement mourning the "heartbreaking" loss of life in Odessa. "The violence and mayhem that led to so many senseless deaths and injuries is unacceptable."
Harf also renewed US calls for "immediate implementation" of a peace deal clinched in Geneva last month.
The Kremlin – which has denied links to rebels who have taken over buildings in dozens of towns and cities in Ukraine's east – said the raid was "leading Ukraine towards catastrophe" and pronounced dead the peace deal struck in Geneva last month. Russian Prime Minister Dmitry Medvedev urged Kiev to "stop killing their citizens", branding the Slavyansk raid "a sign of criminal helplessness".
Chaos threatens Ukraine presidential election, rebels plan Crimea-like referendum
The growing chaos is overshadowing a presidential election the pro-Western leadership in Kiev is planning for May 25. The rebels are planning a vote on May 11 to seek a mandate to break with Kiev, like one held in Crimea before Moscow took it over.