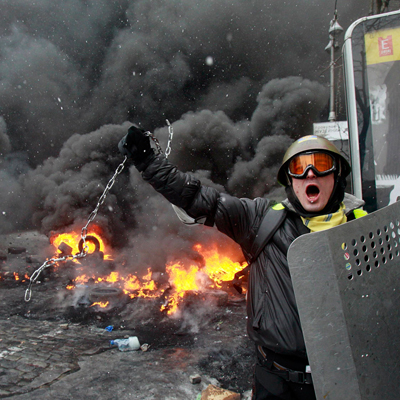 Ukraine authorities have said they have seized back control of the regional administration building in the eastern city of Kharkiv from pro-Russian separatists.
The authorities said they hoped government buildings seized by the pro-Russian demonstrators in Luhansk and Donetsk Monday, would also be freed shortly, BBC reported.
Russia recently annexed the peninsula of Crimea following a referendum.
Kiev and the West held as illegal the referendum in the territory, where the majority of people are Russian speakers.
Eastern Ukraine was the political heartland of its ousted president Viktor Yanukovych and has a large Russian-speaking population.
Ukraine's Deputy Foreign Minister Danylo Lubkivsky told the BBC Radio 4's programme Tuesday that the situation in eastern Ukraine was "under control but remains dangerous".
Pro-Russian protestors gathered at a barricade outside the offices of the SBU state security service in Luhansk, in eastern Ukraine, the report said.
The Security Service of Ukraine (Sluzhba Bespeky Ukrayiny, or SBU) is a law enforcement agency responsible for protecting the state security of Ukraine.
Interim President Oleksandr Turchynov said several Ukrainian policemen have been injured in the operation to free the Kharkiv regional state administration, the report said.
Some 70 people were held without shots being fired, Ukraine's interior ministry said in a statement.
Turchynov said those who seized the buildings would be treated as "terrorists and criminals".
They would be prosecuted with the full force of the law.