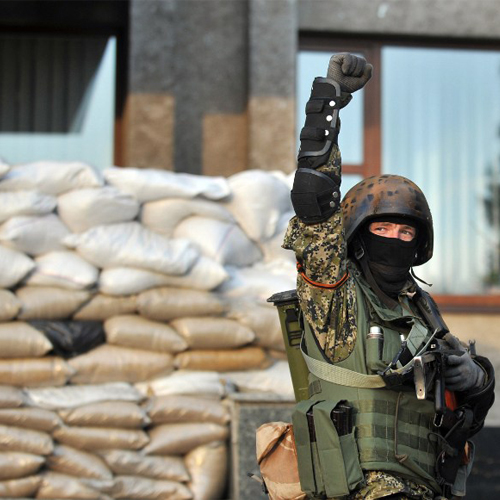 An eastern Ukrainian separatist leader urged Russia on Friday to secure a truce or send in troops to help repel pro-Kiev forces, warning that a key rebel-held city could soon fall.
"If Russia does not secure a truce or protect us, the Russian people who live here will be destroyed," Igor Strelkov, the self-proclaimed defense minister of the People's Republic of Donetsk, told Russia's pro-Kremlin LifeNews. "This will happen within a week, two weeks at the most. And Slavyansk will be the first to be destroyed," he said, referring to the separatist stronghold city in eastern Ukraine.
Strelkov denounced Russia's apparent unwillingness to send troops to Ukraine, adding that he and his comrades were prepared to continue fighting as long as necessary. "Russia does not want to help (the rebels) be reunited with their people," he said. "It's very hard to admit that we have had no help for three months."
Before the conflict, Slavyansk, in the eastern industrial Donetsk region, had a population of around 120,000. But fierce fighting between separatists and troops loyal to Kiev have turned it into a virtual ghost town.
Civilians who did not flee Slavyansk now suffer regular power and water shortages.
"Yes, I am panicking and I am jittery. My soldiers are dying every day, hospitals are overflowing with the wounded," said Strelkov. "It is very difficult to see children with their legs blown off by projectiles. We will keep on fighting but we really need help."
Fighting between separatists and government forces broke out in eastern Ukraine in mid-April after a popular uprising ousted Moscow-backed president Viktor Yanukovych in February and Russia annexed Crimea in March.
Russia faces the threat of fresh Western sanctions and while President Vladimir Putin has massed thousands of troops on the Ukrainian border he has so far shunned direct military intervention.
Russia and the West are involved in fresh mediation efforts after Ukrainian President Petro Poroshenko pulled the plug on a 10-day unilateral ceasefire earlier this week.