No serious injuries were reported after all passengers were evacuated from the aircraft at Philadelphia International Airport.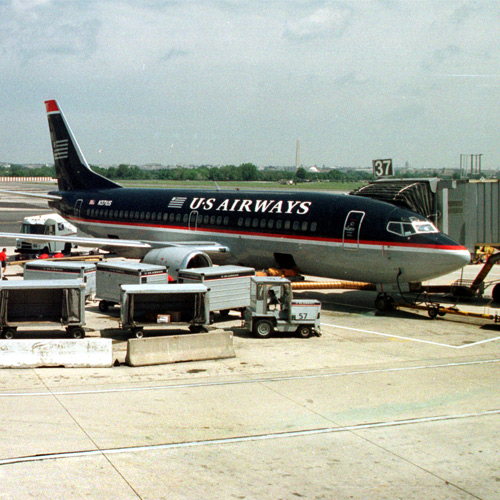 A tyre blew out on a United States Airways plane with 154 passengers and crew on board as it was speeding down the runway at Philadelphia International Airport on Thursday, prompting the pilot to abort the takeoff, officials said.
There were no reports of serious injuries in the early evening incident on Flight 1702 from Philadelphia to Fort Lauderdale, Florida, but Philadelphia Fire Commissioner Lloyd Ayers said two women from the plane were hospitalized, one with a minor injury and one with a minor illness.
Initial indications are the plane, an Airbus A320, was just beginning to lift off when the tyre blew out, and soon after the nose gear collapsed, said airport spokeswoman Victoria Lupica.
The pilot elected to abort takeoff after the tyre blew out, said US Airways spokesman William McGlashen.
The pilot appears to have done a good job handling the situation, Joe Taney, vice president of operations for American/US Airways, told reporters.
"We assume he did based on the fact that everyone is safe and everyone got down safe and evacuated safely and everyone was well taken care of, so I assume our captain did a great job on the aircraft and he should be commended," Taney said.
The plane's five crew members evacuated the 149 passengers by having them slide down emergency chutes after the incident which took place at about 6:05 p.m. EDT (2205 GMT), said McGlashen, who added that the two people who requested medical assistance were both passengers.
Firefighters sprayed foam around the plane as a precaution to prevent any flare-up, and although smoke wafted from one engine, there was no fuel leak from the aircraft and no open flames were seen, Philadelphia Fire Department Deputy Chief Gary Loesch told reporters.
Meanwhile, the mishap halted take-offs and landings on all four runways at the Philadelphia airport for a time, officials said.
Three of four runways later resumed normal operations, and the tilted US Airways plane was set to be towed away at about 1 a.m. local time on Friday, allowing the fourth runway to return to normal operations early in the morning, she said.
The National Transportation Safety Board will investigate the incident, McGlashen said.
The passengers were bused back to an airport terminal and arrangements were made to fly them to Fort Lauderdale on another aircraft, officials said.
Hannah Udren, 18, told the Philadelphia Inquirer she was taking the plane to visit family in Florida.
"We were just entering the air and the front of the plane went down and hit the runway, and then popped back up and hit it again," she told the paper.
US Airways is owned by American Airlines Group Inc.