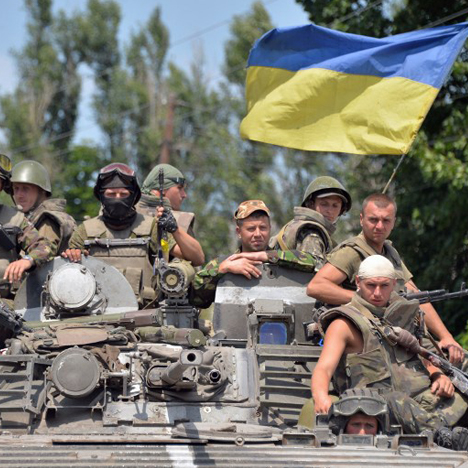 Two Ukrainian military jets were shot down in rebel-held eastern regions. The two Sukhoi fighter jets were shot down near Savur Mogila in eastern Ukraine, said a spokesman of the Ukrainian military establishment.
Savur Mogila is a burial mound in the Shaktersky region where a memorial marks ambushes by the Soviet army on occupying Nazis during World War Two.
He said he did not have any information about the pilots. Igor Strelkov, who is now in charge of the rebel ranks in the eastern city of Donetsk, said the separatists had brought down one plane and that the pilot had ejected. He gave no further details.
Fierce fighting raged near the rebels' two main centres in Donetsk and nearby Luhansk, where they have been pushed back by Ukrainian government forces, who have taken control of villages and suburbs around the cities.
Earlier on Tuesday, Kiev said the separatists were leaving their positions on the outskirts of Donetsk and retreating towards the city centre.
Residents said the rebels, who rose up in April demanding independence from Kiev in the mainly Russian-speaking east, had dug trenches in downtown Donetsk outside the main university, where they have been living in student dormitories.
Xinhua reports that he did not provide any details about the fate of the pilots. Meanwhile, the first planes carrying bodies from flight MH17 have left Ukraine for The Netherlands, which is holding a day of mourning for the 298 victims.
Experts there will begin to identify the dead, most of whom were Dutch. Pro-Russian rebels have been widely accused of shooting down the Malaysia Airlines plane on July 17.
Although 200 bodies have so far been accounted for, experts believe there could be more left at the crash site. On Wednesday morning, 40 coffins were slowly loaded on to two military planes at Kharkiv Airport.
In a separate process, according to the BBC, the "black box" flight-data recorders from MH17 have arrived in the UK, where they will be examined at the headquarters of the Air Accidents Investigation Branch in Farnborough.
Earlier in Washington, officials from the Office of the Director of National Intelligence presented evidence they had gathered on the involvement of the rebels.
"It's a solid case that it's an SA-11 [missile] that was fired from eastern Ukraine under conditions the Russians helped create," said the officials, who requested that their names not be reported.