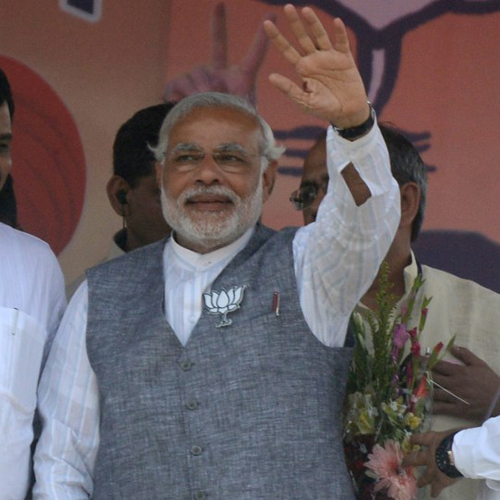 Thousands of school kids have lined the route from Paro Airport to Thimphu, armed with Indian and Bhutanese flags, to greet Indian Prime Minister Narendra Modi on Sunday soon after his arrival from New Delhi on a two-day official visit.
Young Taheeing Dukar said she knew all about Narendra Modi, as she had seen his life story on Zee TV. Her friend, who was also walking with her from their school to the city centre to wave flags as the Indian prime minister's cavalcade passes by, said she hoped to become a doctor when she is older. When asked where she would study medicine, she said Siliguri without batting an eyelid. It is almost like going to another city in one's own country.
She doesn't lament the fact that there are no medical colleges here, nor does she complain that for complicated medical treatment, Bhutanese nationals need to fly out to India. They just accept that going to and from India is routine. There is no pompous national pride on display. Just a pleasant acceptance that "India is there" for them, always.
Chetan Ihamo said she wants to become an architect, and when asked her where she would study, she too chirped "India".
The three girls dressed in the colour uniform of Kira, which is an unstitched lower garment and a loose upper garment, don't miss the Sunday holiday, nor does the sharp sun bother them.
Welcoming a guest with warmth is the traditional Buddhist way of life. Five-year-old Karma Chazin and her brother, eight-year-old Karma Phunstsho, are trying out their outfits. They are part of the cultural ceremony for the Indian prime minister on Monday. The brother-sister duo are too young to walk to downtown Thimphu to receive the VIP guest.
When asked if they know who the chief guest of Monday's function is, five-year-old Karma nodded, "Modi".
The name is easy to memorize you see, says here proud mother. It is a bright day in Thimphu, the prayers of a dozen monks and children have been heard.
Special prayers were held in downtown for a clear day in Thimphu, so that all the functions planned for Modi go off smoothly. The gigantic Shakyamuni Buddha, at a height of 169 feet, is clearly visible.