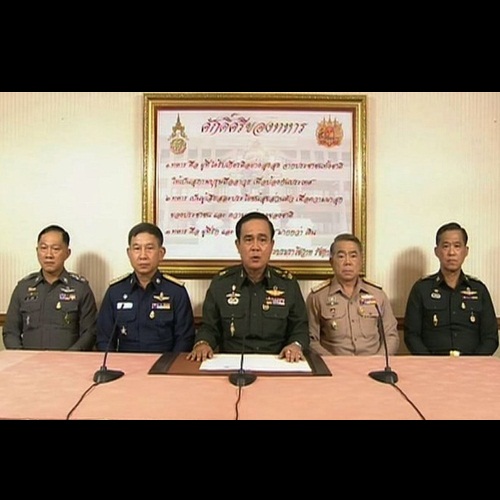 Thailand's military junta said on Saturday it would detain former premier Yingluck Shinawatra and other ousted government leaders for up to a week, tightening its grip over the country following a coup that has provoked international outcry.
As sporadic protests flared in Bangkok, a senior military source said coup leader General Prayut Chan-O-Cha also had submitted a letter on his actions to the revered king, whose blessing has traditionally been sought to legitimise Thailand's recurring military takeovers.
Briefing the media for the first time since Prayut deposed the civilian government on Thursday to halt months of escalating political turmoil, the military declined to specify detainees' whereabouts but said they were in no danger. "They will be detained for up to one week depending on how directly they were involved (in Thailand's political tumult)," army spokesman Colonel Winthai Suvaree told reporters.
Prayut has "submitted a letter to the king concerning the coup" the military source said on condition of anonymity.
King Bhumibol Adulyadej, now 86, commands great respect among his subjects and his blessing for the coup would further strengthen Prayut's already formidable hand. No immediate response was seen.
United States suspends aid
Washington, which has led calls for a restoration of civilian rule, took its first concrete steps. It suspended $3.5 million in military assistance to its ally – about one-third of its Thai aid – and the State Department said it was considering further cuts.
Under the new regime, civil liberties have been curbed, media restrictions imposed, most of the constitution abrogated, and rival political protesters cleared from Bangkok's streets. A night-time curfew has tamed the capital's notoriously rowdy night-life, further chilling a vital tourist sector already cooled by the long-term strife.
Yingluck and dozens of other figures in the now-deposed government and her Puea Thai party – plus many of their fierce political rivals – were called in on Friday as the army corralled potential opponents of the coup. "She is under detention, and she is fine," Lieutenant General Thirachai Nakwanich, commander of the central Thai military zone that includes Bangkok, told AFP.
The detainees were taken in under a martial law provision allowing the military to hold people for up to seven days without charge, he said. It was not clear whether any charges were being prepared.
The army said 135 people had so far answered the summons, including Yingluck's successor – ousted caretaker prime minister Niwattumrong Boonsongpaisan. Most appear to have been Puea Thai members or allies.
Political analysts view the coup as the culmination of an effort by a Bangkok-based power elite – aligned with the monarchy and military – to eliminate a political threat embodied by Yingluck's elder brother Thaksin Shinawatra. Thaksin, a billionaire telecoms tycoon, shook up Thai politics by winning devotion among millions of rural poor with populist measures, catapulting him to prime minister in 2001 polls. He was deposed in 2006 in a military coup, fleeing abroad two years later to avoid a corruption conviction, but his family and allies continued his success at the ballot box as political temperatures rose.
The constitution was replaced after 2006 with one intended to curb Thaksin's electoral influence.
"This time, the constitutional changes will be more thorough," Thai politics analyst Paul Chambers said. He said measures could include "electoral gerrymandering, even more power granted to the judiciary, and finally – and most ominously – more power granted to the army."
Anti-Thaksin forces – alleging corruption in Yingluck's administration – have staged months of deadly Bangkok protests, triggering rival demonstrations by the pro-Thaksin "Red Shirt" movement. Tensions spiralled in early May with Yingluck's dismissal from office in a controversial court ruling that set the stage for the coup.
'We want democracy'
Anti-coup demonstrations have repeatedly flared in Bangkok, although no clashes have been reported. On Saturday, scores of people were blocked by troops as they sought to march in protest on an army installation. They later began marching to the city's landmark Victory Monument, where they planned to stage a rally.
"We are not Red Shirts. We just want democracy. We don't like the military," said one 45-year-old protester who identified himself only as Noi. An elderly woman held a sign reading: "Brave soldiers, return to your barracks. We want to vote".
The US, European Union (EU), United Nations (UN) Secretary General Ban Ki-moon, and major foreign investment source Japan have led calls for civilian control to be restored and free elections held. The junta has given no timetable for elections.
The "Red Shirts" had earlier warned a coup could trigger civil war but are yet to mount a clear response. There has so far been no sign of significant tank or troop deployments, in contrast to the 2006 coup. Ordinary Thais have offered mixed reactions to the takeover, with some protest-fatigued Bangkok residents welcoming stability, while others lamented the threat to democracy.
Thailand's democratic development has been repeatedly set back by 19 actual or attempted coups since 1932.