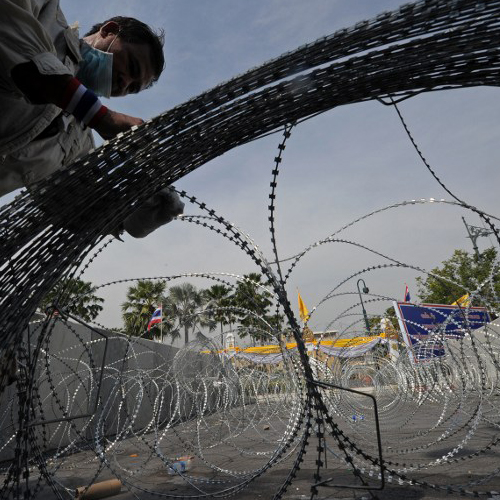 Protesters in Thailand trying to bring down the government abruptly ended a rally at national police headquarters on Wednesday but their leader said the fight would go on despite efforts by authorities to defuse the crisis.
The military, which has staged or attempted 18 coups in the past 80 years, has kept its distance from the latest turmoil and the navy chief said he and top armed forces colleagues had ruled out intervening as the situation was returning to normal.
After days of violence in which five people were killed, authorities took the heat out of the confrontation on Tuesday, telling police to step aside and let protesters into state agencies they had besieged in a bid to topple the government.
Protest leader Suthep Thaugsuban said there would be a pause
on Thursday out of respect for the 86th birthday of King Bhumibol Adulyadej, who is adored by many Thais, not least the anti-government demonstrators.
But the campaign would continue right after that, he said.
"We will start our fight again on December 6. We will start as dawn is breaking and we will fight every day until we get victory," he said in a speech to supporters late on Tuesday.
The protesters made their way into the grounds of the national police headquarters but failed to get past interior barriers and decided shortly after midday to give up the attempt.
Recalling the fraternization at state agencies on Tuesday after exchanges of teargas and petrol bombs the day before, hundreds of female officers replaced riot police at the barricades and waved goodbye to the protesters as both sides chanted "Long live the king!".
Suthep, 64, who resigned as an opposition Democrat Party lawmaker to lead the protests, wants a vaguely defined "people's council" to replace the government. Prime Minister Yingluck Shinawatra said that was unconstitutional.
The protests are the latest eruption of a conflict that pits the Bangkok-based establishment against mostly poorer Thais loyal to Yingluck and her brother, former premier Thaksin Shinawatra, who was toppled by the military in 2006 and lives in self-imposed exile.
Addressing concern that the army might again step in, navy chief Admiral Narong Pipathanasai said he and the heads of the army and air force had met and had no plans to intervene.
"Everyone agreed that the military forces will not take a leading role in this situation and there will be no coup as we believe the tension is easing and everything will be back to normal soon," he told reporters.
Finance Ministry occupied
Police estimated nearly 3,000 protesters had gathered outside police HQ by mid-morning, a relatively small crowd compared with numbers over the past week or two. The main road in front was closed but upmarket shopping malls in the area were open.
Hundreds of protesters still occupy the Finance Ministry and a big administrative centre in the north of the capital but government is carrying on, with Yingluck meeting economic ministers at her office at Government House, which had to be defended with teargas and water cannon this week.
Government spokesman Teerat Ratanasevi told reporters that Yingluck had asked Finance Minister Kittirat na Ranong and economic agencies to draw up measures to boost investment, create jobs and restore confidence.
"They will be announced in the last week of the year or early 2014 as a present for the Thai people," he said.
The stock market rallied on Tuesday as tension subsided and was steady on Wednesday along with the baht , which traders said was helped by the navy chief's comments.
Consumer confidence fell in November to its lowest level in almost two years as the demonstrators took to the streets, forcing the government to abandon a political amnesty bill that would have allowed Thaksin to come home from self-imposed exile in Dubai, avoiding a prison sentence for abuse of power.
That, plus cancellations by tourists, could add to the problems of an economy struggling with weak exports.
However, Sampan Silapanad, president of the Electronic and Computer Employers' Association, said the problem had been limited to Bangkok and even there disruption was minimal.
"There's no immediate impact to business. Only a few workers face problems in terms of travel, which may be unsafe, so some firms have advised them to stay home," he told Reuters.
If the protests were drawn out, some international firms might have to temporarily shift production to neighbouring countries and that could damage investor confidence over the long term, he said.
But for now, problems for association members such as Western Digital Corp and Seagate Technology Plc were nothing like those encountered during flooding in 2011, which cut down supply lines and closed some factories for months, he said.