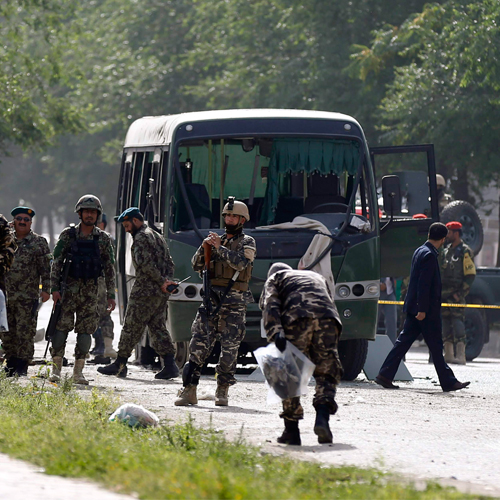 A Taliban suicide bomber in Kabul killed eight military officers on Wednesday in an attack on an air force bus, Afghan officials said, in the latest strike against the national security forces as US troops withdraw.
The Afghan capital has been relatively peaceful since the presidential election on June 14, though there have been street demonstrations as politicians are locked in a dispute over vote fraud.
"As a result of a suicide attack this morning on an ANA (Afghan National Army) air force bus in (west) Kabul, eight army officers were martyred and 13 wounded," defence ministry spokesman General Zahir Azimi said in a statement. "The wounded personnel have been taken to hospital."
Sediq Sediqqi, spokesman for the interior ministry, told AFP that five civilians were also wounded in the attack that targeted the bus as it took military staff to work.
The Taliban used a recognised Twitter account to claim responsibility for the blast, adding that the suicide attacker approached the vehicle on foot before detonating his explosives-packed vest. Taliban spokesman Zabiullah Mujahid said that at least 25 people had been killed on the bus, though the insurgents regularly exaggerate death tolls after attacks.
Election day saw a sharp rise in nationwide violence, but there has not been a major attack in Kabul since June 7, when 12 people were killed in a suicide strike against presidential candidate Abdullah Abdullah, who escaped unharmed.
Abdullah has said he will reject the result of the on-going election vote count, alleging massive fraud against him in the race against his rival Ashraf Ghani.
NATO's 50,000-strong combat force will depart Afghanistan by December, though about 10,000 US troops may stay into next year if the new president signs a security deal with Washington.
Recent weeks have seen fierce fighting in the southern province of Helmand, with the Afghan army and police counter-attacking after a major offense by 800 Taliban fighters focused on the strategic district of Sangin.
Sangin, a centre of Afghanistan's lucrative opium trade, has been the scene of bloody battles for years between the Taliban and US-led NATO forces, who only pulled out of the area in May. With the NATO combat mission winding down, the coming months are expected to be a test of the NATO-trained Afghan government forces now responsible for quelling the insurgency.
Concern about Afghanistan's stability has been heightened by the deepening crisis over the election to select a successor to President Hamid Karzai, who has ruled since 2001 when the Taliban regime was ousted.
Amid the impasse over alleged fraud, the United Nations has warned of the threat of a "spiral of instability".