Following the incident on Thursday in the Lok Sabha, dna looks at other incidents of such chaos.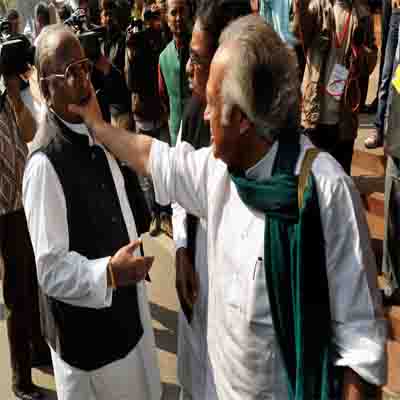 On February 10th, President Pranab Mukherjee, gave a statement remarking that Parliament functions through debate, dissension and decision, not through disruption; and called on all stakeholders, including government and political parties, to do some introspection. Just days after this, comes what may be the most hilarious as well as disgusting abuse of power and responsibility in India.
The Lok Sabha MPs took to spraying pepper spray on each other, and one even flung a computer; leaving Speaker Meira Kumar 'anguished', and the rest of the country astounded. There were also rumors of an MP brandishing a knife; but he denied it saying it was a mike.
This is not a surprise to most Indians. Verbal abuses and aggression are common in Parliament sessions. Members seldom let each other voice their opinions, which is why decisions and changes are slow and rare. Incidentally, the Indian Parliament is not the only offender.
The opposition lawmakers in the Ukrainian Parliament, set off smoke bombs and even resorted to throwing eggs at each other in 2010. The Speaker Volodymyr Litvyn took the shelter of an umbrella, provided to him by his bodyguards, as he was made the target of the egg attacks. The mayhem came as a consequence of the Russian Navy's stay in Ukrainian ports being extended against the opinion of the opposition.
The Sri-Lankan parliament was comparatively better. In 2011, the debate was heated enough to result in fisticuffs, hurling of water bottles, books as well as abuses and threats. It reached such a height that there was tugging and manhandling of the saris worn by some woman MPs.
The Parliament in Jordan joined the 'band of boors' last year, when a Jordanian MP picked up an AK-47 rifle, and threatened to fire it at a colleague. This was not an isolated incident either. An MP threw a shoe at his opponent, during a debate on national television, and then followed that by pointing a revolver at him.
Taiwanese MPs are not far behind in this aspect as well. Democratic Progressive Party member, Wang Shu-hui, grabbed a document and stuffed it in her mouth, in an attempt to hinder legislation on the topic. Opposition members failed to get her to cough it up by pulling her hair. She later spat it out and tore it up. This was followed by another member of the same party spitting on another MP.
The State governments in India are not far behind. The Uttar Pradesh Vidhan Sabha witnessed a brawl using chairs and microphones as weapons, in 1997. Maharashtra and Odisha lower houses have witnessed such havoc more recently as well.
Following incidents such as these, we should really mull over who we are giving power to in our country.