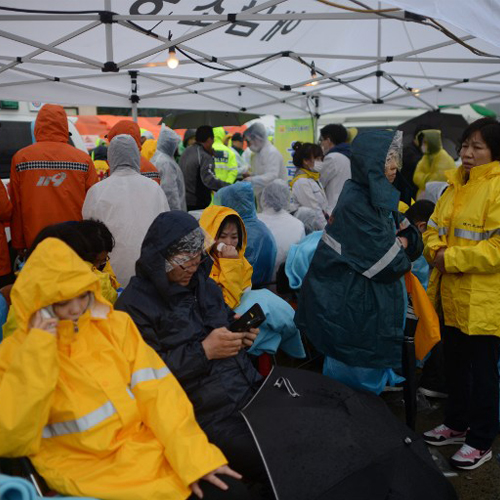 Rescuers worked frantically Thursday to find around 300 people – mostly schoolchildren – missing after a South Korean ferry capsized, with prospects of pulling survivors from the submerged vessel dimming as emotions boiled over among anguished relatives.
Worsening weather fuelled the sombre mood, with persistent rain and choppy seas further hindering dive teams already struggling with low visibility and strong currents.
Nine people were confirmed dead, but with every hour that passed fears mounted for the 287 still unaccounted for after the multi-deck vessel with 475 on board suddenly listed, capsized and then sank within the space of 90 minutes on Wednesday morning.
"Honestly, I think the chances of finding anyone alive are close to zero," a coastguard official said on one of the boats at the site. The coastguard said more than 500 divers, 169 vessels and 29 aircraft were now involved in the rescue operation.
But distraught relatives gathered in a gymnasium on nearby Jindo island insisted more should be done, and vented their frustration when President Park Geun-Hye came to inspect the rescue effort.
"What are you doing when people are dying! Time is running out!" one woman screamed as Park tried to address the volatile crowd with her security detail standing by nervously.
A total of 375 high school students were on board, travelling with their teachers to the popular island resort of Jeju.
When South Korean Prime Minister Chung Hong-Won visited the gymnasium in Jindo earlier in the day, he was jostled and shouted at, and water bottles were thrown.
'Don't run, prime minister!'
"Don't run away, Mr. Prime Minister!" one mother said, blocking Chung as he tried to leave. "Please tell us what you're planning to do."
The coastguard said 179 people had been rescued – a figure that has remained constant since the evening before, further undermining hopes of more survivors being found.
The tragedy has stunned a country whose rapid modernisation was thought to have consigned such large-scale accidents to the past. If the missing are confirmed dead it would become one of South Korea's worst peacetime disasters – all the more traumatic for the number of children involved.
It was still unclear what caused the 6,825-tonne Sewol to sink. Numerous passengers spoke of a loud thud and the vessel coming to an abrupt, shuddering halt – suggesting it had run aground or hit a submerged object. But the captain, Lee Joon-Seok, who survived and was being questioned by investigators, insisted it had not hit any rocks.
Pulling a hood over his head and face as he was surrounded by camera crews in the coastguard offices, Lee mumbled an apology. "I feel really sorry for the passengers, victims and families," he said.
Other experts suggested the ferry cargo, which included 150 cars, might have suddenly shifted, irretrievably destabilising the vessel.
Distressing mobile phone footage taken by one survivor emerged on Thursday, showing the panic on board with one woman desperately screaming "The water's coming, the water's coming!"
There was growing public anger over multiple survivor testimony that passengers had been ordered to stay in their seats and cabins when the ferry first foundered. "We must have waited 30 to 40 minutes after the crew told us to stay put," said one rescued student. "Then everything tilted over and everyone started screaming and scrambling to get out," he said.
Rescuers said they feared hundreds had been unable to escape the vessel because of the speed with which it turned over.
Regional coastguard commander Kim Soo-Hyun told a press briefing that "investigations were underway" into reports that the captain and crew were among the first to leave the stricken vessel.
Among the nine confirmed dead were three students, one teacher and a crew member.
Divers 'risking their lives'
The strength of the currents experienced by the divers was underlined by the fact that the ship had drifted several kilometres since going down.
Chung Dong-Nam, the head of one civilian diving team at the site, said three of his men had to be rescued after being swept out to sea.
"We've tried repeatedly to get into the ship but the waves and currents are too powerful," Chung told the YTN news channel.
"These men are risking their lives," he added.
Before her tense meeting with parents of the missing children, President Park took a boat to the rescue site where she appealed to the dive teams to keep working despite the dangers.
"Time is running out. Please hurry," Park said. "If there are survivors, every minute and second is critical."
If the current toll rises as feared, it could end as the nation's biggest disaster since a Seoul department store collapsed in 1995, killing more than 500 people.