The billionare was seen working on board an AirAsia flight.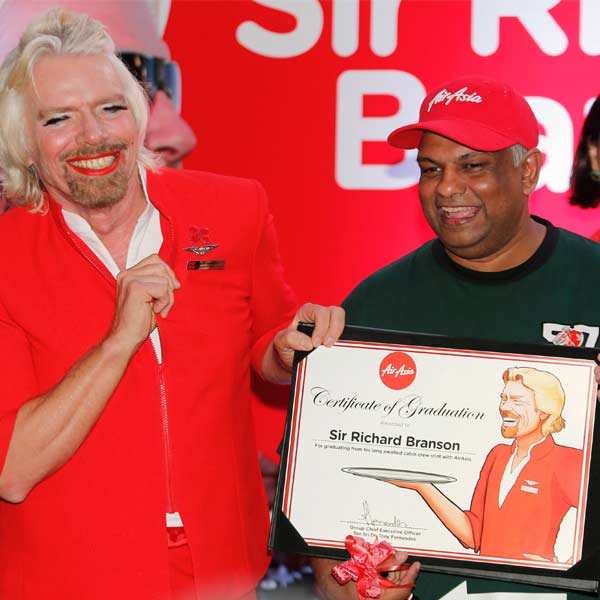 Sir Richard Branson may be the billionaire boss of Virgin Airline but he proved he was a sport as he put on fake eyelashes, flashed black fishnets and pouted painted lips while working aboard an AirAsia flight on Sunday.
Branson was fulfiling a bet he lost to AirAsia CEO, Tony Fernandes which he had to do by dressing and serving as a flight attendant on board Fernandes' flight.
About 300 passengers on board the flight from Perth to Kuala Lumpur were treated to a show in the air as Branson sported AirAsia's short, tight red uniform as he performed the safety demonstration which earned a clap and some muffled laughs.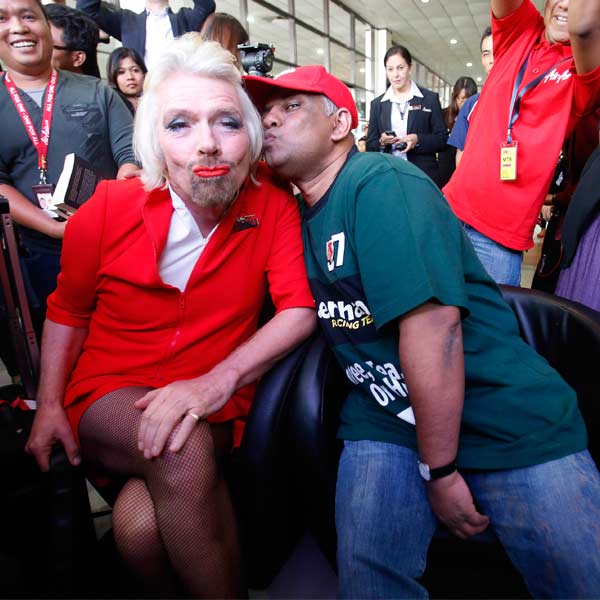 As the entrepreneur entered the plane, Aerosmith's song Dude Looks Like a Lady was played on the plane's sound system.
The 63-year-old stunt lover's first duty was to take out a drinks tray, wrote Adelaide Now as he mischievously dropped the drinks on Fernandes while he served.
Branson dressed as a stewardess insisted that the tray fell but Fernandes who had to change into a new set of clothes made it clear who was boss.
Adelaide Now reported that the Malaysian told Branson, "You're going to be cleaning the toilets."
Around 50 media persons from the UK, Japan, Malaysia, Thailand, Korea, Taiwan and Australia recorded Branson's every move as he moved in the plane, shook hands, kissed cheeks and posed for photographs with passengers.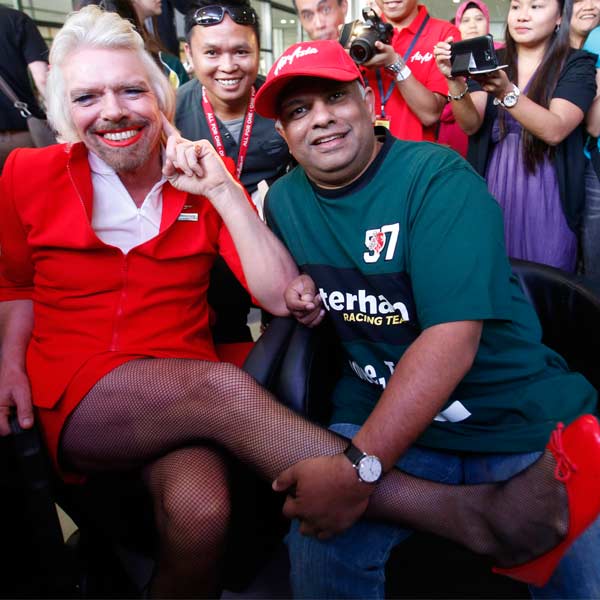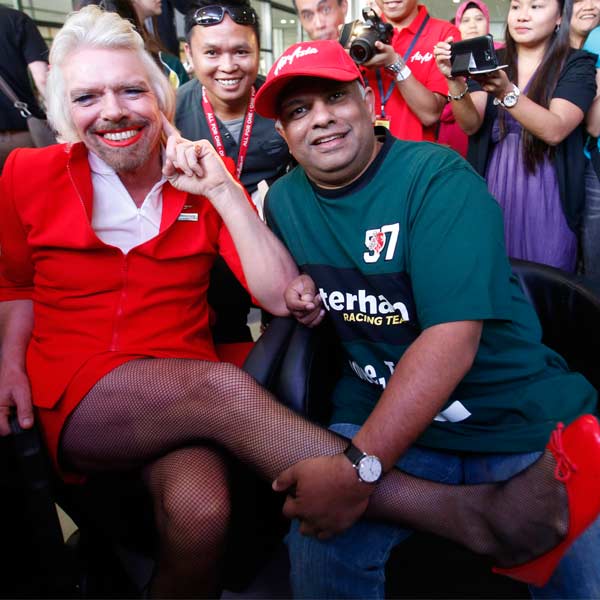 Branson admitted that he wore a dress only once before, when he launched the ill-fated Virgin Brides business.
Branson had lost the bet to Fernandes more than two years ago in the debut season of the 2010 Formula One Grand Prix in Abu Dhabi as they betted on whose team would finish ahead in the points table.
Branson, who was in Perth to launch his recently acquired WA-based regional airline, said several events had hampered his ability to honour the bet before now.
"First, I broke my leg, then the Duke and Duchess of Cambridge decided to get married, then I burnt down my house on Necker Island," Branson was quoted as joking by Adelaide Now.
The money collected as part of the stunt was to be given to charity.
The flight ended with Branson being fired before he and Fernandes sprayed each other with champagne to celebrate a la F1 style.