Ukraine's state gas company Naftogaz files lawsuit against Gazprom in Stockholm court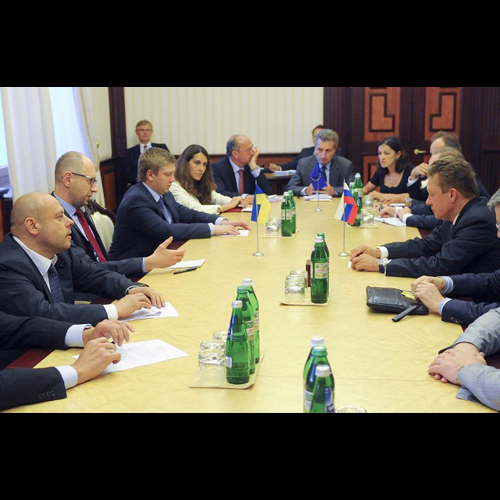 Ukraine's energy minister said Russia had cut off all gas supplies to Kiev on Monday, but he guaranteed reliable gas flows would continue to Russia's European clients who get imports through pipelines via Ukraine.
"We have an announcement to make today – that gas supplies to Ukraine have been reduced to zero," Energy Minister Yuri Prodan told a news briefing.
With the supply being cut off, Ukraine has almost 14 billion cubic metres of gas in underground storage, enough to meet its needs until December, the chief executive of state gas company Naftogaz said on Monday. This should cushion the European Union (EU) from any knock-on reduction in gas supplies shipped to the EU through Ukraine
Ukrainian Prime Minister Arseny Yatseniuk, sitting beside Naftogaz CEO Andriy Kobolev at a news briefing, blamed the breakdown of talks in a gas pricing dispute on Russia, saying Moscow had hoped to cause Kiev problems in winter. "But it is not about gas. It is a general Russian plan to destroy Ukraine," Yatseniuk said.
Meanwhile, Ukrainian state gas company Naftogaz said on Monday it had filed a lawsuit at the Stockholm arbitration court to try to recover $6 billion in what it said were overpayments to Russian exporter Gazprom.
Naftogaz said in a statement it was also demanding a "fair and market price" for natural gas supplies from Gazprom, which said earlier on Monday that it had restricted supplies to Kiev after it missed a deadline to pay $1.95 billion in gas debts.
European Energy Commissioner Guenther Oettinger said on Monday he was aiming to arrange further talks to solve the gas pricing row between Moscow and Kiev, which has led Gazprom to cut off supplies to Ukraine. "Further invitations for trilateral talks in June are foreseen," Oettinger said.
Oettinger, who has brokered a series of three-way talks between Russia, Ukraine and the EU, was speaking at a news conference in Vienna following the latest round of negotiations that ended without a deal.