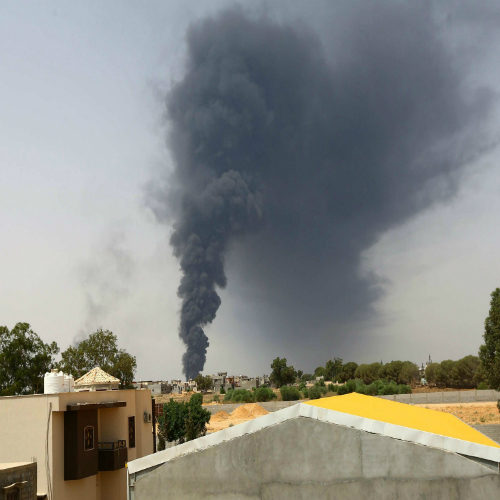 The Libyan government is now asking for international help after several of its oil tankers caught fire amid clashes over the control of the country's international airport in Tripoli. The tank containing six million litres of petrol caught fire after being hit by a Grad missile, said officials from the oil and security department.
"The government has requested international assistance and contacted several foreign states asking if they were willing to send planes and teams specialising in fire extinguishing," Libya's state-run National Oil Co. said on its Facebook account. In response, several countries have offered to send planes and a team of experts who specialise in putting out fires.
The news comes after the two-week long battle in Tripoli which began when Islamist militia from Misrata launched a surprise attack for the control of the international airport.
The interim government posted a statement on its website on Monday saying that the conflict between the rival militia is the cause of the blaze, which could trigger a "humanitarian and environmental disaster." as the complex where the tanker is kept also contains more than 90 million litres of fuel and cooking gas which poses a huge risk should the fire spread.
The death toll in Libya's Tripoli after two weeks of clashes has been recorded at 97, the worst since the fall of Muammar Gaddafi in 2011. Also, the fights in Benghazi have intensified with 38 recorded deaths. The clashes are happening between Libyan troops and Islamist fighters.
Calls for Evacuation
Concerned about the citizens, the interior ministry of Libya has asked the residents in Tripoli who live close to the airport to evacuate their houses. But in the current situation, evacuations could be difficult.
France and Germany also joined the league of withdrawing its staff from Libya after UN, US and Turkey looking at the surging violence in the country.
The Libyan government has also warned the people of the possible break up of the country if the clashes in Tripoli continue. According to them, they have to dislodge the Islamists militants from the city.