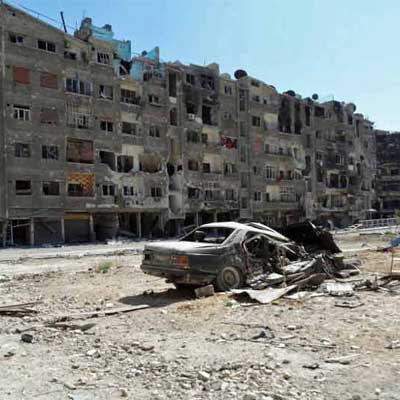 The Joint Mission of the Organisation for the Prohibition of Chemical Weapons and the United Nations (OPCW-UN) declared the completion of removal of chemical weapons matreial from Syria on Monday.
The removal of destructive material had begun in January this year after an agreement was worked out between Russia and United States where Syria renounced its chemical weapons material.
The focus of the Joint Mission in the past few weeks was to move the remaining 7.2% material which was difficult with the current war-like situation in the country. "With this last movement, the total of declared chemical weapons materials destroyed or removed from Syria has reached 100%," the Joint Mission said in a press release.
On this accomplishment, UN Secretary-General Ban Ki-Moon congratulated the Joint Mission for completing one of the most challenging tasks in an active war-zone. The Joint Mission has not only moved the declared chemical weapons material but destroyed all production, mixing and filling equipment as well.
Except 12 facilities who still await a decision from OPCW Council, rest of the facilities have been taken care of. The Joint Mission used the method of hydrolysis to destroy the material in the middle of the sea.
The Joint Mission at the end of the task expressed gratitude towards the Syrian government for the patient cooperation and commitment they displayed. They also thanked the countries who provided critical resources and facilitated the operation. "A new chapter in the elimination now begins," said the Joint Commission since now the rest of the materail will be taken from the Italian port to different destruction facilities.
At the end of the volatile operation, The Joint Mission hopes that this action will make a meaningful difference in the lives of Syrian people on whom tragedies have befallen from the last four years.