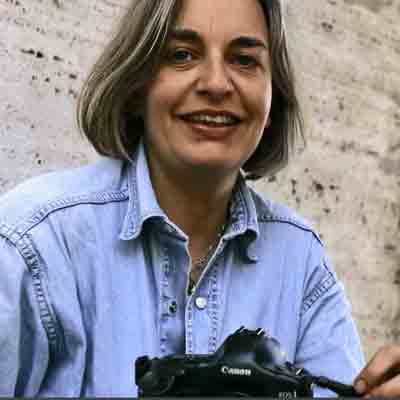 "She gave herself to the subjects of her lens and her talent to the worl " was Associated Press' quote that described Anja Niedringhaus' journey as a photojournalist who died while covering the Afghanistan elections. Much has been written about Anja after her death as the tragedy sent shockwaves across journalism circles. Her body of work encompasses covering Afghanistan, Bosnia, Libya, Pakistan and Iraq.
Incidentally, her last tweet was related to death and a reporter's battle.
A heartful tribute: A Reporter Clutches Life After a Loss That Hits Home http://t.co/cLK9JgQEt2

— Anja Niedringhaus (@NiedringhausAP) April 2, 2014
She was a German photojournalist working for the Associated Press and was on an assignment in Afghanistan with fellow reporter Kathy Gannon when the incident occurred which took her life. Elections in Afghanistan were terse because of Taliban's rule and the pent up tension as the country was heading towards an election that could change the future.
Anja cannot be termed as someone on a special assignment. Anja had been chronicling Afghanistan's tryst with Talibani forces, American intervention and much more through photographs.
She was the only woman in a team of 11 AP photographers who won the 2005 Pulitzer Prize for Breaking News Photography for coverage of the Iraq War.
People remembered Anja and her amazing work on Twitter by sharing pictures:
#RIPAnjaNiedringhaus: Life behind the lens of AP photographer killed in #Afghanistan http://t.co/I7aRKR77ws pic.twitter.com/2Nm0eGXzJH
— IBTimes UK (@IBTimesUK) April 4, 2014
In ricordo di Anja Niedringhaus, fotoreporter uccisa oggi da un attentato in #Afghanistan pic.twitter.com/1oLjvoSfgv

— Luigi De Gennaro (@luigidegennar) April 4, 2014
Ein Foto von Anja Niedringhaus pic.twitter.com/lU7jyqkmEW via @luigidegennar

— Loretta (@laRossa05) April 4, 2014
Here we take a look at her body of work and her journey as a passionate photographer.
*She was awarded the International Women's Media Foundation's Courage in Journalism prize in 2005 after winning the Pulitzer prize.
*Niedringhaus was born in Höxter, North Rhine-Westphalia, and began working as a freelance photographer at the age 17 while still in high school.
*In 1989, she covered the collapse of the Berlin Wall for the German newspaper Göttinger Tageblatt and then joined European Pressphoto Agency in Frankfurt, Germany in 1990. As EPA's Chief Photographer she spent the first ten years of her career covering the wars in the former Yugoslavia.
*In 2001, Niedringhaus photographed the aftermath of the September 11 terrorist attacks in New York City and then traveled to Afghanistan, where she spent three months covering the fall of the Taliban. In 2002, she joined Associated Press, for whom she has worked in Iraq, Afghanistan, the Gaza Strip, Israel, Kuwait and Turkey.
*In 2007, Niedringhaus was awarded a prestigious Nieman Fellowship at Harvard University She was part of the 69th class of Nieman Fellows where she studied culture, history, religion and the issues of gender in the Middle East and their impact on the development of foreign policy in the United States and other Western countries.
* Her work has been exhibited at the Museum of Modern Art in Frankfurt, Germany, and in galleries and museums elsewhere, including Graz, Austria.
*In addition to photographing conflicts and political crisis around the world, Niedringhaus also covered the world's premier sporting events, including nine Olympic Games. In 2005 Niedringhaus and a team of AP photographers won the Pulitzer Prize in the breaking news category for their coverage of the war in Iraq.
Honors and awards:
*Pictures of the Year International, BOP Best of Photojournalism, Clarion Awards, The Atlanta Photojournalism Seminar, Award Winner of the 'Goldene Feder' Hamburg and winner of the 'Abisag Tuellmann' award for reportage photography in 2011.
*Anja Niedringhaus' work has been exhibited in a number of prestigious art houses and museums including the Museum of Modern Art in Frankfurt, the C/O Gallery in Berlin, the Art Collection of the German stock exchange in Frankfurt, The Museum of Fine Arts in Houston, Texas as well as in museums and galleries in the United States, London, Austria and Canada. Anja Niedringhaus published two books: In 2001 'Fotografien' (Museum of Modern Art, Frankfurt) and in 2011 'At War' (Hatje Cantz, Ostfildern).
Also watch: Associated Press pays tribute to photojournalist Anja Niedringhaus who died while covering Afghan elections
Below are the pictures shared by Anja on her Twitter account and Facebook page:
Notable #photojournalism by Anja Niedringhaus of the #Afghanistan election @NiedringhausAP http://t.co/pVSSJRGNqe pic.twitter.com/pEbo0SsQfn

— APImages.com (@AP_Images) April 1, 2014

Portraits of Afghan female lawmakers by @NiedringhausAP, just ahead of next week's elections | http://t.co/thvf88UdVI pic.twitter.com/MHZZg339zh

— Vaughn Wallace (@vaughnwallace) March 28, 2014

Karzai's legacy-@Kathygannon @NiedringhausAP http://t.co/TNT7WeB8HN pic.twitter.com/8eqAg0ZKM3

— Anja Niedringhaus (@NiedringhausAP) March 30, 2014

Heartbreaking smile from this little guy, only member of AFP reporter Sardar Ahmad's family to survive Taliban attack pic.twitter.com/SxIFyLE8Xd

— Olivier Knox (@OKnox) March 28, 2014

Another attack in Kabul: @Kathygannon http://t.co/6BBgexSJhh pic.twitter.com/Clwu1jzr1P

— Anja Niedringhaus (@NiedringhausAP) March 29, 2014

Afghan women lawmakers @Kathygannon http://t.co/ngllftrvxW pic.twitter.com/c88ByOt99n

— Anja Niedringhaus (@NiedringhausAP) March 28, 2014

Another attack in Kabul ahead of the elections:@Kathygannon @NiedringhausAP http://t.co/H3BQbYB0uu pic.twitter.com/cGFDyzkU8V

— Anja Niedringhaus (@NiedringhausAP) March 26, 2014

Slideshow of pictures for stories with @Kathygannon @NiedringhausAP http://t.co/vqYjiIXaI6 … http://t.co/rIyR9Xq9rH pic.twitter.com/QUrlAK8gQN

— Anja Niedringhaus (@NiedringhausAP) March 26, 2014

The upcoming Afghan elections- story and pictures by @Kathygannon @NiedringhausAP http://t.co/rktSZox2xi pic.twitter.com/GCcdjrjrKC

— Anja Niedringhaus (@NiedringhausAP) March 24, 2014

Bitterness of Syrian war on display at talks: http://t.co/E960gfmxTD pic.twitter.com/on94CSaUFn

— Anja Niedringhaus (@NiedringhausAP) January 29, 2014

Frontline job in Kandahar, Afghanistan: http://t.co/J7LMAJDIEC pic.twitter.com/9sOVH2hjoR

— Anja Niedringhaus (@NiedringhausAP) December 13, 2013

Our latest story on a record opium year in Afghanistan- with @Kathygannon : http://t.co/lapeohBwsC pic.twitter.com/qFG90mhs5B

— Anja Niedringhaus (@NiedringhausAP) November 14, 2013

Un homme vote à l'élection présidentielle afghane à #Kaboul pic.twitter.com/YdUwdTGfwe par @shahmarai #AFP

— Agence France-Presse (@afpfr) April 5, 2014

Another attack in Kabul ahead of the elections:@Kathygannon @NiedringhausAP http://t.co/H3BQbYB0uu pic.twitter.com/cGFDyzkU8V

— Anja Niedringhaus (@NiedringhausAP) March 26, 2014

Anja Niedringhaus and I travel to hear Afghan farmers tell why more growing poppies http://t.co/3FvoYGIe5a pic.twitter.com/GI8g1K5hta

— Kathy Gannon (@Kathygannon) November 14, 2013

Gripping image by @AP photographer @NiedringhausAP of a Afghan laborer working at a brick kiln factory in Kabul today pic.twitter.com/IbdsGq0S2O

— HuffPostUK Pic Desk (@HuffPostUKPics) November 7, 2013

Our latest story with @Kathygannon out of Afghanistan:http://t.co/eIIb2l7aIz pic.twitter.com/zbXUvkqdKO

— Anja Niedringhaus (@NiedringhausAP) October 24, 2013

Pictures: Women defy threats to vote in Afghanistan presidential elections http://t.co/lUDzZNUEDM pic.twitter.com/vdn1tXreyx

— ITV News (@itvnews) April 5, 2014