A thoroughbred "porteno" - or man of Buenos Aires - the new head of the Catholic Church was also a chain smoker in his younger years.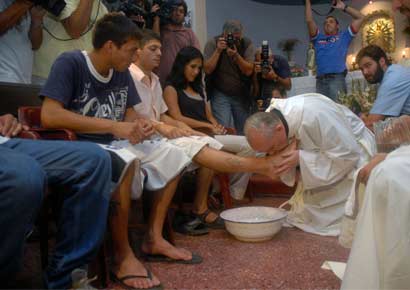 Buenos Aires was gripped by a palpable buzz yesterday (Thursday) that one of their own had reached the highest office in the Vatican.
From a 12-year-old boy who played football with his friends on the streets, to the archbishop who took the 30p metro with fellow commuters, Pope Francis's journey since his epiphany aged 17 has captured Argentina's imagination.
Rafael Musolino, 76, a childhood friend, recalled when the Pope was simply Jorge, a 12 year-old who enjoyed a kick-about in the working-class neighbourhood of Flores.
"Jorge would come out sometimes, but he spent a lot of time in the house studying," he said. "He was a very serious child, friendly but hard-working.
"There were a lot of wild boys around, but he was never like that. He was very straightforward and not the talkative type, a boy of few words."
A thoroughbred "porteno" - or man of Buenos Aires - the new head of the Catholic Church was also a chain smoker in his younger years.
Before realising his vocation during a confession in his local church in the spring of 1953, the future pontiff had even started a romantic relationship.
"He went to church with a girlfriend but came out determined to become a priest," said Mr Musolino.
Fr Gabriel Marronetti of San Jose de Flores (Saint Joseph) church, says Jorge's life changed in 1953 when on his way with friends to celebrate the traditional spring festival he felt called to enter his local church.
Inside the ornate marble and stone splendour of the Basilica of St Joseph, he asked to take confession.
"He says that inside that confessional God was waiting for him," Fr Gabriel recalled.
"His vocation came to him here. That was the moment that he knew his role in this life was to be a priest."
Even after he turned to studying for the priesthood, he remained in contact with the other young men from the same tenement block, which has since been torn down. Only a small patio and pergola remain.
"He would often come back while he was archbishop to pray here quietly," said Fr Gabriel. "It was important for him to keep that link to the place where he discovered his calling."
Mr Musolino and his wife of 51 years Marta Laera, 71, were as surprised as anyone when they watched the live coverage from Rome of the new Pope.
"We are in disbelief," said Mrs Laera. "We kept saying to each other, 'It's Jorge, it's Jorge'.
"Jorge was always very modest and humble, but he was not shy and has a strong personality and so I believe he will do great things as Pope."
On Wednesday night, when news of the appointment filtered through, Argentines wept for joy and packed into Buenos Aires cathedral. When the news broke from the Vatican, the roughly 200 worshippers who were attending mass at the Metropolitan Cathedral, which overlooks the Plaza de Mayo, gave the new pontiff a rousing standing ovation.
Flores and St Joseph retain a pivotal place in the heart and faith of the new Pope, long after his family moved away and he rose up the ecclesiastical ladder.
Indeed, he was due to conduct Palm Sunday mass at St Joseph on March 23, as he has for the previous four years. "We are very happy that he won't be able to make it after all," said Fr Gabriel.
Fr Jorge, as he has always insisted on being called in Flores, continued to live in keeping with his fellow countrymen even after he was ordained as Archbishop of Buenos Aires.
Frederico Wals, his spokesperson, said the new archbishop gave the official residences to priests and bishops "who didn't have a place to stay in Buenos Aires".
Instead, he moved into a small room in which there was a bed, a desk and a bedside table on the second floor of the Curia building with a view of the Plaza de Mayo square.
He had two members of staff: a personal secretary and a press secretary. Metro station workers said he used the underground system almost every day, making the short walk from his residence in the unremarkable tower block beside the cathedral to the entrance in the middle of the square.
And his love of football has endured; in 2008, he was presented with a membership card from his beloved San Lorenzo to mark the club's centenary.
"He's a simple person," Mr Wals added. "He lives as a porteno."