The North Korean leader was unanimously re-elected to the Parliament from his constituency.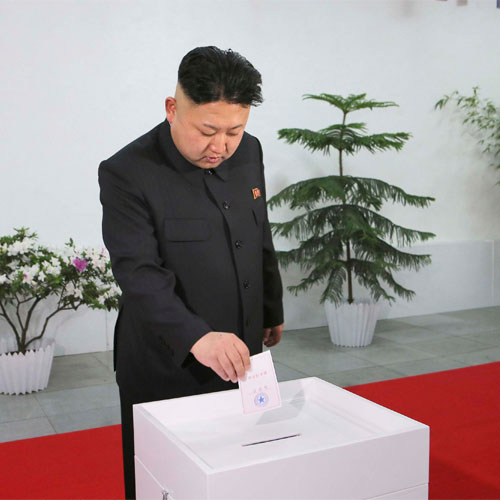 North Korean leader Kim Jong-un is reported to have been unanimously re-elected to the Parliament by the people of his constituency, in the elections for the Supreme People's Assembly, held once in five years.
Kim received complete support from his Mount Paektu constituency, with 100% votes in his favor.
According to the BBC, each of the 687 districts had only one candidate running for office, with voters required to write "Yes" or "No" on the ballot paper.
Following Kim's victory, the Korean Central News Agency (KCNA), the state news agency of North Korea, said this was an expression of all the service personnel and people's absolute support and profound trust in Supreme Leader Kim Jong-un as they single-mindedly remain loyal to him.
Meanwhile, Kim's younger sister Kim Yo-jong also made her first official appearance in state media, which identified her by name and the honorific "comrade", describing her as a senior official.
The reactions that this unanimous win garnered on the internet were enthusiastic, with some being congratulatory and some dryly sarcastic.
The internet takes over after news that Kim Jong-Un won the North Korean Parliamentary polls with 100% of the vote. pic.twitter.com/Tl6gmNtOSj

— Nigel Britto (@NigelBritto) March 11, 2014
Congrats to Kim Jong-Un for winning election with 100% of 100% of the vote. Wow. So fair. Much democracy.

— Jillian C. York (@jilliancyork) March 11, 2014
Conan: North Koreas Kim Jong Un re-elected with 100% of the vote. Kim credits the win to his slogan: "Vote for me or you will be murdered."

— Andrew Malcolm (@AHMalcolm) March 11, 2014
Amazing result for Kim Jong-un winning 100% of the vote. Reports seem to omit that the ballot asked voters whether they liked pizza.

— Mike Nicholson (@Mikey_Nicholson) March 11, 2014
With inputs from agencies.