Pascale's transformation has begun ahead of the start of a campaign next month by Berlusconi to be elected prime minister for a fourth time.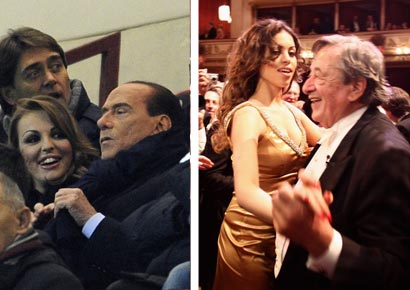 Silvio Berlusconi's 27-year-old fiancee is being groomed for what the former Italian prime minister hopes will be her ascent to "first lady" as he plots an audacious return to the front line of politics.
Behind the scenes of Italy's heated political wrangling, Francesca Pascale is reported to be taking courses in "bon ton", to have closed her Facebook profile, undergone minor plastic surgery and changed her phone number.
She is permitted to give interviews only with the approval of Berlusconi's centre-Right PdL party, according to Italian media.
Pascale's transformation has begun ahead of the start of a campaign next month by Berlusconi to be elected prime minister for a fourth time.
It remains to be seen whether Italy's mostly Catholic voters, embarrassed by Berlusconi's "bunga bunga" party antics, are ready to embrace Pascale, who is 50 years his junior. For the past year, Italy's "first lady" has been Elsa Antonioli, the wife of Mario Monti, the outgoing prime minister and a reserved Red Cross volunteer and grandmother who rarely misses Mass.
Pascale, the daughter of a wedding photographer who grew up in Naples, began dancing for a kitsch show on Telecapri station when she was 14. She later left showbusiness, studied political science and became a provincial councillor for Berlusconi's centre-Right PdL party, but stepped down in July.
Earlier this month the billionaire media mogul confirmed their relationship on television, calling her "beautiful on the inside and the outside". "Finally I feel less lonely," Berlusconi said. "I am engaged to a Neapolitan, it's official."
Pascale is said to be friends with Berlusconi's daughter, Marina, who is chairman of Italy's largest magazine publisher, Mondadori.
Pascale met Berlusconi in 2004 when she was 19. "I followed him as if he were a rock star," Pascale she said in an interview in the magazine F yesterday. "I met him in Rome at a lunch for European parliamentarians. I arrived wearing a T-shirt that read 'Silvio, we miss you', to which he said, 'Finally, I get to meet you'."
This month, Daniela Santanche, an MP in Berlusconi's party who is known to be part of his inner circle, referred to her as Italy's "new first lady".
Yesterday, Nicole Minetti, a former Anglo-Italian showgirl, who once called Berlusconi the "love of my life," was reported as saying she too believes Pascale would make an "excellent first lady". Minetti has been a member of Lombardy's regional assembly since catching Berlusconi's eye while he was prime minister. She was accused of procuring dancers and escorts for lavish "bunga bunga" parties, charges which she denies. Milan prosecutors are also investigating whether she improperly requested state reimbursements for euros 27,000 in spa treatments, hotels and dinners.
Pascale is "absolutely the right person to stand by Berlusconi right now," Minetti was quoted as saying by Italian news agencies.
Berlusconi is trying to stage a comeback after stepping aside a year ago to make way for a technocratic government appointed to stave off impending financial crisis. Its leader, Monti, officially resigned last week.