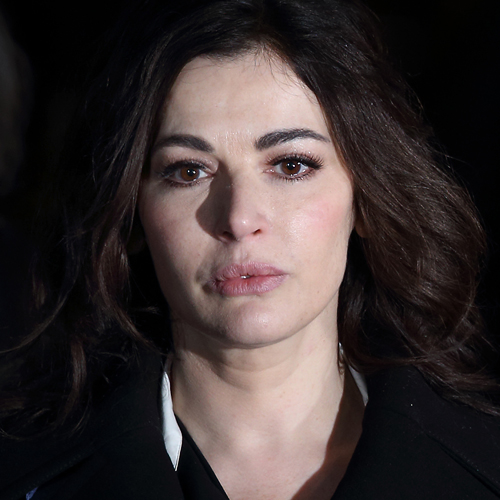 Nigella Lawson reacted angrily last night (Saturday) to revelations that allegations of her drug abuse were leaked by a public-relations executive representing both Charles Saatchi and the sisters prosecuted for stealing from him.
Sources close to Lawson, 53, said she was furious at the "concerted" drugs smear campaign waged against her, which began only after her marriage to Saatchi broke up.
Elisabetta Grillo, 35, and her sister Francesca, 41, were first arrested in August last year over allegations they defrauded Saatchi, an art dealer, of pounds 685,000 during a four-year spending spree. But their claim that Lawson was a habitual drug user whose evidence was unreliable surfaced only in September this year, when signed statements by the sisters were posted on a website run by Richard Hillgrove, who runs Hillgrove PR.
By then, Saatchi and Lawson's marriage had collapsed after he had been photographed with his hands around her neck, for which he received a police caution.
Hillgrove, it is understood, was hired by the Grillo sisters, who were acquitted on Friday, to place their story in the public domain. In an email to a national newspaper, Hillgrove said: "I have met the women who wrote them… Absolutely sure of their authenticity as I watched them sign them and have originals."
But even though the Grillo sisters were being prosecuted for defrauding Saatchi - and he may still plough ahead with a civil claim against them - he is also understood to have used Hillgrove to plant stories about his former wife in the media.
The Sunday Telegraph understands that during the trial, Hillgrove approached one newspaper with a claim that Lawson had begun her affair with Saatchi six months before the death of John Diamond, her first husband, from cancer.
Lawson had told the jury her relationship with Saatchi had begun "not very long after" Diamond died. But Hillgrove told journalists: "You will get something in writing [from Saatchi] saying it's absolutely true. "It wouldn't look good [if he was identified as the source] so it would be better to say 'sources close to Nigella'… What he wants is for it not to look as though he has done the dirty."
Last night, a friend of Lawson said she was shocked to discover that Hillgrove had represented both sides in the court case. "This is news to us," said the friend.
"Obviously Nigella knew that Hillgrove was putting these claims and witness statements out. Richard Hillgrove ran a very concerted campaign to discredit Nigella.
"Her team kept getting many calls from newspapers telling us what he was doing. It went on for a while but Nigella didn't know if Hillgrove even had a client. This is the first she has heard of it [Hillgrove representing Saatchi]. We hadn't known Saatchi was behind it until now."
The friend went on: "Nigella is obviously very angry and concerned about this concerted campaign against her." Miss Lawson's ordeal in the witness box, where she said she felt as though she was on trial, led to calls for witnesses to be given better opportunities to rebut allegations.
A source close to Lawson suggested that her doctor would have told the court it would be "ridiculous" to suggest she had a habitual drugs problem.
Julie Spence, a former chief constable of Cambridgeshire, said: "We need to find a different way to handle sensitive cases to get to the evidence without attacking a witness's character. The treatment of Nigella in the witness box potentially is a setback for other witnesses in future trials."
Lawson admitted in the witness box to taking cocaine occasionally. The trial judge had initially said the allegations were not relevant but was persuaded to change his mind after Saatchi, 70, sent her an email in October following the statements made by the Grillo sisters and posted on Hillgrove's internet blog.
In his email, Saatchi referred to his wife as "Higella" and told her that the sisters would "get off" because she had been "off her head", with her daughter Cosima, 19.
"Yes, I believe every word the Grillos have said, who after all only stole money," he wrote. But in court, Saatchi admitted he had "no proof" she had ever taken drugs.
Saatchi's solicitors have said that he will not make any comments on claims he had authorised briefings against his former wife. Hillgrove failed to respond to calls and emails from The Sunday Telegraph.