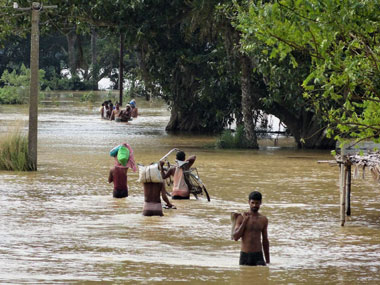 At least 20 people were killed due to flood and landslides following heavy rain in Surkhet district of western Nepal on Friday. About a dozen people are still missing in the incident, Home Ministry spokesperson Shanker Koirala said. He said that so far 20 bodies have been recovered mainly from Chisapani village. Search and rescue operations were going on with the assistance of Nepal Army and Nepal Police personnel.
Bheri River bridges at Tatopani-Ghatgaun junction and Tatopani-Babiyachaur junction has been swept away by the flood. Another bridge at Hariharpur has also been swept away, the Home Ministry said.
Meanwhile, three persons were killed and eleven others sustained injuries when a compound wall of a government school collapsed in Pantheswara village of Gorkha district on Friday. The incident came when a Korean national was distributing helpful items for the school during a programme inside the school room, when the landmass behind the building slipped breaking the compound wall.
Those killed in the incident include two women and a man working in the school. However, all the students were safe.