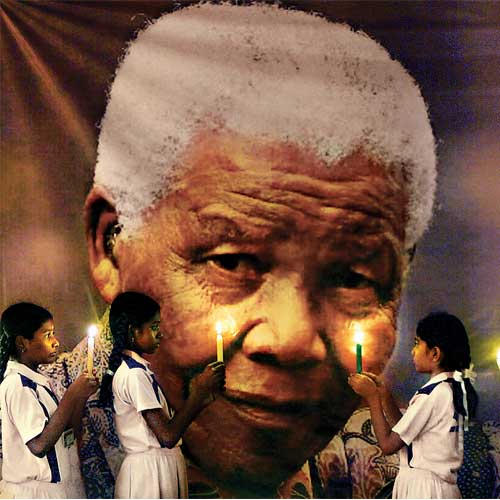 Selina Mkhabe won't talk about "those days". At 71, she is at peace with her country.
"Don't ask me anything. I have seen a lot," she says. An onlooker informs that the lady was witness to the killing of Hector Pieterson, a 13-year-old schoolboy, during a series of protests in June 1976. History calls it the 'Soweto Uprising'.
Soweto, an acronym for 'Southwest Townships', is where Nelson Mandela and his family lived from the 1940s to the 1990s. It's located about 23km from upscale Houghton where the anti-apartheid icon breathed his last on Thursday evening. He was 95.
He will be buried on December 15 in his rural home village of Qunu, following a period of national mourning. Mandela's body will lie in state from December 11 to 13 at the government's executive headquarters in the Union Buildings in the capital, Pretoria, president Jacob Zuma said on Friday.
A memorial service will be held at FNB Stadium in Johannesburg on December 10.
"Winnie and the kids lived here even after Nelson was arrested and imprisoned," Mkhabe says.
She is seated on a steel chair outside her house on Vilakazi Street. Bang opposite is Mandela House, which is now a museum. It was closed on Thursday. "REST IN PEACE TATA MADIBA" reads a poster. 'Madiba' — that's what the South Africans fondly call him. 'Tata', of course, is grandpa.
"What do you want to know? South Africa is what it is because of him. There was a time when the blacks used to live like birds. Hiding, staying quiet in our little nests," Mkhabe adds. Moments later, a few hundred mourners walk past her house. "Mandela, Mandela," she chants, her fists in the air.
She is ready for a jig but can't quite stand on her feet. "I used to work in the factory. My husband also worked there," she informs.
South Africa has been orphaned, but nobody is crying. The atmosphere is — pardon the vocabulary — festive. "Why should we cry? We cried for years," Mkhabe says. "Nelson did all he could to save us and our country. This is our time to celebrate. He has gone up there to sleep with the angels. It's time for him to rest."
Mkhabe remembers the day Mandela was released from Robben Island. February 11, 1990. "He came straight here. Later, he went to Ellis Park Stadium to deliver that historic speech. That evening, he hosted a big party here. I was invited too. There was a big feast. It was a big day."
At the intersection of Vilakazi Street and Ngankang Street are more mourners. Tapping their feet to Zulu jingles, they dance like there's no tomorrow. "Long live, Mandela. Jhhuuush. Jhhuuush," they chant in unison. Soon, they are on their knees. Someone's rolling on the floor. The whites are embracing the blacks. The blacks are embracing the Asians. There are plans of holding a brai party (African slang for barbecue). And no one's shedding tears.
Nonhlanhla Mazibuko, a 44-year-old events coordinator is also part of the celebrations. "Look, Madiba never dwelt on the past. He wanted us to enjoy life. We are doing just what he wants us to.
He doesn't want anyone to cry," she says. Mazibuko was barely eight when The Soweto Uprising took place. "I was in school then. It was called the Thoreng Primary School. You have no idea what we have gone through. We were treated like dogs."
After chanting a few slogans, she comes back. "Do you see that?" she asks, pointing to a black man dancing with a white woman. "There was a time we could not be together. But because of Madiba, we are all one now."
The drive to Houghton takes barely 20 minutes. On our way, we see the Soccer City Stadium where Spain were crowned FIFA World Cup champions in 2010. The surroundings are anything but pleasing to the eye. It's a Dharavi of sorts. Poverty, inequality, unemployment, corruption — South Africa and India share similar woes.
Houghton is like Malabar Hill. Dotted with palatial bungalows and usually drowned in the cacophony of high-end sports cars, it's quiet today. Huge barricades, police vehicles and media vans greet you. A three-minute walk and you are within 50 metres of the great man's house. More people, more chanting, more sloganeering. Surprisingly, the whites outnumber the blacks. Armed with whistles, orchid bouquets, scarves, shawls, posters and flags, they, too, are celebrating Mandela's life.
Warren Oberholler, a strapping white lad of 19, is among the hundreds present. "I was born in 1994. I was born free. I don't know what happened in the past, but I have heard stories. This man is great. He single-handedly built this nation. And unlike other African leaders, he didn't get back at the people who prosecuted the blacks. He believed in reconciliation. I am proud to be a South African," says the college-goer.
No one's crying here either. Like granny Mkhabe said, they've all cried enough. Long Live Madiba!
(With agency inputs)