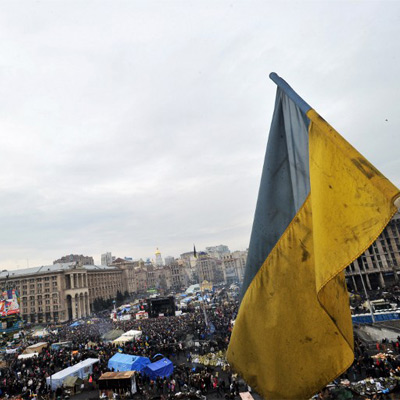 Germany's Foreign Minister Frank-Walter Steinmeier said on Wednesday that scheduled four-way talks on the Ukraine crisis must not fail, warning of "the threat of more dead and injured".
"There must be no failure because the situation in eastern Ukraine is becoming more threatening," Steinmeier said ahead of Thursday's Geneva meeting between top diplomats of the European Union, United States, Russia and Ukraine.
"The occupation of public buildings in eastern Ukraine is provoking reactions by the security authorities," he told a German newspaper amid rising tensions between pro-Moscow militias and Ukrainian forces.
"There is the threat of more dead and injured if no exit is found from the spiral of violence. No-one could justify this, including those who from the outside are taking part in organising the chaos."
Speaking to the Rheinische Post daily, Steinmeier said the Geneva meeting "is an opportunity, not a breakthrough and certainly not a guarantee of a peaceful solution".
"The fact that there is a meeting of the key players is good," he said.
"But the real work only begins, and there will only be prospects of success when there is a real willingness in Moscow and Kiev to seriously get to work defusing the conflict and to begin efforts toward the economic and political stabilisation of Ukraine."