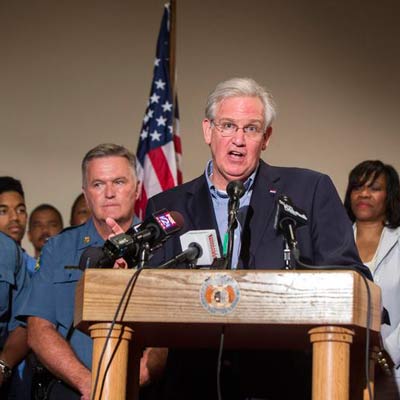 Missouri Governor Jay Nixon ordered the National Guard on Monday to help restore peace to the St Louis suburb of Ferguson, hours after police fired tear gas to disperse people protesting against the shooting of a
black teenager by an officer.
"Tonight, a day of hope, prayers and peaceful protests was marred by the violent criminal acts of an organised and growing number of individuals," Nixon said in a statement on his website. As a result, Nixon said, he was directing the National Guard to help "in restoring peace and order to this community."
What started out as a protest against the shooting of an unarmed black teenager, 18-year-old Michael Brown, has now escalated into a violent altercation between the protesters and the state police in the US state of Missouri. The police have resorted to the use of extreme crowd control measures, including tear gas and rubber bullets, drawing severe criticism from the international community that has also started debates over the "millitarisation of the US police".
The police for a long time did not even release the shooter's name, citing security concerns and death threats, which further provoked the racially charged protests. Brown's family and supporters have demanded for days that the officer who shot Brown be held accountable. United States President Barack Obama has promised a full investigation by the US Department of Justice into the case, which has provoked outrage in the largely African-American town of Ferguson.
(Reporting by Ellen Wulfhorst; Writing and additional reporting by Sharon Bernstein and Chris Michaud; Editing by Andrew Heavens)