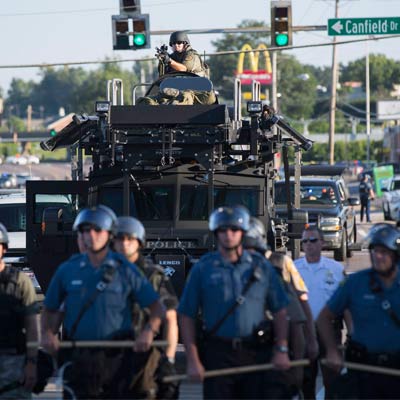 The recent wave of protests in the United States' (US) state of Missouri following the police shooting of an unarmed black teenager Michael Brown took a turn for the worst with violent altercations between the police and protestors. Missouri governor Jay Nixon had to step in to the racially charged protests, on Friday, and putting an African-American captain of the Highway Patrol in charge of security in the St. Louis suburb of Ferguson.
Michael Brown, 18, was shot to death in the mostly black suburb of Ferguson, Missouri on August 9, after what police said was a struggle with a gun in a police car. A witness in the case told local media that Brown had raised his arms to police to show that he was unarmed before being killed.
Hundreds of protestors have gathered since then demanding justice for Brown. Also, the police have declined to release the name of the officer involved in the incident, citing concerns for his safety, which has further agitated the protesting crowds. The protests have escalated over the last few days due to defensive police interventions.
Police presence yesterday in Ferguson versus today in Ferguson. (Photo at left by @AP; at right @mattdpearce.) pic.twitter.com/xsbD3tiKYu

— Nick Bilton (@nickbilton) August 14, 2014
Protestors block the street. Bottles have been tossed. pic.twitter.com/bbS33oxcXT

— Ryan J. Reilly (@ryanjreilly) August 16, 2014
Standoff right now #Ferguson pic.twitter.com/ASz4Gs1j8L

— Conetta (@BmoreConetta) August 16, 2014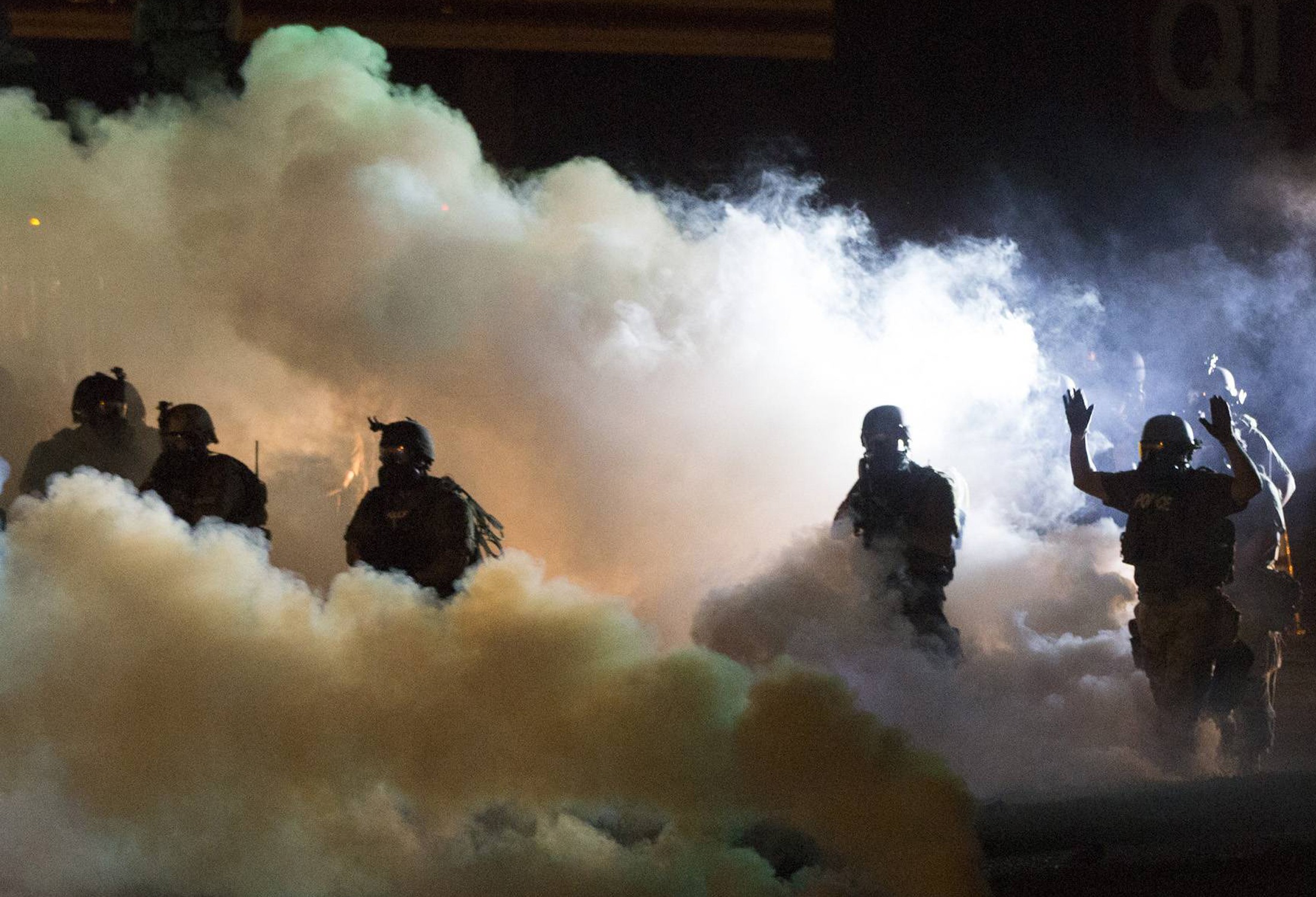 Rioting and looting was also reported at various places, but protestors stepped in to help victims.
Note. Looting at #Ferguson Market started. Then other protesters came and stopped it.

— Umar Lee (@STLAbuBadu) August 16, 2014
People walking out with items. #Ferguson pic.twitter.com/mKZBshmYOB

— Michael Calhoun (@michaelcalhoun) August 16, 2014
Inside of the partially looted market. It is still standing and largely unthreatened. pic.twitter.com/Cgkyv725xs

— Byron Tau (@ByronTau) August 16, 2014
Protesters block looters. https://t.co/1lJIQCm6UQ

— Antonio French (@AntonioFrench) August 16, 2014
But even as officials clamber to bring order to the situation, tweets and social media posts by protestors reveal a grim picture of the events as the unfold on ground at Missouri.
.@honeynoir there were reports of gunshots at a police helicopter on one earlier night, police citing that. Have been some gunshots at night

— Wesley Lowery (@WesleyLowery) August 13, 2014
@elonjames Police are not leaving. All hopes on nothing occurring. Excellent work.

— Myecoll (@myecoll) August 16, 2014
#Ferguson pic.twitter.com/QJqG53btEq

— paul hampel (@phampel) August 16, 2014
The extreme steps taken by the police drew a lot of criticism worldwide. The US police has been termed to be the most 'militarised' with observers drawing comparison with the situation in Iraq and Gaza.
I don't know how it was in IRQ and AFG, but in Bosnia we had less firepower while on patrol than the cops in #Ferguson

— Dan Bramos (@CaptainAwwsum) August 14, 2014
FWIW I led foot patrols in downtown Baquba, #Iraq in 2005-06 w/less firepower than #Ferguson PD (excl fire spt) @CaptainAwwsum @AthertonKD

— Phillip Carter (@inteldump) August 14, 2014
On Thursday, US Attorney General Eric Holder said it was clear the scenes playing out in the St. Louis suburb "cannot continue". And while he condemned acts of violence and looting by some protesters, he said it was the role of law enforcement to reduce tensions in the city, rather than exacerbate them.
A report released in June by the American Civil Liberties Union, titled 'War Comes Home: The Excessive Militarisation of American Policing' documents the flow of armored robots, military-style rifles and tactical vehicles to local police departments.
Ferguson, along with many other US communities, was part of the Pentagon's Excess Property Programme, known as 1033, which distributes surplus military equipment to police. The programme began in the early 1990s to assist anti-drug efforts and grew after the attacks of September 11, 2001.