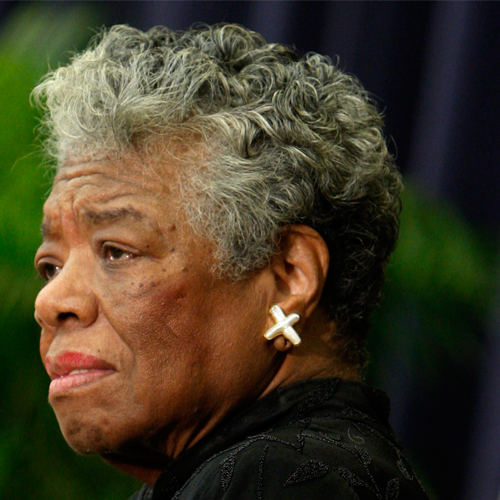 Maya Angelou was a modern Renaissance woman who mastered and excelled at stage, screen and writing after facing a tough childhood. She passed away at the age of 86 and her death was confirmed in a statement issued by Wake Forest University in Winston-Salem, NC where she had served as a professor of American Studies since 1982.
By 17, she was a single mother and in her early 20's, she had to dance at a strip joint and also run a brothel. "You're going to be famous. But it won't be for singing," was what Billy Holiday had told her.
Angelou was not known outside the theatrical community till "I Know Why the Caged Bird Sings," happened. It would not have happened if James Baldwin had not persuaded her to attend a party at Jules Feiffer's house.
Watch a short biography of Mary Angleou:
In order to survive, she worked at clubs and was also a rape survivor at childhood. At age 7, she was raped by her mother's boyfriend and didn't speak for years, after the traumatic event. She learned by reading and listening.
In the mid-1950s, Angelou's career as a performer began to take off. She landed a role in a touring production of Porgy and Bess, later appearing in the off-Broadway production Calypso Heat Wave (1957) and releasing her first album, Miss Calypso (1957). A member of the Harlem Writers Guild and a civil rights activist, Angelou organized and starred in the musical revue Cabaret for Freedom as a benefit for the Southern Christian Leadership Conference, also serving as the SCLC's northern coordinator.
In 1961, Angelou appeared in an off-Broadway production of Jean Genet's The Blacks with James Earl Jones, Lou Gossett Jr. and Cicely Tyson. While the play earned strong reviews, Angelou moved on to other pursuits, spending much of the 1960s abroad; she first lived in Egypt and then in Ghana, working as an editor and a freelance writer. Angelou also held a position at the University of Ghana for a time.
After returning to the United States, Angelou was urged by friend and fellow writer James Baldwin to write about her life experiences. Her efforts resulted in the enormously successful 1969 memoir about her childhood and young adult years, I Know Why the Caged Bird Sings, which made literary history as the first nonfiction best-seller by an African-American woman. The poignant work also made Angelou an international star instantly.
Since publishing Caged Bird, Angelou has continued to break new ground—not just artistically, but educationally and socially. She wrote the drama Georgia, Georgia in 1972—becoming the first African-American woman to have her screenplay produced—and went on to earn a Tony Award nomination for her role in the play Look Away (1973) and an Emmy Award nomination for her work on the television mini-series Roots (1977), among other honors.
Our future is threatened by the robbing of these young women's future. We must have our darlings back so that we can help them to heal.
— Maya Angelou (@DrMayaAngelou) May 7, 2014
The idea of overcoming is always fascinating to me, because few of us realize how much energy we have expended just to be here today.

— Maya Angelou (@DrMayaAngelou) April 18, 2014
When we decide to be happy we accept the responsibility to bring happiness to someone else. #happyacts

— Maya Angelou (@DrMayaAngelou) March 20, 2014
Let me tell so much truth, I want to tell the truth in my work. The truth will lead me to all.

— Maya Angelou (@DrMayaAngelou) September 25, 2013
She mastered numerous languages and published not just poetry, but advice books and children's stories. She wrote music, plays and screenplays. She also received an Emmy nomination for her acting in Roots.
Listen to yourself and in that quietude you might hear the voice of God.
— Maya Angelou (@DrMayaAngelou) May 23, 2014
Among her works feature—a million-selling memoir, befriended Malcolm X, Nelson Mandela and the Rev. Martin Luther King, Jr. She was a well known theatre artist as well having graced stage across the globe in an elegant, penchant manner.
Watch Mary Angelou reciting her poem:
Angelou was born Marguerite Johnson in St. Louis and raised in Stamps, Ark., and San Francisco. She was always moving back and forth between her parents and her grandmother. She renamed herself Maya Angelou for the stage.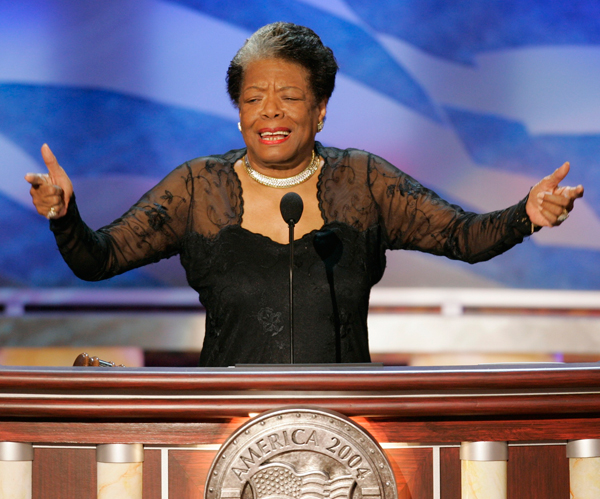 After being an actress, singer and dancer in the 1950 and 1960, she ushered as an author in 1970 with the book—"I Know Why the Caged Bird Sings."
I am grateful for the honor of having a portrait created and unveiled at the Smithsonian's National Portrait Gallery Smithsonian Portrait

— Maya Angelou (@DrMayaAngelou) April 7, 2014
She had read out poems for Bill Clinton which impressed him and remained a favourite. She remained close enough to the Clintons and also supported Hillary Clinton's candidature. Hillary was contesting against Barack Obama.
Also, she was a mentor to Oprah Winfrey, whom she befriended when Oprah was a local television reporter, and often appeared on her friend's talk show program.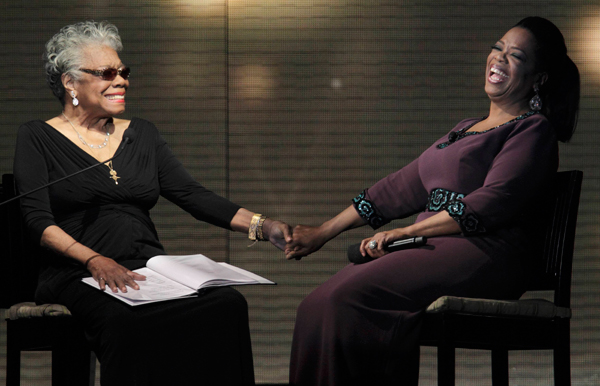 To my surprise and delight, Oprah, Stedman and Gayle came by to approve my recovery. I am grateful to God for love.

— Maya Angelou (@DrMayaAngelou) March 8, 2014
I wish a splendid happy pre-birthday for my darling Oprah. I know tomorrow is her birthday; I'm just getting a jump on it.

— Maya Angelou (@DrMayaAngelou) January 28, 2014
She gave commencement speeches and addressed academic and corporate events across the country. She received dozens of honorary degrees, and several elementary schools were named for her.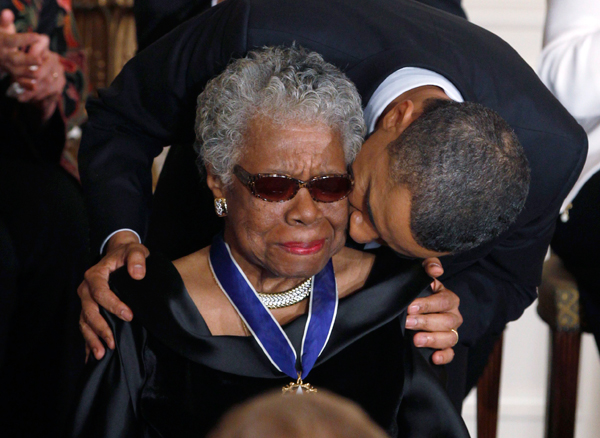 As she approached her 80th birthday, she decided to study at the Missouri-based Unity Church, which advocates healing through prayer.
With inputs from Bio
Also read: Maya Angelou lived a life of inspiration; here are 24 quotes that prove it