Vietnam, Malaysia and Singapore are conducting joint search and rescue operations for the missing aircraft in the waters south of Vietnam's Tho Chu island.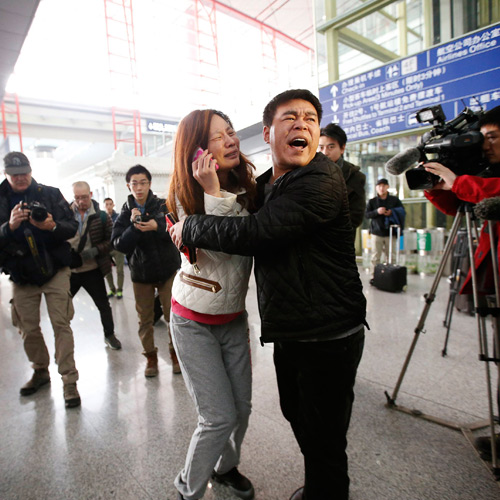 There is still no confirmation of the status of Malaysia Airlines flight MH370, which disappeared over the South China Sea in the early hours of Saturday.
After reports from state media that a Vietnam Navy official said that the aircraft had crashed into the sea near Vietnam's Tho Chu island, Malaysia Transport Minister Hishamuddin Hussein has denied reports that the flight has crashed. He also says there is no sign of plane wreckage. Read more.
Vietnam, Malaysia and Singapore are conducting joint search and rescue operations for a missing Malaysia Airlines plane in waters south of Vietnam's Tho Chu island, China's Xinhua news agency said on Saturday.
Earlier, Malaysian naval vessels saw no immediate sign of wreckage when they reached the maritime area off the country's northeast coast where the missing aircraft last made contact on Saturday, a senior rescue official said.
Malaysia has sent three maritime enforcement ships and a navy vessel to the area, backed by three helicopters, a Malaysian Maritime Enforcement Agency official said. "Our aircraft asset spotted an orange speck in the sea where the last signal came from. We sent a vessel to search the area and it was confirmed that it was nothing," the official told Reuters.
The chief executive of Malaysia Airlines, Ahmad Jauhari Yahya, said on Saturday that the airline will continue to run other flights as normal.
Flight MH370, operated on a Boeing B777-200 aircraft, was travelling from Kuala Lumpur to Beijing. It carried 239 people: 227 passengers, including two children, and 12 crew members.
The Malaysia Airlines flight disappeared at 02:40 local Malaysian time on Saturday (18:40 GMT on Friday). It had left Kuala Lumpur at 12.21 a.m. (16:21 GMT on Friday) and had been expected to land in the Chinese capital at 6.30 am (22:30 GMT) the same day, a 2,300-mile (3,700 kilometres) trip.
The airline said it had lost contact with the aircraft about two hours after it took off from Kuala Lumpur, over the South China Sea in airspace controlled by Vietnam, in the early hours of Saturday morning, China's Xinhua news agency reported. The aircraft held a little more than seven hours of fuel when it disappeared. It has been 11 hours since the news of the flight came in. The plane is suspected to have run out of fuel.
The aircraft did not enter airspace controlled by China and did not make contact with Chinese controllers, the agency added. Malaysia airlines has not yet confirmed that the flight has crashed.
A Vietnam Navy official had said that Malaysia Airline flight MH370 crashed into the sea near Vietnam's Tho Chu island, the state media reported. Admiral Ngo Van Phat has since stated that he had said the plane "could have crashed", and denied earlier reports in Vietnamese state media quoting him as saying the plane had actually crashed.
Chinese state television has reported on one of its official microblogs that China has dispatched two maritime rescue ships to the South China Sea to help in rescue work for the missing MH370 flight. China has not yet received reports of any crashed plane in Chinese waters, the state media also said.
The flight was carrying passengers of 14 different nationalities. A fresh passengers' list issued by the airline said five Indians were among the 239 passengers on board the aircraft, correcting its previous account in which Indians were not mentioned.
A passenger manifest originating from China which has been circulating online and also published by Star online mentions the Indians along with their passport numbers. The names include Chetna Kolekar, Swanand Kolekar, Suresh Kolekar, Chandrika Sharma and Prahlad Shirsatha. One Indian-origin Canadian Muktesh Mukherjee was also on board.
The airline has released this list of nationalities:
1. China / Taiwan – 152, 1 infant / 1
2. Malaysia - 38
3. Indonesia - 7
4. Australia - 6
5. France - 3
6. United States of America – 3 pax plus 1 infant
7. New Zealand - 2
8. Ukraine - 2
9. Canada - 2
10. Russia - 1
11. Italy - 1
12. India - 5
13. Netherlands - 1
14. Austria - 1
Malaysian and Vietnamese search-and-rescue operations are on to find the aircraft.
The flight was piloted by 53-year-old Malaysian Captain Zaharie Ahmad Shah, who has a total of 18,365 flying hours. He joined Malaysia Airlines in 1981. First officer, Fariq Ab.Hamid, also a Malaysian, is aged 27 and has a total flying hours of 2,763 hours. He joined Malaysia Airlines in 2007.
The airline is Malaysia's national carrier and one of the largest in Asia, flying about 37,000 passengers daily to 80 destinations worldwide.
Read here: The full statement from Malaysia Airlines.
Read here: Anguished wait for fate of beloved
People across the world have taken to Twitter to share news and updates about the incident, and pray for the passengers and their families.
Prayers for those currently missing on the #MalaysiaAirlines flight & their families.

— chandra thomas (@truechandra) March 8, 2014
My hearts go out to the families whose loved ones are missing #MalaysiaAirlines

— TeganMarelich (@TeganMarelich) March 8, 2014
I cant begin to imagine what the families of the passengers of #MalaysiaAirlines are going through. Prayers their way

— Hana Abdelwarith (@MrsSony) March 8, 2014
Hope they find #MalaysiaAirlines MH370 and everyone is safe and sound. So strange and scary... #PrayForMH370

— Lenore Marks (@dancethat) March 8, 2014