There is still no trace of the missing jetliner on day 8 of the search. It has been confirmed that the plane was deliberately led off course towards the Indian Ocean by a 'skilled' flyer. The aircraft vanished over the South China Sea with 239 passengers on board on its way to Beijing from Kuala Lumpur on March 8. Read the full coverage here.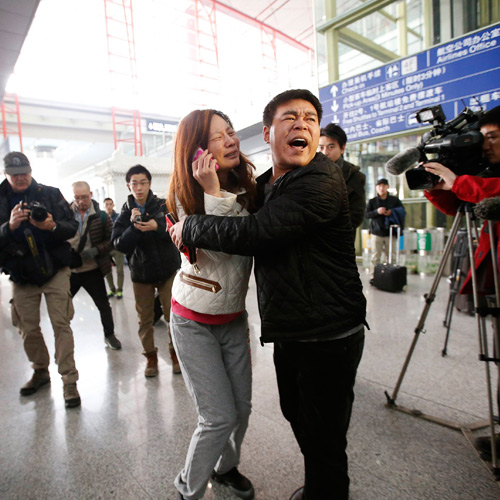 Malaysian Prime Minister Najib Razak has confirmed that the missing Malaysia Airlines flight MH370 was deliberately led off course. His statements at a press conference follow earlier reports that investigators have concluded that the plane was hijacked, though the Prime Minister has not yet corroborated this.
Also, the Pakistan government has denied media reports that said the missing Beijing-bound Malaysia Airlines jetliner might be hidden somewhere in Pakistan.
Indian Air Force, on the other hand, has debunked the theory of Malaysian plane being used for 9/11-type attack in India.
In the meanwhile, Vietnam has decided to end the search for the missing Malaysian jet, a senior military officer said at Vietnam's National Committee for Search and Rescue.
Updates from Ministry of Defence, India:
Over 14 nations, 45 ships & 60 aircrafts searched seas on Saturday for missing Malaysian aircraft MH370: Ministry of Defence @dna

— Ateeq Shaikh (@tweetateeq) March 15, 2014
5 aircrafts & 6 ships of Indian Navy-Coast Guard searching Andaman Sea, Bay of Bengal & Malacca Straits for MH370: Ministry of Defence @dna

— Ateeq Shaikh (@tweetateeq) March 15, 2014
Malaysian authorities have also requested India to search around 9000 sq km area in Bay of Bengal for MH370: Ministry of Defence @dna

— Ateeq Shaikh (@tweetateeq) March 15, 2014
Search area for #Indian armed forces to locate missing Malaysian Airlines flight MH370: Ministry of Defence @dna pic.twitter.com/22vvSasHRh

— Ateeq Shaikh (@tweetateeq) March 15, 2014
Military data has indicated that a 'skilled, competent' pilot was at the controls and radically changed the course of the missing jet to head northwest towards the Indian Ocean. Read here.
Latest reports also indicate that the airliner may have run out of fuel over Indian Ocean.
An investigation into the disappearance of a Malaysia Airlines jetliner is focusing more on a suspicion of foul play, as evidence suggests it was diverted hundreds of miles off course, sources familiar with the Malaysian probe said. In a far more detailed description of military radar plotting than has been publicly revealed, two sources told Reuters an unidentified aircraft that investigators suspect was missing Flight MH370 appeared to be following a commonly used navigational route when it was last spotted early on Saturday, northwest of Malaysia. Read full story here
Investigators are focusing on foul play in the case of the missing Malaysia Airlines flight MH370, after military radar-tracking evidence suggested it was deliberately diverted towards the Andaman Islands, sources familiar with the probe said.
Inforgraphic by Reuters
The Malaysian police have reportedly searched the house of the jetliner's pilot and questioned his family to find out if there were any underlying mental or psychological issues, as part of what they said was routine investigation after the flight's disappearance. Read here.
The missing plane reportedly sent out faint signals soon after it disappeared early on Saturday, March 8, sources have said. Read the full story here.
The massive international search for the missing jetliner is likely expand to the Indian Ocean, after United States defence and aviation experts noted there was a significant probability of the plane being at the bottom of the ocean. Read more here.
Also read: Indian Navy, Air Force, Coast Guard join search for missing Malaysian MH370 aircraft
Malaysia Airlines has announced that the flight codes of its missing plane, MH370 and MH371, will be dropped and replaced by new ones as a mark of respect to the passengers and crew. Read more.
Aircraft off the radar in this age puzzles experts
US investigators have said they suspect the missing plane may have flown for hours past the time it reached its last confirmed location. This could mean that it covered an additional distance of about 2,200 miles (3,500 km), potentially reaching the border of Pakistan or as far as destinations in the Indian Ocean or Arabian Sea.
A search by two Vietnamese aircraft responding to information provided by Chinese satellite images has failed to locate objects suspected of being wreckage from the missing aircraft. Read here.
On Thursday, the sixth day since the aircraft disappeared, China released three satellite images showing possible debris from the missing jetliner in the South China Sea. Read more here.
India has joined 11 other countries in the search for the missing jetliner. India's defense ministry instructed the joint command on the remote Andaman and Nicobar Islands on Thursday to deploy ships, aircraft and helicopters to search for a missing Malaysian airliner, command spokesman Harmeet Singh said.
The armed forces will hold a meeting on Thursday evening to decide how to coordinate their search efforts with other countries, after which they will make deployments, a senior command officer said. On Wednesday, Malaysia had sought India's help in the search. Read here.
There have been a series of conflicting accounts of the flight path of the Boeing 777-200ER, which vanished from radar screens early on Saturday en route to Beijing from Kuala Lumpur with 239 people on board. Malaysia's military said on Wednesday the jet may have strayed to the west.
Also read: A timeline of the events in the disappearance of Flight MH370.
With the disappearance of the Malaysia Airlines jetliner, one of the most baffling mysteries in recent aviation history, the Malaysian government has come under intense international criticism for a litany of confusing messages and a perceived lack of transparency. Families of the missing passengers, espcially of the 154 Chinese, have voiced fury at what they said was the slow release of information. Read more.
A senior Malaysia Airlines' executive said on Wednesday that the airline has "no reason to believe" that any actions by the crew caused the disappearance of a jetliner over the weekend.
Hugh Dunleavy, the commercial director of Malaysia Airlines, said, "We have no reason to believe that there was anything, any actions, internally by the crew that caused the disappearance of this aircraft."
Startling revelations
Increasingly startling revelations are emerging surrounding the mysterious disappearance of the jetliner. Two women passengers have claimed that the co-pilot of the missing aircraft invited them to join him in the cockpit during a previous international flight, where he also smoked. Read more.
Another baffling occurence is that investigators have reportedly found that mobile phones of some of the passengers were still ringing when they were called by anxious relatives, causing speculations along the lines of the Bermuda Triangle theory. Read more here.
Earlier, Malaysia's air force chief denied saying military radar tracked the missing flight MH370 over the Strait of Malacca, adding to the mystery surrounding the fate of the jetliner. Read more
Search operations continue
The massive air and sea search for the jetliner expanded on Wednesday, its fifth day, to cover an area stretching from China to the Andaman Sea. However, it has failed to find any trace of the Boeing 777 and the authorities no closer to explaining what happened to the plane or the passengers on board.
Also read: Confusion as search for Malaysian jet spreads across South East Asia.
China's civil air force will add two planes to the search for a missing Malaysia Airlines jetliner, the country's civil aviation chief said on Wednesday, adding that search and rescue efforts would be broadened to include land areas.
Vitenam had briefly scaled down search operations in waters off its southern coast, saying it was receiving scanty and confusing information from Malaysia over where the aircraft may have headed after it lost contact with air traffic control. But the search was soon back on in full force and was even extending on to land.
Meanwhile, a US company has put crowdsourcing to work in the search for the missing plane, enlisting Internet users to comb through satellite images of more than 1,200 square miles (3,200 square km) of open seas for any signs of wreckage. Read more here.
Terror angle debated
Even as the head of Interpol has said that the missing plane is unlikely to be the result of a terrorist event, the director of the US Central Intelligence Agency (CIA), John Brennan, said on Tuesday that the CIA is not ruling out the possibility of a terror link. "You cannot discount any theory," he said.
One of the two male passengers holding false passports who boarded the lost plane was a 19-year-old Iranian national, Malaysia's police chief said on Tuesday. People-smuggling is emerging as the likeliest explanation for the identity fraud, the police added.
Inspector General of police Khalid Abu Bakar said at a news conference that it was unlikely that the two men were involved with a terrorist organisation. The identity of the other man was being investigated, he added.
Relatives of missing Malaysia Airlines flown to Kuala Lumpur Read
Malaysia military tracked missing jet to Strait of Malacca Read
Wild theories fill void left by missing Malaysian plane
Malaysia is investigating whether any passengers or crew aboard a missing airliner had personal or psychological problems that might explain its disappearance, along with the possibility of a hijack, sabotage or mechanical failure, police said on Tuesday. Read
A previously-unknown group calling itself the Chinese Martyr's Brigade has reportedly claimed responsibility for the missing Malaysia Airlines flight MH370. However, officials have siad the claim could be a hoax. Read more
A Malaysian aviation official has been scorned on social media for referring to Ghanian-born Italian football player Mario Balotelli while discussing the two passengers who boarded the missing Malaysian airliner, flight MH370, with stolen European passports. Read more
China has deployed 10 satellites to help in the massive air and sea search for the missing plane, the People's Liberation Army Daily said on Tuesday.
As dozens of ships and aircraft from 10 countries scour the seas around Malaysia and the south of Vietnam, it is hoped that the enhanced technologies of the satellites will help provide a quicker answer to the fate of the missing aircraft. Read more
Boats and aircraft are searching for traces of a Malaysian jet that vanished on a remote Vietnamese island after possible debris was spotted floating nearby. However, Malaysian authorities have dismissed Vietnam's National Committee for Search and Rescue who've claimed to have found debris so far was not part of the missing airliner. Read more here
Fake passport holder identified Read
Ten countries scour sea for Malaysia jet lost in 'unprecedented mystery' Read
Two objects were seen from the air late Sunday some 50 miles (80 kilometres) off Tho Chu island, in what Vietnamese authorities said could be a breakthrough sighting of debris from the disappeared jet. The discovery has helped Vietnamese sea and air teams refine their hunt for Malaysia Airlines (MAS) flight MH370 to a zone near the small island off Vietnam's southwestern tip. Read more here
Also read: Missing Malaysian jet may have disintegrated in mid-air: Source
The US sent the FBI to investigate, but stressed there was no evidence of terrorism yet.
Both passports used by missing Malaysian Airline passengers were stolen in Phuket. Read more
Search and rescue planes scoured waters off the southern tip of Vietnam on Monday, searching for any trace of a Malaysia Airlines jetliner 48 hours after it vanished from radar screens with 239 people on board. Questions mounted over possible security lapses and whether a bomb or hijacking could have brought down the Beijing-bound plane, after Interpol confirmed at least two passengers used stolen passports and said it was checking whether others aboard had used false identity documents.
Read: Search planes scour sea for missing Malaysian jetliner
United States Navy MH-60R Seahawk helicopter (HSM-78 Det 2) of the Guided Missile Destroyer USS Pinckney (DDG 91) approaches to conduct a crew swap prior to returning on task in the search and rescue for the missing Malaysia Airlines flight MH370 (Photo by: US Navy photo by Senior Chief Petty Officer Chris D. Boardman/Released)
Malaysian authorities expanded their search for wreckage to the country's west coast, and asked for help from Indonesia.
A total of 40 ships and 22 aircraft from an array of countries including China and the US are now involved in the hunt across the two areas.
Must read: What could have happened to Malaysia Airlines flight MH370?
Also read: Pilot of missing Malaysia flight an aviation tech geek
Also read:
It was the first overseas travel turns last as well for Kolekars, Mumbai family on the missing Malaysia Airlines flight MH370. Read more
Investigations on:
Malaysian authorities have expanded their search for wreckage to the country's west coast, and asked for help from Indonesia. Searches so far had concentrated on waters to the country's east, in the South China Sea.
Meanwhile, Chinese state media is reporting that a Chinese person whose passport number is among those listed for passengers aboard the missing flight did not in fact board the plane.
Read: Interpol probes more suspect passports from missing flight
According to the Xinhua news agency the person, a resident of Fujian province in eastern China, has no departure record and is still in Fujian.
Although the passport number is the same, the name listed by Malaysia Airlines for the passenger is, it says, adding the owner says he has never lost his passport.
Hamid Mohamad Amin, director of operations with the Malaysian maritime enforcement agency, tells my colleague M. Jegathesan: "We have our ships and planes in the South China Sea and Malacca Strait looking for the missing aircraft."
"There is no trace of the missing plane," some 40 hours after it disappeared from radar screens.
Also read: Malaysia Airlines passenger's kin clutching on to hopes
Also read: Anxious wait for kin of Indians on missing Malaysian plane
Did the jet turn back?
Malaysian Airlines CEO Ahmad Jauhari Yahya says the plane's systems would have set off alarm bells if it turned back.
"When there is an air turn-back the pilot would be unable to proceed as planned," he says, adding authorities are "quite puzzled" over the situation.
On the possible cause of the incident, Dunleavy says the airline "cannot make any assumptions about the root cause until we locate the aircraft."
"We will not know until we find the aircraft and find the black box."
Where the stolen passports are concerned he says the "airline itself cannot validate a passport we just need to check that when we see a passport it doesn't look like it's been forged, and it's got a legitimate visa."
"Airlines don't have access to national databases about passports, that would be a government investigation."
A Vietnamese helicopter discovered two oil slicks in waters off the coast of Vietnam after a Malaysia Airlines plane an hour into the flight from Kuala Lumpur to Beijing went missing early Saturday, an official said Sunday.
Also read: Malaysian jetliner may have turned back before vanishing
The oil slicks were spotted at the suspected area where the plane went missing, the official with the search operation confirmed Sunday, Xinhua reported.
The Malaysia Airlines flight MH370, a Boeing 777-200ER, carried 239 people on board, including five Indians, 154 Chinese and 38 Malaysians. It lost contact with air traffic controllers an hour after take-off from Kuala Lumpur Saturday.
There is still no confirmed information about the fate of the plane after about 36 hours since it lost contact with ground controllers.
Public reaction:
Malaysia Airlines flight MH-370 still missing; People react on social media with prayers and best wishes
Not all the messages are of sympathy, with some Chinese social media users speculating the plane could have been hijacked, noting the incident comes a week after a brutal knife attack in the southwest city of Kunming that both Beijing and Washington have described as an act of terror.
"What on earth is happening to China in 2014? First there's the Kunming incident, then a disappearing aircraft. Was it directed at Chinese people? I'm beginning to think more and more that this is terrorism," writes one Sina Weibo user.
06:53 GMT - Sympathy - With the bulk of the passengers coming from China, the country's social media is filled with messages of sympathy.
One widely circulated post on China's hugely popular messaging app WeChat reads: "MH370, we hope the radar can see you. If you copy, keep flying at your current height until you reach your destination.
"We'll clear the way for you. Everybody is more than happy to let you be the first to land.
"The sky is clear, with temperature in Beijing at five degrees Celsius, a little bit cold. Please wear your coats to keep warm.
"Remember to hug your family and friends after you disembark. They love you, they really do."
Also read: United Nations and people react with heart-breaking tweets over MH370 missing plane
United States sends help:
The United States has dispatched a team of experts to Asia to help authorities investigate the case of a missing Malaysian Airlines plane that is presumed to have crashed with 239 people on board, including five Indians.
While the team among others includes officials from the National Transportation Safety Board, Boeing, the US Navy has dispatched a guided-missile destroyer to the southern coast of Vietnam to aid in the search efforts of the missing Malaysia Airlines flight MH370.
There were 227 passengers and 12 crew members on board when the plane en route to Beijing went missing.
"Once the location of the airplane is determined, International Civil Aviation Organization protocols will determine which country will lead the investigation," the National Transportation Safety Board said in a statement.
"Because of the lengthy travel time from the United States, the NTSB has sent a team of investigators, accompanied by technical advisers from Boeing and the Federal Aviation Administration, to the area so they will be positioned to offer US assistance," the statement said, adding that the team departed from the US last night.
In a statement, Boeing said it will join the US National Transportation Safety Board team as a technical advisor.
"The team is now en route to the area so they will be positioned to offer assistance," it said.
The Boeing 777-200 Flight MH370 with passengers from 14 different countries disappeared on Friday night.
Vietnamese air force planes spotted two large oil slicks off the southern tip of Vietnam that authorities suspect are from the missing plane.
Also read: Beijing-bound Malaysia Airlines flight disappears with 227 passengers
Malaysia launches terror probe?
Meanwhile, Malaysia on Sunday launched a terror probe into the disappearance of a passenger jet carrying 239 people and the United States sent the FBI to investigate, as anguished relatives begged for news of their loved ones.
At least two passengers boarded using stolen European passports, officials and reports have said.
"At the same time our own intelligence have been activated, and of course, the counterterrorism units... from all the relevant countries have been informed," Malaysia's acting transport minister Hishammuddin Hussein told reporters.
The Federal Bureau of Investigation is sending agents and technical experts to assist the probe, US media reported.
US officials told The Los Angeles Times that they were trying to determine whether there was any terror link to the flight's disappearance, but stressed there was no evidence to support that yet.
"Just because they (the passports) were stolen doesn't mean the travellers were terrorists," a Department of Homeland Security official told the paper.
"They could have been nothing more than thieves. Or they could have simply bought the passports on the black market."
What happened?
Flight MH370, operated on a Boeing B777-200 aircraft, was travelling from Kuala Lumpur to Beijing. It carried 239 people: 227 passengers, including two children, and 12 crew members.
After reports from state media that a Vietnam Navy official said that the aircraft had crashed into the sea near Vietnam's Tho Chu island, Malaysia Transport Minister Hishamuddin Hussein has denied reports that the flight has crashed. He also says there is no sign of plane wreckage.
Vietnam, Malaysia and Singapore are conducting joint search and rescue operations for a missing Malaysia Airlines plane in waters south of Vietnam's Tho Chu island, China's Xinhua news agency said on Saturday.
Earlier, Malaysian naval vessels saw no immediate sign of wreckage when they reached the maritime area off the country's northeast coast where the missing aircraft last made contact on Saturday, a senior rescue official said.
Malaysia has sent three maritime enforcement ships and a navy vessel to the area, backed by three helicopters, a Malaysian Maritime Enforcement Agency official said. "Our aircraft asset spotted an orange speck in the sea where the last signal came from. We sent a vessel to search the area and it was confirmed that it was nothing," the official told Reuters.
The chief executive of Malaysia Airlines, Ahmad Jauhari Yahya, said on Saturday that the airline will continue to run other flights as normal.
The Malaysia Airlines flight disappeared at 02:40 local Malaysian time on Saturday (18:40 GMT on Friday). It had left Kuala Lumpur at 12.21 a.m. (16:21 GMT on Friday) and had been expected to land in the Chinese capital at 6.30 am (22:30 GMT) the same day, a 2,300-mile (3,700 kilometres) trip.
The airline said it had lost contact with the aircraft about two hours after it took off from Kuala Lumpur, over the South China Sea in airspace controlled by Vietnam, in the early hours of Saturday morning, China's Xinhua news agency reported. The aircraft held a little more than seven hours of fuel when it disappeared. It has been 11 hours since the news of the flight came in. The plane is suspected to have run out of fuel.
The aircraft did not enter airspace controlled by China and did not make contact with Chinese controllers, the agency added. Malaysia airlines has not yet confirmed that the flight has crashed.
A Vietnam Navy official had said that Malaysia Airline flight MH370 crashed into the sea near Vietnam's Tho Chu island, the state media reported. Admiral Ngo Van Phat has since stated that he had said the plane "could have crashed", and denied earlier reports in Vietnamese state media quoting him as saying the plane had actually crashed.
Chinese state television has reported on one of its official microblogs that China has dispatched two maritime rescue ships to the South China Sea to help in rescue work for the missing MH370 flight. China has not yet received reports of any crashed plane in Chinese waters, the state media also said.
The flight was carrying passengers of 14 different nationalities. A fresh passengers' list issued by the airline said five Indians were among the 239 passengers on board the aircraft, correcting its previous account in which Indians were not mentioned.
A passenger manifest originating from China which has been circulating online and also published by Star online mentions the Indians along with their passport numbers. The names include Chetna Kolekar, Swanand Kolekar, Suresh Kolekar, Chandrika Sharma and Prahlad Shirsatha. One Indian-origin Canadian Muktesh Mukherjee was also on board.
The airline has released this list of nationalities:
1. China / Taiwan – 152, 1 infant / 1
2. Malaysia - 38
3. Indonesia - 7
4. Australia - 6
5. France - 3
6. United States of America – 3 pax plus 1 infant
7. New Zealand - 2
8. Ukraine - 2
9. Canada - 2
10. Russia - 1
11. Italy - 1
12. India - 5
13. Netherlands - 1
14. Austria - 1
Malaysian and Vietnamese search-and-rescue operations are on to find the aircraft.
The flight was piloted by 53-year-old Malaysian Captain Zaharie Ahmad Shah, who has a total of 18,365 flying hours. He joined Malaysia Airlines in 1981. First officer, Fariq Ab.Hamid, also a Malaysian, is aged 27 and has a total flying hours of 2,763 hours. He joined Malaysia Airlines in 2007.
The airline is Malaysia's national carrier and one of the largest in Asia, flying about 37,000 passengers daily to 80 destinations worldwide.
People across the world have taken to Twitter to share news and updates about the incident, and pray for the passengers and their families.
Also read: Malaysia Airlines flight MH370: Anguished wait for fate of beloved
Indians on Board:
Five Indians are among the 239 passengers on board the Malaysia Airlines plane that went missing en route from Kuala Lumpur to Beijing early Saturday.
Flight MH 370, a Boeing 777-200 aircraft, took off from Kuala Lumpur at 12:21 a.m. local time and was scheduled to land in Beijing at 6:30 a.m. local time but it lost contact with ground control two hours after take-off.
Even as anxious relatives thronged the Kuala Lumpur International Airport, the location of the aircraft remains unknown.
In its fourth media statement in this connection, Malaysia Airlines said: "Malaysia Airlines is still unable to establish any contact or establish the whereabouts of flight MH370. Earlier today, Subang ATC had lost contact with the aircraft at 2.40 a.m. The last known position of MH370 before it disappeared off the radar was 065515 North (longitude) and 1033443 East (latitude)."
According to the airline's website, there are 227 passengers on board, including two infants.
Apart from the five Indians, there are 154 Chinese, 38 Malaysians, seven Indonesians, six Australians, four Americans, three French, two New Zealanders, two Ukrainians, two Canadians, one Russian, one Italian, one Dutch and one Austrian on board.
Read: Malaysia Airlines flight MH370: Anguished wait for fate of beloved
Malaysian Prime Minister Najib Razak says still no sign of missing plane
Malaysian Prime Minister Najib Razak said on Saturday that no sign had yet been found of a missing Malaysia Airlines plane that vanished from radar screens over the South China Sea with 227 passengers and 12 crew on board.
He said search operations in an area about midway between Malaysia and Vietnam's southern coast were being intensified.
(With agency inputs)