Girl shot in head by Taliban takes big step on the road to recovery.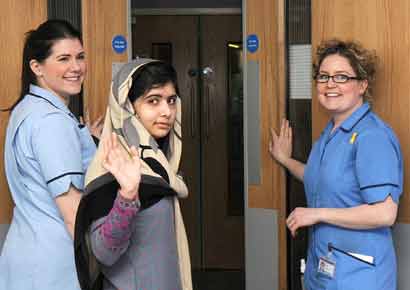 Malala Yousafzai, the Pakistani teenager shot in the head by the Taliban, was recuperating at home with her family on Friday after being released from hospital in Birmingham.
The 15 year-old walked out of the city's Queen Elizabeth Hospital after doctors deemed her well enough to continue her remarkable recovery at her family's temporary home in the West Midlands.
Doctors said she had made "excellent progress" since being shot at close range as she caught a bus home from school in early October in an attack that provoked international outrage.
The schoolgirl, who was targeted after speaking out against Taliban oppression and campaigning for girls' education, is still to have complex cranial reconstruction surgery.
"Malala is a strong young woman and has worked hard with the people caring for her to make excellent progress in her recovery," said Dave Rosser, the hospital's medical director.
"She will return to the hospital as an outpatient and our therapies team will continue to work with her at home to supervise her onward care."
Her release was met with joy by family and friends in her home town of Mingora in the Swat Valley. While there was no public celebrations, her cousins handed out sweets to neighbours.
Since the attack, a campaign for Malala to be nominated for the Nobel Peace Prize has gathered momentum after she became a symbol for the struggle for women's rights in Pakistan. She has said she wants to return to Pakistan but it is feared that she remains a terrorist target.
In recent weeks she has made regular "home leave" visits to her father Ziauddin Yousafzai, mother Toorpekai and younger brothers, Khushal and Atul.
A team of neurosurgeons assessed her ability to cope outside hospital and decided to authorise her release.
When she was shot on October 9 last year, the bullet entered just above her left eye and ran along her jaw, "grazing" her brain.
It was later removed by surgeons in Pakistan before she was flown to Britain.
This week her father, who has also had threats made on his life, was named as Pakistan's education attache at its consulate in Birmingham, making it increasingly likely that Malala and her family will remain in Britain long-term.
The family declined requests to comment.