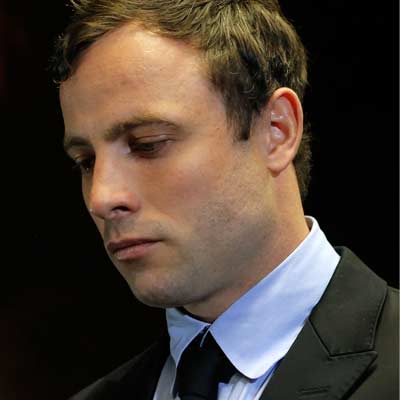 Oscar Pistorius's girlfriend Reeva Steenkamp reportedly made a fatal, last-minute decision to stay at the Paralympic champions home with intentions to cook her boyfriend a romantic meal.
The 29-year-old model had intended to return to the home she shared with her friend Gina Myers, but she had a change of mind and texted Myers a few hours before she was shot, that she would stay the night at Pistorius's home, the report added.
According to Express.co.uk, Myers, who is to be a prosecution witness at Pistorius's murder trial, will reveal that she had texts from Reeva on the night of February 13th last year, which said that she would remain at her lover's home in Pretoria. Reeva died a few hours later in what detectives have reportedly said was a 'premeditated murder' while Pistorius claims that it was an accident.
Myers will reportedly reveal the couple's relation was in trouble and witness Warren Lahoud, who dated the blonde model for five years, will recount that he met her for a coffee 36 hours before she was shot and Pistorius had called her twice to ask why she was there. The report also said that police would disclose what they have found on Pistorius's iPhone and hundreds of texts from his girlfriend's device.
Pistorius, who is facing trial for shooting Reeva repeatedly while she was in the bathroom, claims that he had mistaken his girlfriend for an intruder on Valentine's Day and pleads guilty of the murder charges against him.