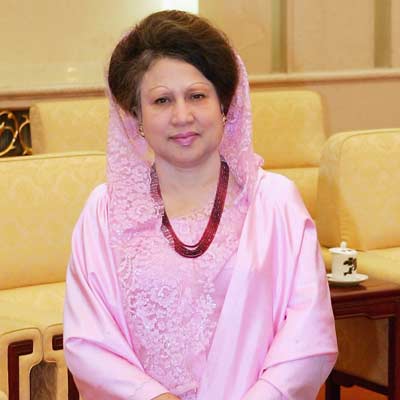 BNP chief Khaleda Zia, who boycotted Bangladesh's general election, has sought adequate protection as she is set to lose her protocol and security guards for the first time in 23 years since she is no longer a lawmaker.
Newspaper reports and BNP sources said Colonel (retd) Abdul Majid, a top official of Zia's personal security team, sent a letter to Ansar and Village Defence Party headquarters two days ago, seeking 22 Ansars personnel for her security.
During the past 23 years, Zia had enjoyed protocol and special facilities, including security guards, in her capacity as either the prime minister or Leader of Opposition.
Zia demanded deployment of Ansar forces to guard her upmarket Gulshan residence in Dhaka. "I've visited the spot (Zia's residence after getting the request) and will submit my report to the authorities concerned. The government will decide whether it will permit," a top Ansar official told the media.
The government withdrew her normal security protocols on December 28 while paramilitary Rapid Action Battalion (RAB) and riot police laid a siege around her house.
Zia, earlier, said she was under a virtual house-arrest. But, the government denied, saying party leaders and foreign envoys met her inside the house and nobody barred her from coming out of the residence.
Zia's security is taken care of by a personal security team manned by some retired army officers and soldiers. Zia, who was elected twice as Bangladesh's Prime Minister, was receiving various allowance and ministerial privileges as Leader of the Opposition for the past five years.
Two policemen from special branch were in her security detail besides eight police personnel provided as part of protocol alongside a private secretary, assistant private secretary, other staff and domestic aides and an allowance of 53,100 taka.
Former military ruler HM Ershad's Jatiya Party has emerged as the main opposition after getting 33 seats in the January 5 election.
Meanwhile, state minister for home Shamsul Haque Tuku said Zia would continue to enjoy security protection. "She would no more be the opposition leader...but as the former premier and leader of a big party she will be given the due security protection," he told Samokal newspaper.