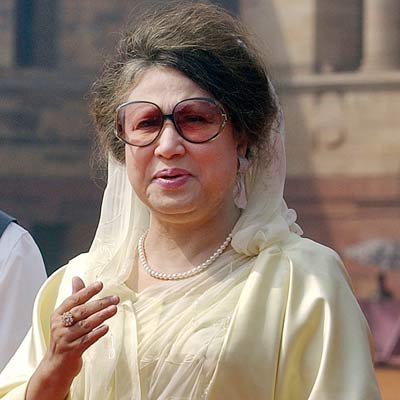 Khaleda Zia, the former Bangladesh prime minister and the chairperson of Bangladesh Nationalist Party said in an interview to Indian Express that it was too early to judge how Modi would fair as a leader. She said the people of India would judge that, though his focus on improvement in the ecenomy and governance was welcome. She said there are forces in the society that take advantage of the divide and rule policy of the colonial masters and the two governments must work very closely to build better cooperations and trusts.
If you have not had the time to catch up on the full interview, we provide you three things she said that you must know.
One, she is not happy with the previous government. India gave recognition to the polls in Bangladesh where the Awami League has won in which 154 out of 300 candidates won unopposed in the elections. Also, she thinks people perceive Indian government had a role to play in the election of the Awami League government. However, she blames the lack of will of the Bangladeshi government that has become the biggest problem of India's neighbour.
Two, she hopes the BJP government with an astounding majority in the parliament will be able to resolve the Land Boundary Agreement issue and even the Teesta Water sharing pact. She avoided speaking at length on Mamata's role in the blocking the water sharing, but hoped the Modi government would resolve the issues so that India-Bangladesh relationship is not harmed.
Three, she refused to acknowledge any presence of illegal migrants in India. She said the Bangladeshis are doing well in their own country and would not go to India. She felt this was an election gimmick and Bangladesh could not accept it unless India could provide any concrete proof.