A Kenyan game reserve plans to put $50,000 drone planes into the sky to spy on poachers by tracking the animals' whereabouts, giving rapid warnings of human encroachment, even at night, in an effort to protect the endangered white rhinos.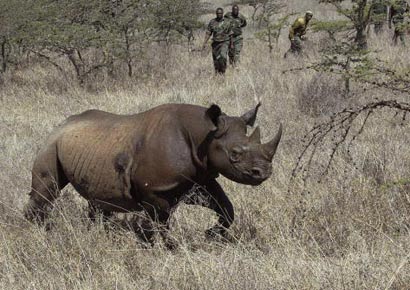 They are among the last seven of their kind in the world --- and they each have an around-the-clock armed guard as they roam in the shadow of Mount Kenya, Africa's second-highest mountain. The four northern white rhinos are the most highly endangered subspecies of white rhino and the most precious of the 110 rhinos that live in Kenya's Ol Pejeta Conservancy, a privately owned reserve of 90,000 acres dominated by acacia trees and savannah grasses.
Now a new weapon is to be used to fend off the poachers who are hunting rhinos for their horns with increasing ferocity right across Africa — a fact highlighted last week by the Duke of Cambridge, who has called for urgent action to stop the killing. Remotely piloted surveillance drones will track the animals' whereabouts and will give rapid warnings of human encroachment, even at night, in an effort to protect them.
Commercial aerial drones — similar to those used by the military in Afghanistan to identify terrorist targets, but smaller and unarmed — will be equipped with high-resolution cameras and infra-red thermal imaging for night operations. In one flight, the drones should be able to cover 10,000 acres of the reserve; more effective than ground rangers. It will enable armed wardens to be dispatched rapidly when an animal is at risk.
"There's been a massive surge in poaching in the surrounding area over past six months - it's now nearly out of control," said Batian Craig, the security adviser at Ol Pejeta. "If you relax for a moment, an incident could happen any time. "It's gone from individual poachers to well-organised crime syndicates. The threat we're facing here is massive."
The latest upsurge in poaching is fuelled by growing demand for horns, a valued ingredient in some Asian medicines as well as a material for ornamental use, especially in certain Gulf states. Most of Ol Pejeta's inhabitants are black rhinos, but it also has 11 southern whites and the four northern whites. It lost five rhinos to poachers in 2011.