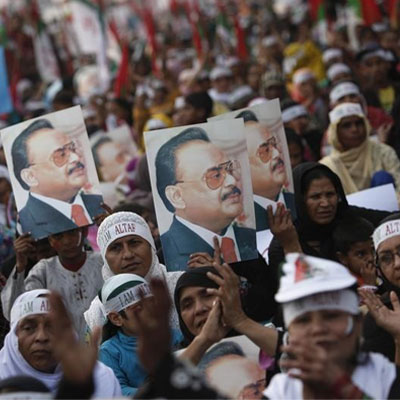 Commercial activities in Pakistan's largest city came to a standstill for the second day today as fear and tension continued to grip the country's financial hub after the arrest of MQM chief Altaf Hussain in London on charges of money laundering. Nearly 2,000 Muttahida Qaumi Movement (MQM) supporters and workers chanting "Long live Altaf!" continued to hold protests and sit-ins at vantage points in the city.
As most of the public transport remained off the roads and markets, petrol pumps and shopping centres were also shut down, the roads wore a deserted look. The biggest sit-in by the MQM is being staged at the Numaish roundabout on the usually bustling MA Jinnah Road and last night members of the Sindh Assembly belonging to the ruling Pakistan Peoples Party also joined the protesters to express solidarity with them.
Dr Farooq Sattar, a senior leader of the party, said the supporters and workers would not end the sit-in until they they hear Hussain's voice. "They are concerned because they have spoken to their leader or heard from him they want to hear his voice," he said.
Hussain, 60, has lived in the UK since claiming asylum in the 1990s but has maintained a tight grip on Karachi, Pakistan's largest city. The MQM is the single largest party in Karachi and has since the late eighties dominated the city's political landscape at the local and provincial level.
MQM workers in other cities of Pakistan also staged protests against the arrest of the MQM chief with commercial activities also affected badly in many parts of interior Sindh including Hyderabad, Mirpurkhas, Sukkur, Nawabshah.
All examinations scheduled for today have also been postponed.
Chaos, panic and fear prevailed in Karachi since the news of Hussain's arrest came yesterday from London and within minutes all commercial activities came to a halt despite the government announcing the federal budget the same day.
Meanwhile, media here reported that Pakistani High Commission in London has reportedly contacted British Foreign Office to seek access to Hussain.