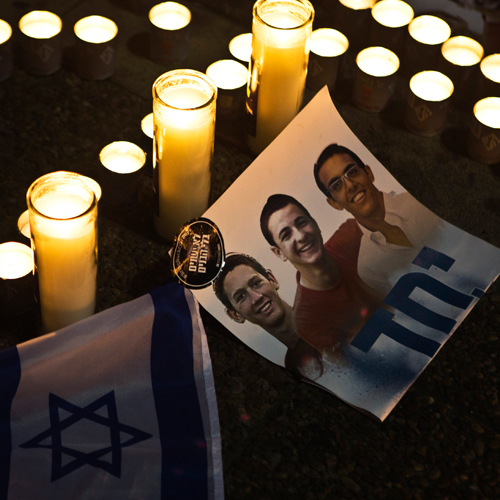 Israeli aircraft bombed dozens of sites in the Gaza Strip on Tuesday, the military said, and troops opened fire and killed a Palestinian during an arrest raid in the occupied West Bank, Palestinian medics said.
The raid came hours after Israel found the bodies of three Israeli teens in the occupied West Bank who went missing on June 12. Israel has blamed the Islamist Hamas group for their abduction near a Jewish settlement and has arrested dozens of the groups members in the past three weeks.
The air strikes, however, while numerous, did not depart radically from Israel's usual response to Palestinian rocket fire into its territory and as the Israeli cabinet weighed its actions against Hamas, there was no sign the Jewish state was poised to launch a major assault on the Palestinian enclave. The military said that its aircraft bombed 34 Gaza sites, most of them belonging to Hamas, in response to 18 rockets fired into Israel since Sunday. Two people were lightly wounded, Gaza medical officials said.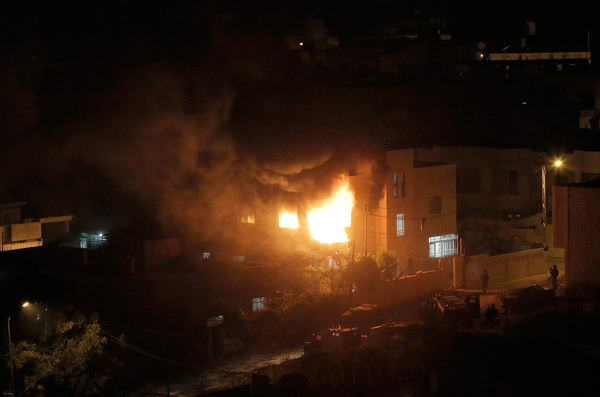 Flames and smoke are seen after a blast in the top floor of the family home of an alleged abductor in the West Bank City of Hebron on Tuesday, July 1, 2014. Israeli troops set off explosions in the family homes of the alleged abductors belonging to Hamas after the bodies of three missing Israeli teenagers were found in the occupied West Bank. Image credit: Reuters
In the West Bank, an Israeli military spokeswoman said troops opened fire at a man, identified by Palestinian officials as Yousouf Ibrahim abu Zagha, 19, who threw an explosive device at soldiers who were attempting to arrest a militant in the Jenin refugee camp.
The military added that three Palestinians were detained in the West Bank on Tuesday. Palestinian officials said five were arrested.