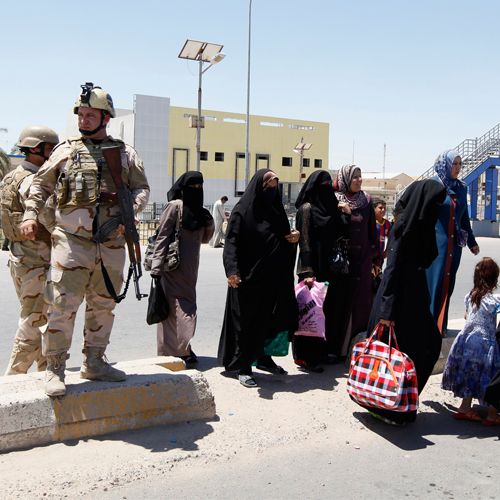 The crisis in Iraq has been aggravating day by day,with recent TV reports suggesting that the nurses of the Tikrit Hospital have now been moved to another location. It has also been reported that the ISIS has taken control over the hospital compound after it was bombed, on Monday.
Armed men have taken control of the hospital and are suspected to be members of the ISIS. Amnesty International India spoke with one of the nurses, who informed, "On Tuesday morning, the bombing stopped. So we moved to the second floor and are staying in eight rooms. The ground floor rooms are now filled with armed men. They told us that they won't harm us. But they are carrying guns. We are feeling threatened."
External Affairs Ministry spokesperson also informed that 39 Indians who were being held hostage in Iraq are unharmed but still in captivity. Another 46 nurses are safe but have been moved to another location for safety, they said.
Indian Express also spoke to the nurses who said that they were approached by some men, allegedly representatives of the 'new government' and told to move to a hospital in Mosul. The nurses then contacted the Indian Embassy who told them to stay put at the hospital.
One of the nurses said, "Earlier the bombs were being thrown outside the hospital. After Monday evening's bombing, we are very scared. The threat is much more real. The hospital was filled with smoke after a few wings of the hospital, not far from the nurses' quarters, were bombed."
Debt trap
In spite of a threat to their lives, most of the nurses are not willing to come back as they have to pay huge debts back home. Another nurse said, "If I return home without any money, my father has to use the little money he gets from farming to repay my education loan. My younger brother and sister will have to drop out of school." The nurses were contacted by the Indian embassy and have said that the embassy has been of great help. The nurses entered into job contracts which promised them pay after the end of 3 months of work, but the hospital authorities have not payed them their dues because of Parliamentary elections which took place in April.
A nurse said, "There is no guarantee that we will be paid if we go back to India. So we will all have to give up five months of our salaries, which runs into thousands of US dollars."
Earlier, too, dna had reported efforts by Amnesty International India to bring back Indian workers from Iraq whose employers refused to return their passport.
Not kidnapped, but why these ordinary Indians can't leave Iraq
The Iraq terror crisis, which has mounted a new high in the past few weeks, has left many Indian workers helpless. Forty Indian nationals, mostly construction workers hailing from northern India, are also currently trapped in Iraq, abducted by the jihadist militant group the Islamic State of Iraq and the Levant​ (ISIL, or ISIS). The Indian government is concentrating all its efforts in order to ensure the rescue of the abducted Indians as well as the safe return of all its other citizens from the war-torn country. But even as all efforts remain concentrated towards the abducted Indians, Amnesty International India reported that there hundreds of Indian workers have been grounded at Najaf province unable to leave the country. Read more