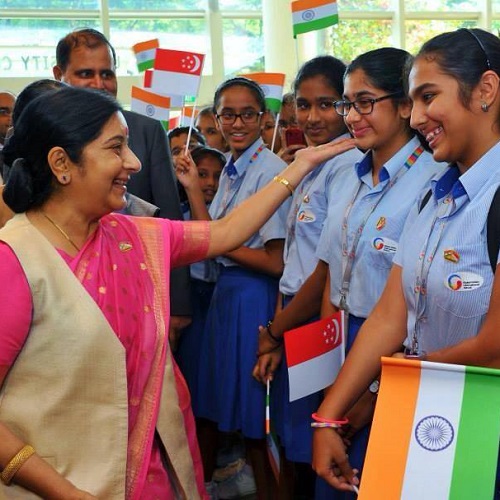 Terming Singapore as the gateway to India's Look East Policy, New Delhi has evinced a keen interest to further deepen its bilateral relations with the South-East Asian nation in multiple areas.
Swaraj launched the year-long 'Year of India' with her Singapore counterpart K Shanmugam, to commemorate the 50th anniversary of the establishment of diplomatic relations between the two nations.
Describing the bilateral relationship with Singapore as unique, the External Affairs Minister also stressed on recreating the strong relationship that existed between the two countries from the past to the present.
Swaraj was glad over the fact that Singapore being not only the largest trading and investment partner in the ASEAN group but also shared similar thoughts on many global and regional issues.
She added that there was scope to scale up investments in India by Singapore and also sought for attention on the scope into venture capital for innovations and for cooperative projects in third countries.
She said that the bilateral relationship between the two nations holds great potential and sought for building India-Singapore ties on 5 S plank.
"The future holds even greater potential. We would like to share a vision to build India-Singapore ties on a 5 S plank –Scale up trade and investments, Speed up connectivity, Smart cities with focus on urban development & water management, Skill development and State focus to promote engagement with Indian States," she said.
Swaraj also invited Singapore companies to speed up connectivity and infrastructure projects in India, particularly, along the Delhi-Mumbai Industrial Corridor (DMIC), the Chennai-Bangalore Industrial Corridor and the North-East.
She also stated that Singapore could develop a virtual city or a "little Singapore" somewhere along the corridor.
Swaraj called for further connecting the two countries to newer areas in India particularly stressing on the North-East and increase people-to-people contacts.
"Connectivity in all its dimensions- physical, institutional and people-to-people is a priority for us. There has been impressive growth of air connectivity between our countries. It would be mutually beneficial to launch direct air-connectivity between Singapore and North East, particularly Guwahati.
North-East is our gateway to the ASEAN hinterland. Education, tourism and business are key links. I wish to see greater flows between peoples and institutions to enrich this relationship," she said.
Swaraj sought for Singapore's expertise in areas of building Smart Cities, urban planning and water management strategies which she termed could offer a valuable learning experience for India.
She termed that Singapore's experience in skill development can be invaluable for India given there is existence of its large requirement. She was all praise for the World Class Skill Development Centre in Delhi, set up by Singapore, which she stated could act as a model for mushrooming of similar centres in the rest of the country, including the North-East.
Swaraj hoped that the 50th anniversary celebrations would turn out to be a great success and also expressed her hope to have an even stronger partnership with Singapore and its wonderful people.