A week after Russia's swift, bloodless takeover of Ukraine's Crimea, a wary stalemate has settled over the region as Russian forces and Ukrainian troops face off.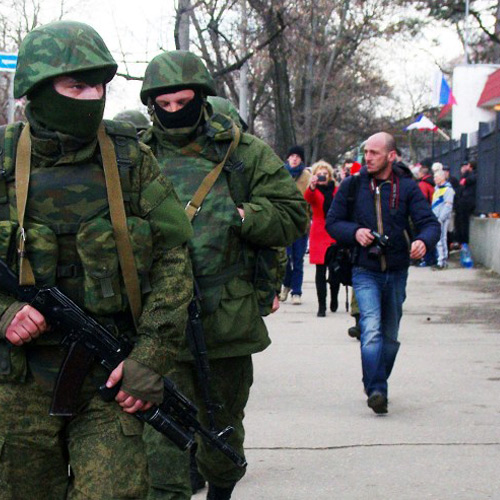 A week into Moscow's "occupation", a wary stalemate has settled over Crimea, but nerves are raw as heavily armed Russian forces face off with Ukrainian troops in the Black Sea peninsula.
Holed up on their bases, Ukraine's besieged servicemen and the Russians surrounding them in Crimea are locked in a standoff that at times is tense and at others surreal.
So far, Russia's de facto takeover of Crimea has been surprisingly peaceful, with only a few warning shots fired into the air. The Russians have swatted down isolated attempts by the Ukrainian forces to claw back control but stopped short of using major force. There has been no big clash and no deaths.
But tensions remain high and residents worry that with so many fingers on triggers, it may not take much to set off real violence.
"For now, life is like normal – people are working, going to school, shopping," said Lydia Kuzminichna, a 72-year-old running errands in the regional capital Simferopol. "But of course we are worried, anything can happen. It's a very dangerous situation."
Across the rugged peninsula, armed men in military uniforms and wielding assault rifles have surrounded Ukrainian military installations. Ukrainian authorities say they number in the thousands.
Moscow denies the men are Russian troops and the soldiers themselves are tight-lipped. But with their matching uniforms, sophisticated equipment and professional bearing, there is little doubt they are Russian troops and not rag-tag militia.
Russian navy ships have also blockaded the Kerch Strait linking the Black Sea to the Sea of Azov, Ukrainian officials say, portraying it as part of efforts to seal off the Ukrainian servicemen and force them to surrender or change sides.
Inside the bases, nervous Ukrainian soldiers are standing their ground, refusing to surrender or hand over their weapons, but in most cases clearly not ready to hold off a full-out assault.
"We're just not prepared to face up to the Russian special forces," a captain inside the besieged Belbek base near Sevastopol, Andrei Matchenko, said. "This isn't what we are trained or equipped for."
Convoys criss-cross Crimea
Convoys of military transport trucks carrying the Russian forces can be seen criss-crossing the peninsula, which – linked to the Ukrainian mainland by only the narrow Isthmus of Perekop – is relatively easy to isolate from the rest of Ukraine.
The Russian forces fanned out across Crimea after pro-Moscow gunmen on February 27 seized key government buildings following the ouster of Ukraine's Moscow-backed president Viktor Yanukovych.
A pro-Russian prime minister was installed and a referendum has been called for March 30 on proclaiming greater autonomy for Crimea.
Moscow has moved some 16,000 troops onto the Crimean peninsula in addition to its forces already there, the Ukrainian government says. Ukraine has fewer than 20,000 navy and other military personnel stranded on bases across Crimea. Outgunned but loyal to Kiev, they want to avoid confrontation with Russian forces with whom they have long cohabited on the Crimean peninsula, which is home to a Russian Black Sea Fleet's base.
Moscow's forces have been largely welcomed by Crimea's ethnic Russians, who make up nearly 60% of the population and who feared similar unrest to the violence in Kiev last month that left nearly 100 dead.
"If there were no Russian soldiers it would be like Kiev here, exactly the same," said Sergei, a Simferopol resident in his late 30s. "People started to calm down when the soldiers arrived."
Warning shots
In Kerch, Ukrainian and Russian servicemen stand around casually, weapons unloaded, an arm's length from each other.
"We are with them as with our own," said a young Ukrainian wearing a traditional fur hat and combat fatigues.
Warning shots fired over the heads of Ukrainian air force pilots who tried to take back their war planes at the Belbek military airfield, on another side of the peninsula, appear to be the only shots fired so far.
During negotiations at Belbek, which ended with the pilots returning to their barracks, some of the Ukrainians passed their time by playing football. The Russians simply looked on, showing no emotion.
"It's like they are robots. When you try to talk to them, they only crack jokes. We gave up," said Shamshurov, who has remained at the Kerch border control post where they offered the use of their toilet to the intruders. "We still do what we did everyday and raise the flag ... We have not surrendered. We have not betrayed our oath."
Russian residents said they feared losing out to Crimea's large Ukrainian minority, which accounts for about a quarter of the region's residents, and to the mainly Muslim ethnic Tatars who make up 12-15% of the population.
The diverse mix reflects the turbulent history of Crimea, which fell to Russia in the late 18th century when Moscow defeated the Tatars allied with the Ottoman Empire.
The peninsula was the scene of heavy fighting during the 1853-56 Crimean War, mainly remembered in the West for Florence Nightingale, a pioneer of modern nursing, and Britain's suicidal Charge of the Light Brigade against Russian forces.
Crimea remained part of Russia until Soviet leaders handed it to Ukraine in 1954. After the Soviet collapse, Russia was allowed to maintain its Black Sea Fleet at Sevastopol, its home for some 250 years.
Memories of deportation
The Tatars, most of whom seem resolutely set against Crimea re-joining Russia, make the question of the peninsula's future especially difficult.
Their presence is impossible to ignore – the Muslim call to prayer echoes through Simferopol five times a day from the Kebir-Jami Mosque, built in 1508 and the oldest building in the city.
"This is a difficult time for us," 76-year-old Fevzi Yakubov, a prominent Tatar and rector of Crimea's engineering university, said outside the mosque. "We are Ukrainians and we are patriots of our homeland."
For many in the community, the Russian troops have revived painful memories of the mass deportation of the Crimean Tatars to Siberia and Central Asia by Stalin in 1944.
Yakubov, seven at the time, was among those deported and did not return from Uzbekistan until he was in his mid-50s. "There are of course fears of these things happening again. But it was a long time ago and the world is too open now for that," he said.
"We must find a way to calm this down," he said. "Thankfully no one was been killed or wounded yet. We need to work together to make sure this does not get worse."
How long can the Ukrainian forces hold out and how long will the Russians' patience last is unclear.
The West is pushing for Russia to return troops to barracks, and accept international monitors in Crimea.
The next flashpoint could be the newly installed, pro-Russian authorities' planned referendum on Crimea's future on March 30. Until then, the waiting game could go on.
"We hope our politicians put away their ambitions and don't make us shoot at one another," said Nikiforov. "At the end of the day, we are people who follow orders. Today we smile, but tomorrow we might get order to shoot."