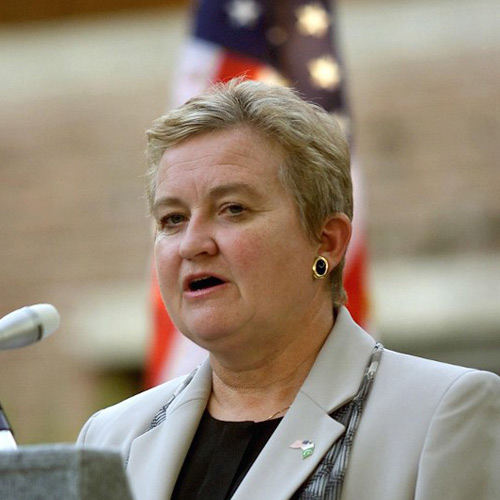 The United States Ambassador to India, Nancy Powell, announced on Monday that she will be resigning from her post.
The announcement comes before the upcoming Lok Sabha elections in India, and Powell has said she will be retiring in May, before the new Indian government comes to power.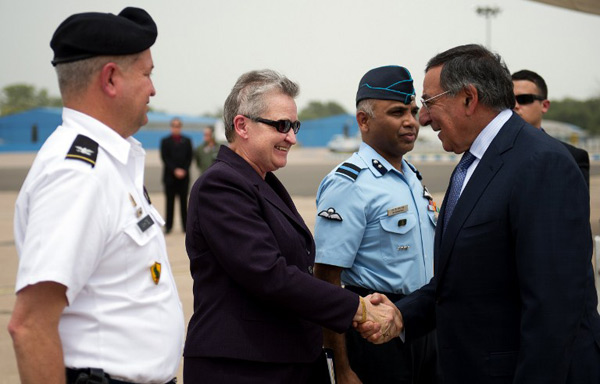 US Ambassador to India Nancy Powell (centre) welcomes US Secretary of Defense Leon Panetta (right) in New Delhi in June 2012. Image credit: AFP.
Powell, 67, is a career diplomat and the US's first female ambassador to India. She succeeded previous US ambassador to India Albert Peter Burleigh in April 2012. She holds the highest rank in the United States Foreign Service, with the title of Career Ambassador.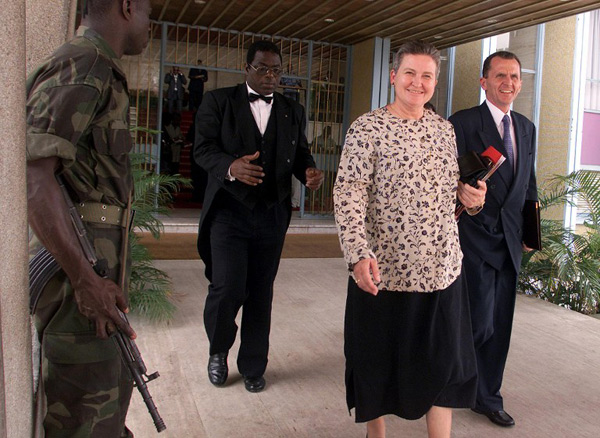 US diplomat Nancy Powell (second right), chief deputy to US Assistant Secretary of State for African Affairs Susan Rice, leaves the presidential palace in Abidjan, Ivory Coast, in September 2000 after a meeting with Ivorian junta boss Robert Guei. Image credit: AFP.
Powell's resignation also comes amid speculation that the US administration was likely to appoint a new ambassador to India in view of a new government taking over after 10 years of the Congress-led United Progressive Alliance (UPA) rule.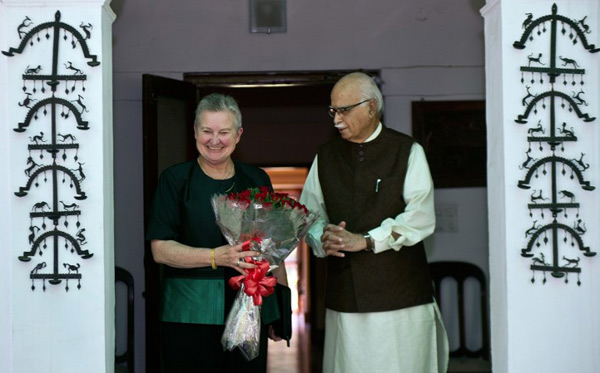 US Ambassador to India Nancy Powell (left) meets senior Bhartiya Janata Party leader LK Advani in New Delhi in June 2013. Image credit: AFP.
Powell had described Indo-US ties as "firmly grounded in a set of shared democratic values and an increasingly shared strategic vision of both the opportunities that can promote those values as well as the threats that can undermine them".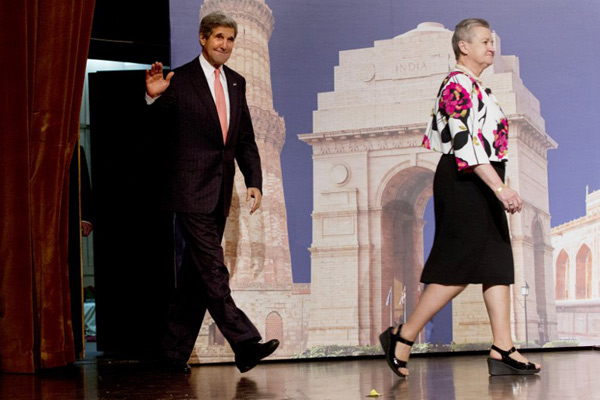 US Secretary of State John Kerry (left) and US Ambassador to India Nancy Powell (right) in New Delhi in June 2013. Kerry was in India to speak about the US-India Strategic partnership and also called for a "central role" for India in Afghanistan's 2014 elections as he warned of potential difficulties in the war-torn nation as US forces withdraw. Image credit: AFP.
However, bilateral relations plummeted to almost breaking point during her tenure, especially in the aftermath of Indian diplomat Devyani Khobragade's arrest in New York over charges of visa fraud.
Powell did end the US' decade-long boycott of Gujarat chief minister Narendra Modi, seen by many as most likely to become India's next prime minister.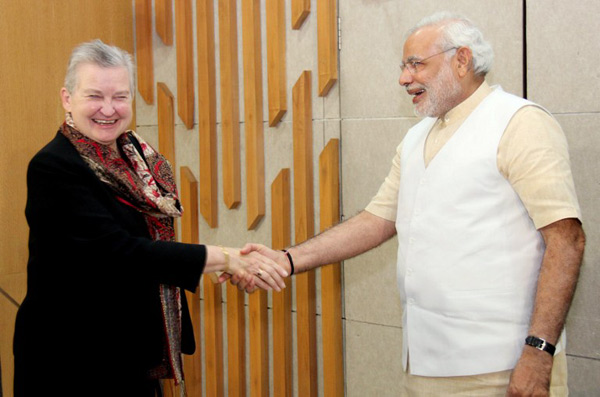 US Ambassador to India Nancy Powell (left) met Gujarat Chief Minister and the BJP's prime ministerial candidate Narendra Modi (right) on February 13, 2014, in Gandhinagar. Image credit: AFP.
Prior to her India assignment, Powell served as US Ambassador to Uganda, Ghana, Pakistan, Nepal. She has also served in Canada, Togo and Bangladesh.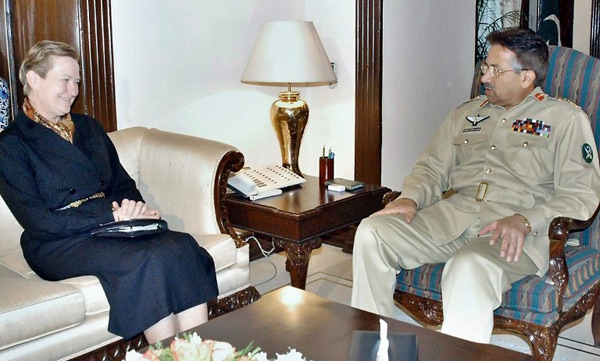 Pakistani President Pervez Musharraf (right) meets outgoing US envoy to Pakistan Nancy Powell (left) in Rawalpindi in October 2004. Musharraf appreciated the services of Powell for strengthening ties between the country and with United States. Image credit: AFP.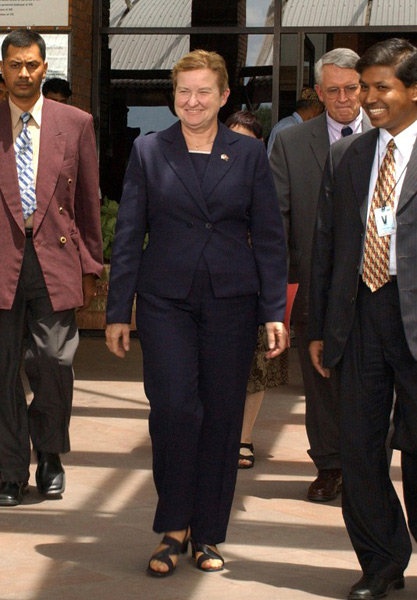 Newly appointed US Ambassador to Nepal Nancy Powell arrives at Tribhuvan International Airport, Kathmandu, in August 2007. Image credit: AFP.
Powell graduated from the University of Northern Iowa in 1970. It is reported that, as planned for some time, she will retire to her home in Delaware, US.