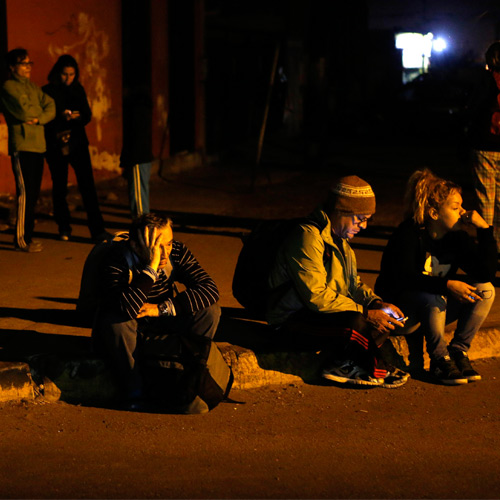 Two powerful earthquakes have rocked northern Chile just over 24 hours apart.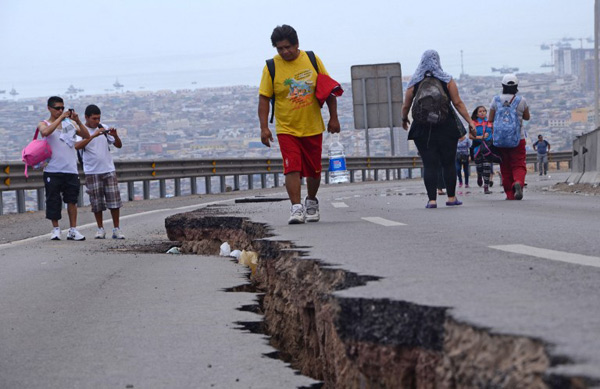 Image credit: AFP
The quakes struck off the South American nation's northern coast, near the mining port city of Iquique, near the Peruvian border. The US Geological Survey said the quake was shallow at 12.5 miles (20.1 km) below the seabed and struck about 100 km northwest of the city.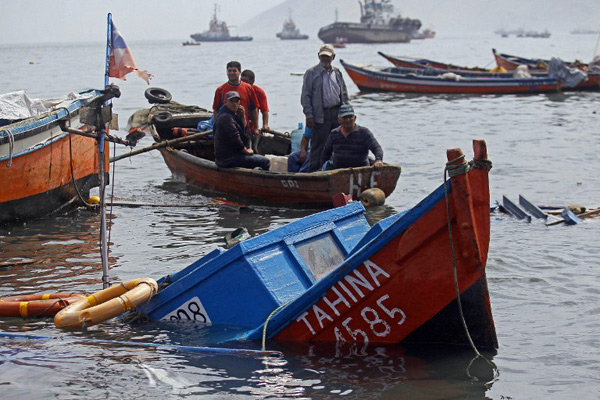 Chilean fishermen look to salvage any remains of their boats that were destroyed in the quake. Image credit: AFP.
The first quake, measuring 8.2 on the Richter Scale, hit on Tuesday and triggered tsunami waves. At least five people were killed. The Pacific Tsunami Warning Center said the quake generated a large tsunami with the biggest wave reported at 2.3 meters. The Chilean navy said the first big wave hit the coast within 45 minutes.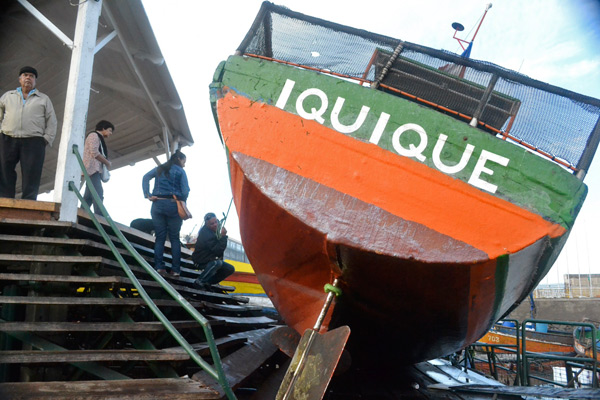 Image credit: Reuters
Landslides partially blocked some roads and highways in the region.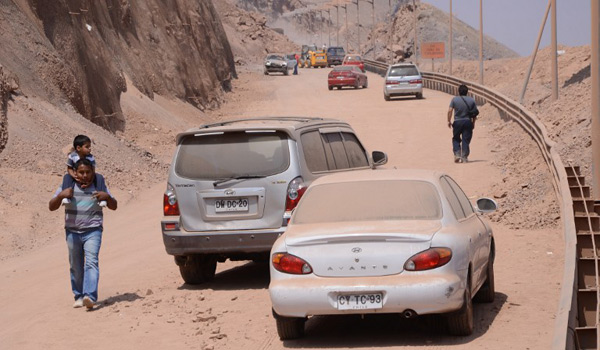 Image credit: AFP
A second strong earthquake, the largest aftershock of the previous quake so far at 7.8 magnitude, struck in the same area on Wednesday. A tsunami warning was issued, but has now been lifted.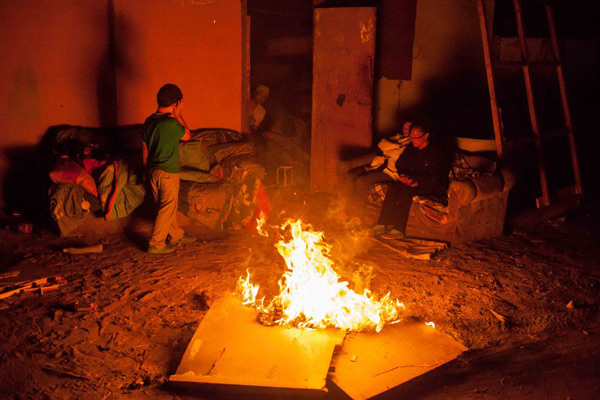 Residents who fled their homes after the second 7.8 magnitude quake rest before a camp fire in Iquique. Image credit: AFP
A preventive evacuation of the coastal area has been ordered, officials said. Thousands of Chileans had begun returning after being evacuated following Tuesday's quake.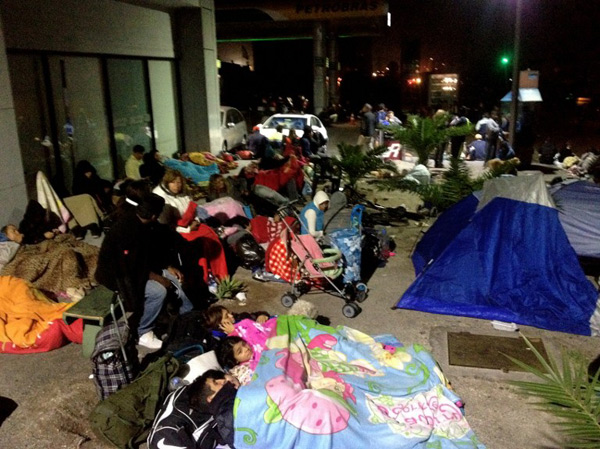 Chileans who fled their homes sleep on an open street in Iquique, after the second powerful earthquake measuring 7.8 on the Richter Scale. Image credit: AFP
Chilean president Michelle Bachelet​ was evacuated from her hotel to higher ground in the northern city of Arica. She was assessing damage in the region far north of the capital Santiago. ​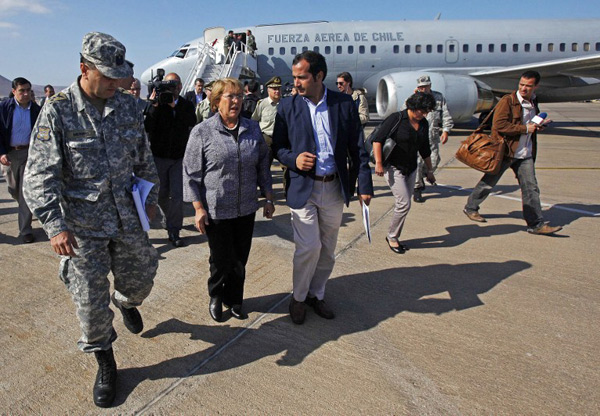 Chile's President Michelle Bachelet (centre) arrives at Iquique airport after Tuesday's quake. Image credit: AFP
The tremors are reported to have been felt as far inland as Bolivia, and have sparked evacuation warnings along the Pacific Coast of South America, and even into Central America. Peru has issued a tsunami warning.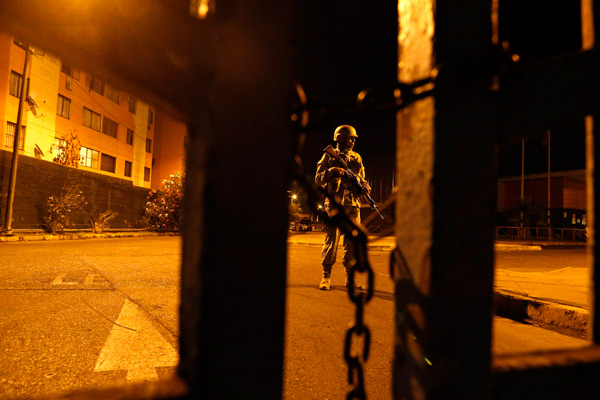 A soldier guards a supermarket to prevent looting after the 8.2 magnitude earthquake and tsunami hit Iquique on Tuesday. Image credit: Reuters
The tsunami triggered by the first quake was felt as far away as Japan, with a wave of up to 40 cm observed at a port of Iwate prefecture, which lies on the Pacific coast of northeastern Japan.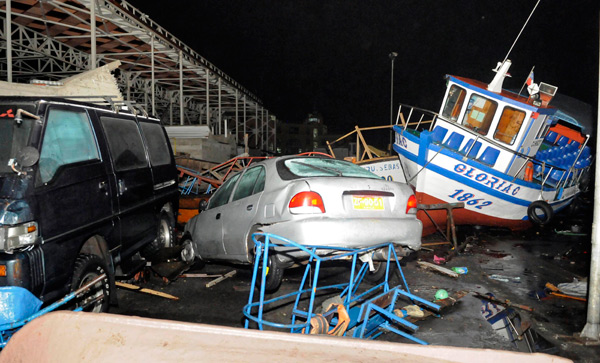 Vehicles and boats lie on the shore after a tsunami hit the northern port of Iquique. Image credit: Reuters