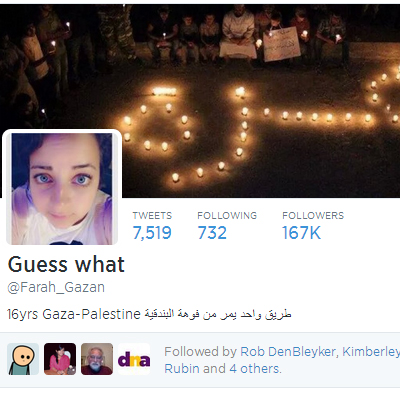 Farah Baker, an ordinary 16 year old girl, took up the extraordinary job of live blogging her experience during the Israel-Hamas conflict, on Twitter. She became a social media sensation as her following grew from 800 to an astounding 166,000.
Farah is a resident of Gaza, where her father works in the nearby Shifa hospital. She allows her followers to see the absolute devastation of the war zone, as she manages to tweet through her smartphone amongst the bloody chaos of war that surrounds her. Her posts are usually accounts of her experience of blaring ambulance sirens in addition to blasts from Israeli air strikes and shelling attacks.
Here are some of the posts from August 8, that highlight what just one day in the conflict is like:
The war is back but calm, I mean I could hear only few bombs since 8am #GazaUnderAttack

— Guess what (@Farah_Gazan) August 8, 2014
A child martyred and many wounded bc of bombing a mosque #GazaUnderAttack

— Guess what (@Farah_Gazan) August 8, 2014
She goes by the Twitter name of 'Guess what' and her twitter handle is @Farah_Gazan. Her posts are often graphic accounts of the fear that grips the common man, like the sound of the air strikes, the smoke from the bombs.
Listen to one of the bombs now #Gaza 5:23am https://t.co/9m1jsmcEHy

— Guess what (@Farah_Gazan) August 1, 2014
pellets found in my friend's Agricultural Land, her dad found them have passed through th walls#GazaUnderAttack pic.twitter.com/ZtioOxeq0r

— Guess what (@Farah_Gazan) August 5, 2014
Smoke seen from my window because of bombing a factory #Gazaunderattack pic.twitter.com/BZZ7kq6Mk9

— Guess what (@Farah_Gazan) August 10, 2014
Farah has become quite the icon, as many of her followers associate her to be the modern day Anne Frank. Her posts are compared to the shocking accounts of Anne Frank, a 13 year old girl hiding in Amsterdam, during the holocaust period under Hitler. In her interview with Skynews, Farah said her favorite book in English is Anne Frank's wartime diary, she said "She lives my life. What Hitler did to the Jews is happening to me now."
Besides sharing her experience, she has also been active on Twitter in answering any questions relating to what is happening in Gaza. Her followers flooded her with questions such as "How do you stay calm? Are you hopeful for peace in the future? Why are you still in Gaza if you know that it is dangerous to be there right now?". As a result of this #AskFarah also started trending on Twitter.
"I am trying to tell the world about what I feel and what is happening where I live," Baker told Reuters at her Gaza home, adding that she has been "trying to make other people feel as if they are experiencing it, too". "I see this is the only way I can help Gaza, showing what is happening here. Sometimes I tweet while am crying or too scared but I tell myself, I should not stop," Baker said.
Her tweets sometimes are a glimpse of a young teenager having the same dreams and aspirations as any others. However her frustration of being stuck in a country amidst a bloody war makes her an unfortunate victim of circumstances, as reflected in her tweets.
I'm 16yrs old and I could never travel easily, and I could never visit other parts of my land -Palestine- #GazaUnderAttack

— Guess what (@Farah_Gazan) August 7, 2014